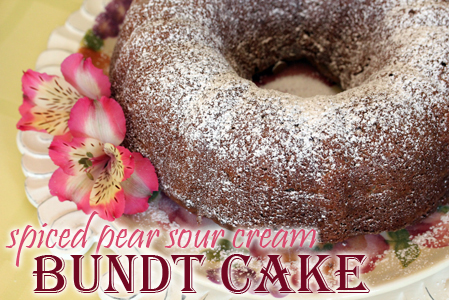 I don't know about you, but when I get to the end of a big feast, the last thing I want to show up on my dessert plate is a super rich concoction that's going to send my stomach into cardiac arrest. Or rather gastronomic arrest.
I want light. I want tasty. I want fluffy. I want this Spiced Pear Sour Cream Bundt Cake.
Because it is all those things.
I want fluff-ilicous.
(I do believe I just made up a new word. I'll be emailing the folks at Webster shortly. Because this word definitely deserves to be in the dictionary!)
This Easter dessert is perfectly sweet, perfectly spiced, and perfectly balanced. I love the combination of the pears and the spices. I love the moistness and fluffiness that comes from the sour cream. And I love the way that my husband's face lit up when he took the first bite.
It's perfect for your Easter table.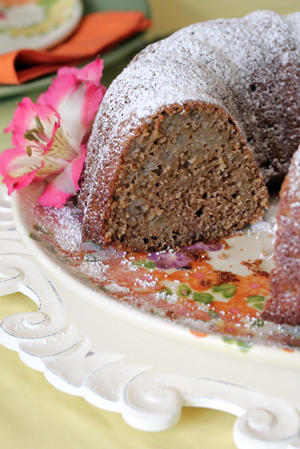 Now it's your turn to try some of this fluff-ilicious-ness!
This is the BEST Easter dessert- perfectly sweet, spiced, and balanced. You will love the combination of the pears and the spices!
Ingredients
½

cup

brown sugar

½

cup

water

4

pears

peeled, cored and cut into bite size pieces

¼

cup

butter

¼

cup

applesauce

1 ½

cup

sugar

1

tsp

vanilla

2

eggs

2

cups

cake flour

1 ½

tsp

baking powder

1

tsp

baking soda

½

tsp

salt

2

tsp

cinnamon

1

tsp

ground ginger

1

cup

sour cream

Powdered sugar

for dusting
Instructions
Preheat oven to 350 F. Grease and flour a Bundt pan.

In a small saucepan, add the brown sugar and water and bring to a boil.

Once boiling, add the cut pear pieces and return to a boil.

Reduce heat to medium and let bubble for 8-10 minutes.

Strain off the excess water and then mash the pears with a potato masher or fork.

Let cool while you prepare the batter.

In a stand mixer or large mixing bowl, beat together the butter, applesauce, sugar and vanilla.  Beat in the eggs, one at a time, scraping the side of the bowl each time.

In another mixing bowl, sift together the cake flour, baking powder, baking soda, salt, cinnamon and ginger.  Add it to the wet ingredients and beat until the batter forms.

Beat the sour cream into the batter on low, and then fold in the cooked (and cooled) pears.

Pour into the greased and floured Bundt pan and bake in the preheated oven for 45-50 minutes, or until a knife comes out clean when inserted in the middle of the cake.

Let cool for about 10 minutes before flipping onto the serving plate or cake plate.

Dust the top with powdered sugar and serve.