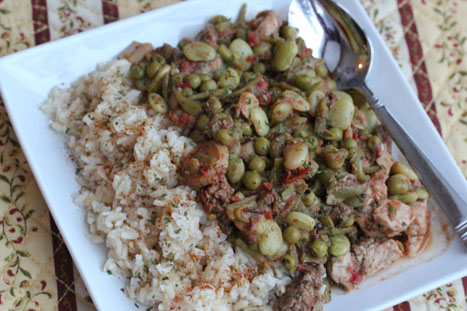 The other day the lovely Beth from The Natural Mommy (who incidentally is "in real life – IRL" friends with some of my IRL friends…which makes us virtually IRL friends. We are totally virtual friends, but as far as I'm concerned we are IRL friends, even though we haven't met. Follow that?!) tweeted that I never post anything nasty here on the site. I'm often asked that…what do you do if you don't like a recipe.
Answer: I don't post it.
But I really felt the pressure with this recipe. It is straight out of my grammy's cookbook from 1942. A recipe that I'd planned to share as part of my Vintage Recipe week this week. (Another recipe…the Spaghetti Souffle…it didn't make the cut! *blah*)
As I started cooking the round steak and the pork together I experienced a level of "recipe skepticism" that I've never experienced before. I've never cooked beef and pork together. It's just not how I cook. I convinced myself that it was going to be nasty, and that I was going to disappoint Beth terribly.
But.
But.
But.
It didn't turn out to be so nasty after all!
Thank goodness!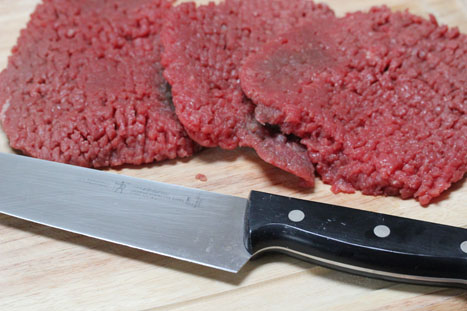 Start with 3 round steaks. Cut them into cubes.
(I put the other 3 that came in the "value pack" in the freezer with some marinade.)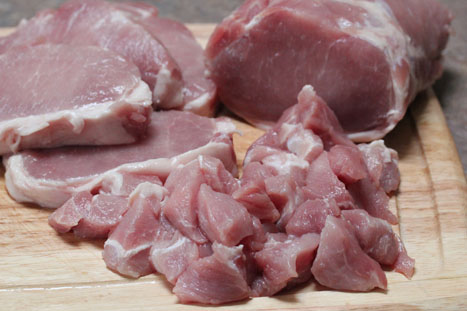 Take a large pork tenderloin. Slice off some pork chops, cut about 1 lb. to use as cubes for this meal, and save the rest for a pork roast. (The "What to Make When – Pork Roast" Edition, and the "Pork Chops" Edition.)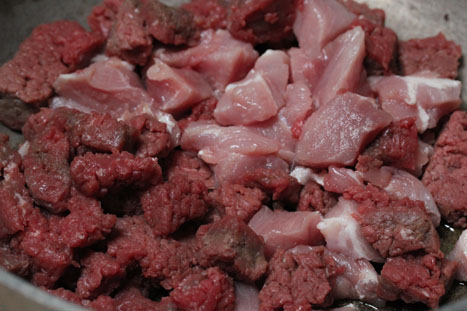 Brown it up in some olive oil.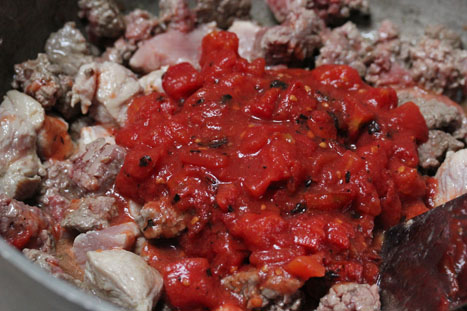 Add the diced tomatoes and some hot water.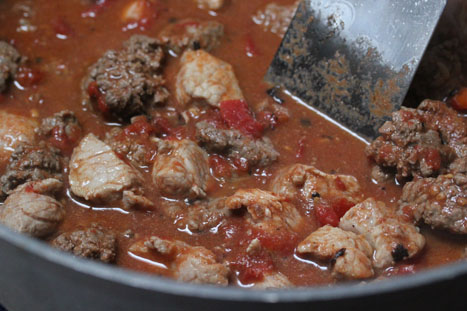 Bring to rolling boil.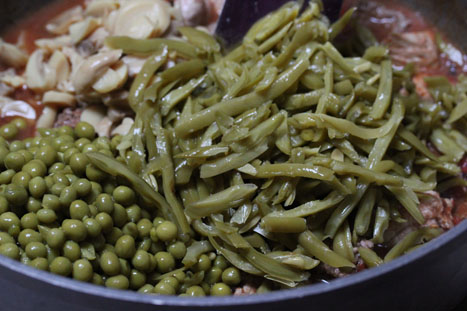 Add the peas, green beans and mushrooms.
These are all coming from a can…so an easy dump and go meal!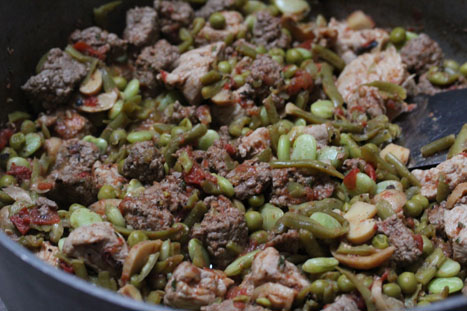 Finally add the lima beans.
Let simmer until it cooks down to your "likeness."
Feel free to add some beef broth or more water if you want something more soupy.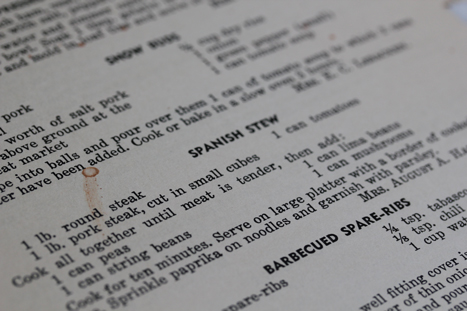 The recipe as it reads. It said to serve with noodles. I chose rice.
(Oh, and I think this would be a great slow cooker meal. You could have it all loaded up within 5 minutes! I'd cook on low for 8 hours.)
Ingredients
1-2

Tbsp

olive oil

1

lb.

round steak, cut into bite size chunks

1

lb.

pork tenderloin or pork chops, cut into bite size chunks

1

15 oz. can diced tomatoes, I used fire-roasted

1

can peas

1

can french style green beans

1

6 oz. can mushrooms

1

bag

frozen lima beans

As needed, water or beef broth

Salt and pepper to taste

1 1/2

cups

brown rice

Paprika and parsley for garnish
Instructions
Brown the round steak and pork pieces in the olive oil in a large saucepan or Dutch oven. Add the diced tomatoes, plus about 1/2 cans worth of water. (Feel free to add more if you want a soupier stew.)

Add the peas, green beans, mushrooms and lima beans. Let simmer about 15-20 minutes.

Cook the brown rice according to package instructions. Once cooked, sprinkle with some paprika and parsley.

Serve the Spanish Stew over brown rice.
This definitely would have been a $5 Dinner back in 1942! But even still, $8 isn't too bad for 6-8 servings. This would have easily served 6-8 adults!