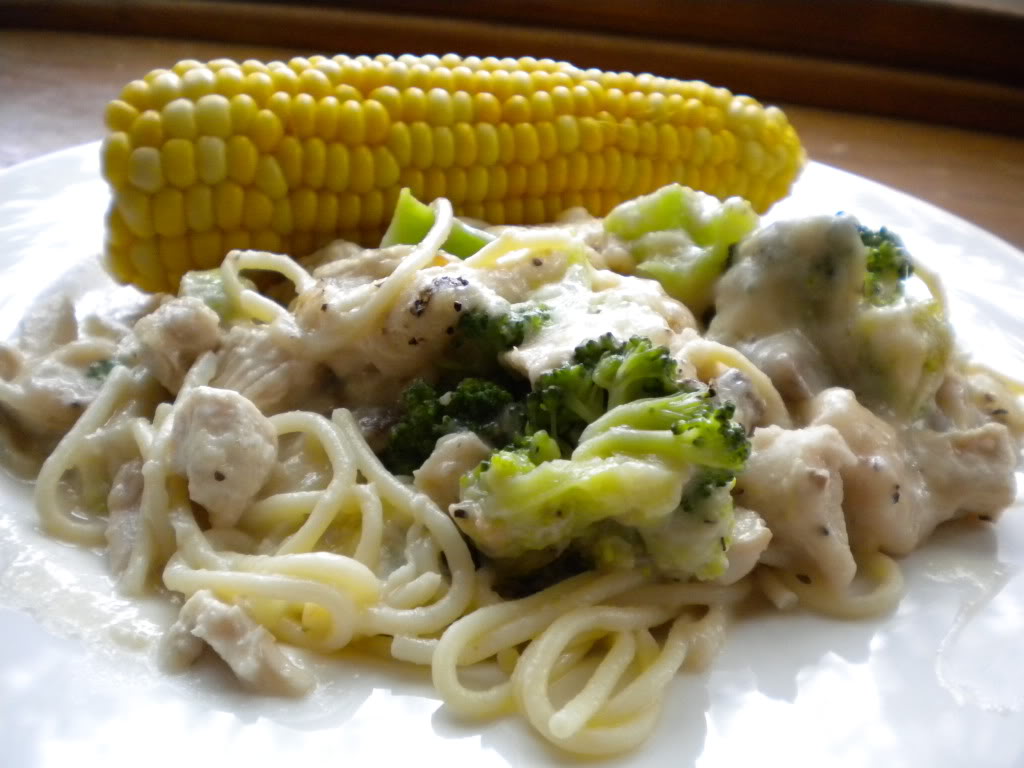 Spaghetti Broccoli Bake

Yield – 4 servings

Preparation Time – 5 minutes

Cooking Time – 40 minutes

Ingredients

About 3/4  lb spaghetti ($.75)
2 cups of homemade white sauce ($.50) or 1 can cream of mushroom soup
1/2 cup parmesan cheese ($.50)
2 cups of frozen broccoli ($.50) Large bag recently on sale for $1
1-2 cups of leftover shredded or diced cooked chicken ($1)
1 cup shredded mozzarella cheese ($.85)
4 ears of corn ($1) On sale for $.25 each again!

Directions

Cook spaghetti pasta as directed on package.  Drain and add to 8×8 baking dish. Use rice pasta for gluten free dish.  My favorite frugal brand is Trader Joe's.  Tinkyada is another GREAT rice pasta brand, but costs 3-4x as much as the TJs brand.

Prepare about 2 cups of homemade white sauce.  Here is a GFCF (gluten free casein free) white sauce recipe.  Substitute 1 can of cream of mushroom soup if you prefer.
Once white sauce has thickened how you prefer, add parmesan cheese, frozen broccoli, shredded/diced chicken to the sauce.  Remove from heat.
Combine white sauce mixture with spaghetti in the baking dish.  Stir through.  Top with shredded mozzarella cheese.
Bake at 350 F for 20 minutes.
Remove husks from corn and boil for 4-5 minutes.
Serve Spaghetti Broccoli Bake with Corn.
Cost $5.10