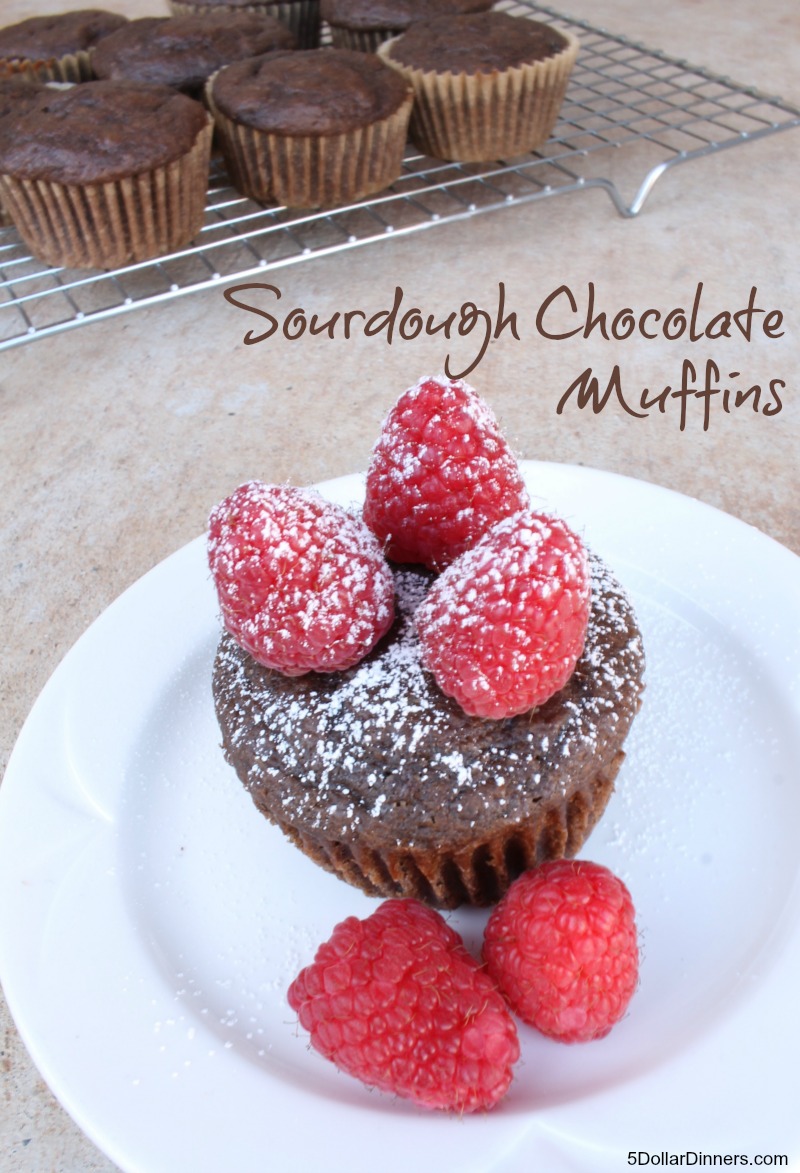 Chocolate + Muffin in the same recipe title. OH YEAH BABY!
These are perfectly moist, delicious and sweet with a simple powdered sugar topping and a side of fresh fruit. (Because the fresh fruit accompaniment means that we can have more chocolate, right? right? right?)
Bake them up, dust them with a little powdered sugar, toss a couple berries onto the plate and you are winning at dessert. (Or snack. Or breakfast.)
Yes, chocolate muffins for breakfast. There, I gave your permission 😉
Hope you enjoy these muffins!!!
Oh, and if you've never worked with sourdough before…you'll wanna study this!
Ingredients
3

cups

fed sourdough starter (This would be active starter that was fed about 2 hours ago.)

1/4

cup

coconut oil, warmed gently to melt

1/4

cup

butter, softened

1 egg

1/4

cup

ground flax seed

1

cup

coconut palm sugar

2 teaspoons baking powder

1 teaspoon baking soda

1/2

cup

milk

2/3

cup

cocoa powder

1 tablespoon lemon juice

2 teaspoons vanilla extract (or use homemade vanilla extract!)

powdered sugar, for dusting

fresh fruit, optional
Instructions
Heat oven to 325 degrees.

Prepare cupcake/muffin pans by inserting parchment cup liners. These muffins are very delicate and the parchment liners allow them tobe removed easily and remain intact when theyre served.

In large bowl, add all ingredients together and mix with wooden spoon. I wouldnt recommend using a mixer because the sourdoughelasticity will have the batter traveling up the paddles and making a big mess. Its better to just stir by hand.

When the ingredients are well blended divide the batter evenly across the 24 cups. Theyll be about full.

Bake at 325 for 19 - 21 minutes or until internal muffin temperature is 190 degrees with baking thermometer.

These muffins are delicately sweet and are best served with a dusting of powdered sugar and fruit.