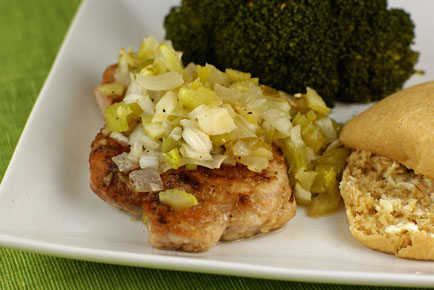 Smothered Pork Chops.
Oh yes. We'll be making you again!!!
And as you can see, we have yet again another sorta vague recipe. It leaves me wondering…How many chops?! Based on the fact that I doubled the celery and onion it called for and that was plenty for the 9 chops I had…I'm going with 4 chops for the original recipe.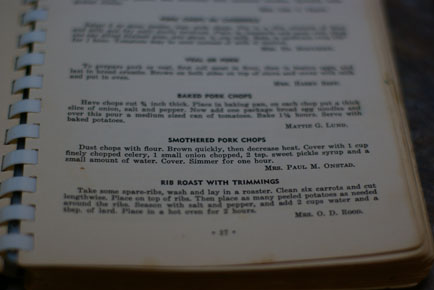 Place the flour with a little salt and pepper on a large plate.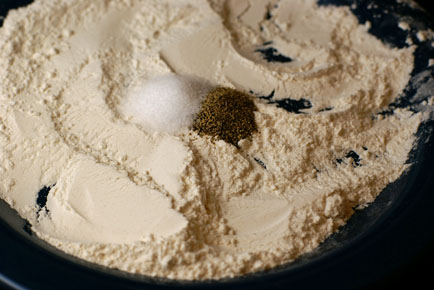 Dip the pork chops into the flour.  Not quite the same thing as dusting. But it works.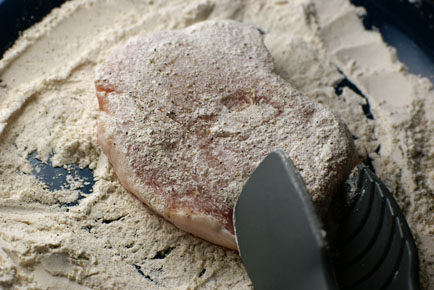 Place the dipped chops into a skillet with the oil.  Brown for 2-3 minutes over medium high heat.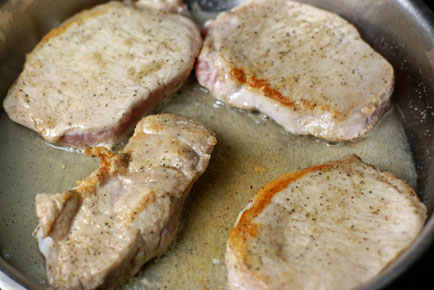 Brown all the chops. If you are making more chops than can fit into your pan, remove the chops and repeat.  I chose to bake the chops because I was making 9…and they all would not fit in my skillet to simmer.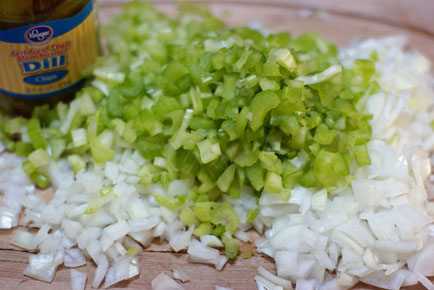 Chop up the celery and onions and toss with the olive oil and pickle juice.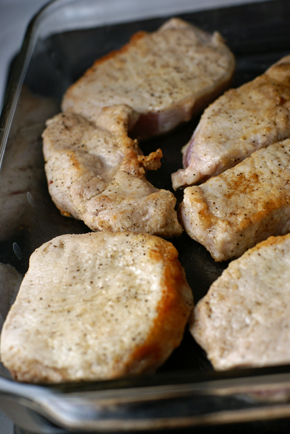 Browned chops go into glass baking dishes.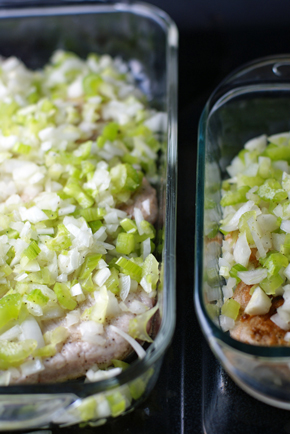 Celery-onion-pickle juice mixture goes on top before baking.  Go ahead and smother them with the onions and celery. 😉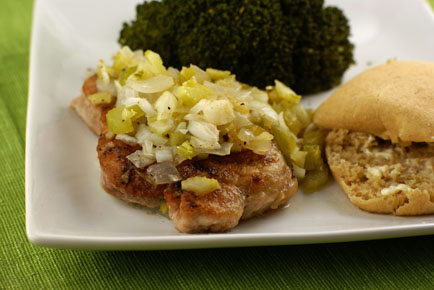 These. were. oh. so. incredibly. delicious. They really had it figured out back in the 30s and 40s.
This is post-depression cooking at its finest y'all!!!
Smothered Pork Chops

Adapted from my Grammy's Tested Recipes from 1940

Yield – 8 servings

Preparation Time – 15 minutes

Cooking Time – 40 minutes

Ingredients

1/2 cup flour ($.10)
1 tsp salt and pepper
9 pork chops ($7.41) Manager's Special
2 Tbsp canola or vegetable oil ($.05)
2 onions, chopped ($.60)
4 celery stalks, chopped ($.40)
1 Tbsp olive oil ($.10)
3 Tbsp pickle juice, from the jar (is this free?!) ($.10)
Salt and pepper to taste
4  broccoli heads ($1.67)
1 bag frozen Sister Schubert's Rolls ($.99) On sale, store promotion and coupon
Butter and jam, optional


Directions

Place the flour and salt and pepper onto a plate or dish large enough to dip the pork chops.  Coat each side of the pork chops with the flour mixture.
Heat the oil in the skillet and then brown each side of the pork chops.  Once browned on both sides, place all the pork chops into a glass baking dish. (I used 1 9×13 and 1 8×8 to get the 9 pork chops to fit. Without smooshing.)
In a large mixing bowl, toss together the chopped onion, chopped celery, olive oil and pickle juice. Season with a little salt and pepper.  Pour the mixture over top of the browned pork chops.
Bake at 350 for 30-35 minutes, or until pork chops are no longer pink in the middle.
Steam the broccoli.
Prepare the rolls as directed on the package.
Serve Smothered Pork Chops with Steamed Broccoli and Dinner Rolls.

Cost $11.42

This made enough for our family, our friends and there were leftovers.  Would easily feed 8 adults!