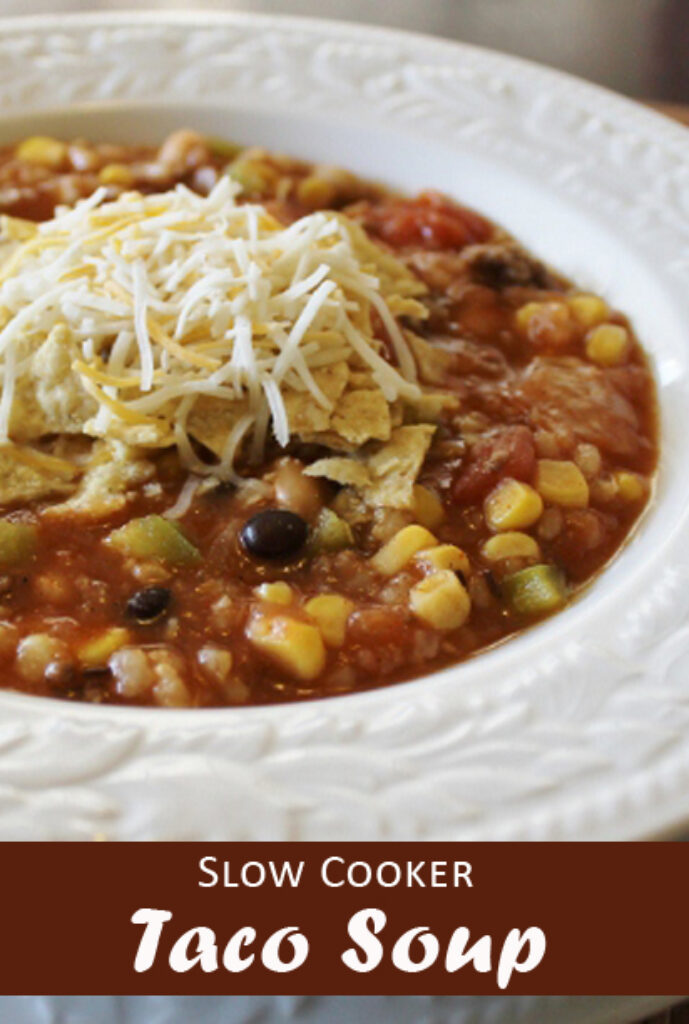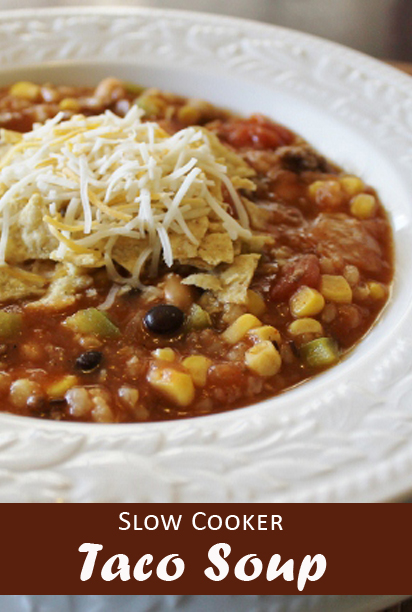 When life is busy it is even more important for my family to find time to eat together. There is something so relaxing about sitting around the table together chatting, laughing, and reconnecting.
However, it can be rough to throw together a family dinner when we walk in the door a few minutes before dinner time. Yes, I can throw together a pretty decent meal in 10 minutes, but (confession time) I am not always that cheerful when throwing together a dinner in 10 minutes. And if I have been grumping at everyone while making dinner, it kind of puts a damper on the chatting, laughing, and reconnecting that is supposed to happen around the dinner table.
If I remember to put together a slow cooker meal in the morning on busy days, I am more relaxed at dinner time and my cheerfulness rubs off on the rest of the family.
My kids love taco soup and I love how easy it is to make. All I have to do is add all the ingredients, except for the toppings, to the slow cooker before I leave. Then I come home to a delicious dinner. I keep this meal frugal my using items from my Batch Cooking Day instead of canned ingredients. I was able to pull browned hamburger, cooked beans, cooked rice, diced bell peppers, diced onions, diced tomatoes, and corn from the freezer to use in this recipe.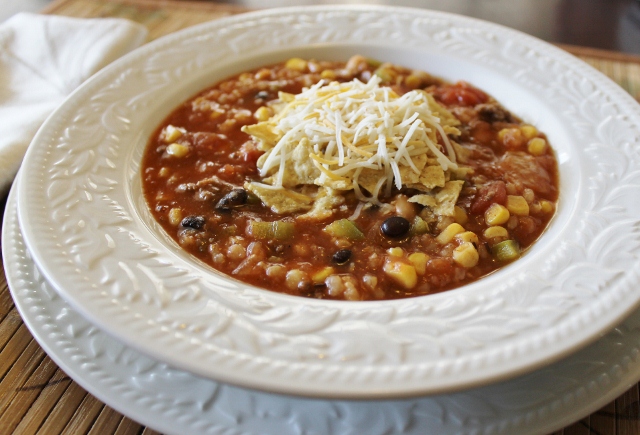 I add rice to the taco soup, which makes it thicker, almost like a stew. My thicker version makes it easier for my 5 year old to eat it without dripping, which contributes to a relaxing dinner.
Packed with flavor and so easy to prepare!
Ingredients
1/2

lb

ground beef, browned

1

medium

onion, chopped

1/2

cup

bell pepper diced

1 3/4

cups

cooked black beans

or 15.5 oz. can black beans

1 3/4

cups

cooked white beans

or 15.5 oz can white beans

2

cups

cooked rice

1 3/4

cups

corn

or 15.5 oz can corn

3 1/2

cups

diced tomatoes

or 2 - 15.5 oz cans diced tomatoes

15

oz

15 oz. can tomato sauce

2

cups

water

3

tbsp

taco seasoning mix

1

cup

crushed chips

1

cup

shredded Mexican cheese
Instructions
If necessary, brown the ground beef.

Add ground beef, onion, bell pepper, beans, corn, rice, diced tomatoes, tomato sauce, water and taco seasoning to the slow cooker. Cook on low for 6 hours.

Ladle soup into bowls. Top with crushed chips and cheese.