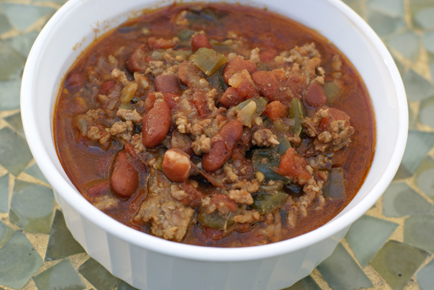 I love chili in the slow cooker. I love how it makes your house smell delicious all day long. I love how you can tell your spouse when they get home that you've "been slaving away" on dinner…because a smell that good certainly means you've been slaving away! 😉  I love how you can mix and match ingredients so easily with chilis and soups. And I love that it's finally cool enough to actually want a warm cup of chili for dinner.
The mix and match ingredient in this chili. Chopped green chilies.
Enough heat to make it spicy. But not enough to set the kids' mouths on fire.
(Please don't put dried red kidney beans in the slow cooker. They release a toxin was they cook in the slow cooker. Cook dried red kidney beans before adding them to the slow cooker. Canned red kidney beans can go in, no problem.)
Slow Cooker Spicy Chili

Ingredients

1.25 lb. ground beef ($1.86)
1 cup homemade beef broth (free)
2 cups cooked red kidney beans ($.40) Substitute 1 15 oz can
1 green pepper, chopped ($.20) More on these cheap green peppers
1 15 oz can diced tomatoes ($.24)
1 4 oz can chopped green chilies ($.59)
1/2 yellow onion, chopped ($.15)
2 garlic cloves, crushed ($.10)
2 Tbsp chili powder ($.10)
Salt and pepper to taste
1 15 oz can green beans ($.50)
Homemade rolls ($.50)

Directions

Brown the ground beef. (Cook the beans if you have to.  I cooked them during the afternoon, after I'd started the rest of the chili in the slow cooker.  Then added the beans for the last hour. Worked out fine.)
Add the brown beef, cooked beans if they are ready, beef broth, chopped green pepper, diced tomato with juices, chopped green chilies with juices, chopped onion, crushed garlic, chili powder and salt and pepper to taste. Set on low and cook for 8 hours.
Warm the green beans.
Warm the homemade rolls. (I had some in the freezer.)  Any bread will do…you want it to soak up the juices! 🙂
Serve Slow Cooker Spicy Chili with Green Beans and Homemade Rolls.

Cost $4.64