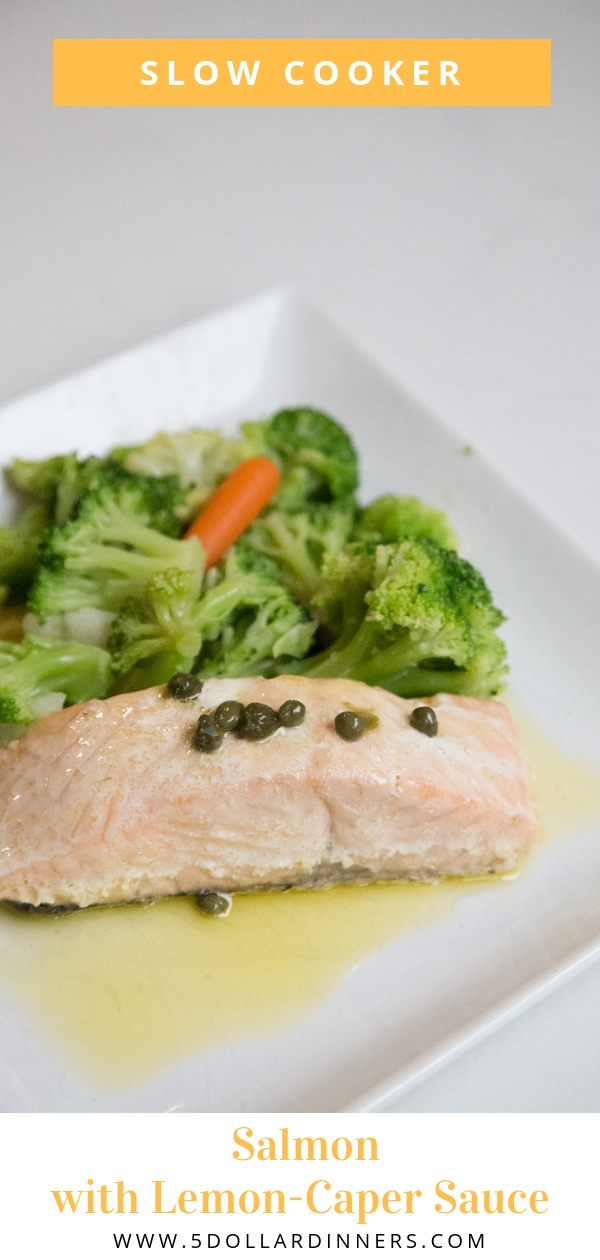 This sauce is DIVINE!!!!!
I know it just looks like melted butter…but I promise it tastes 9,228x better than melted butter. The lemon and the capers soaked into the butter and it's just a lovely sauce that you can dip each bite right into!
Enjoy!
This is a must try recipe in the slow cooker!
Ingredients
1

lb.

salmon fillet

Salt and pepper

1

tsp

lemon zest

(1 lemon)

2

tsp

capers

4

Tbsp

butter

2

Tbsp

lemon juice

1

tsp

minced garlic

1/2

tsp

dried oregano

Side: veggies

Side: rice
Instructions
Cut salmon fillet into 4 pieces. (Ask the attendant at the seafood counter at the store to slice it for you!) Season with salt and pepper, and then add lemon zest right on top of the fillet.

Place the prepared salmon fillets onto a piece of parchment paper, and then place carefully into the base of the slow cooker. Set on low and cook for 1 1/2 hours, or until the salmon is cooked through.

With about 10 minutes left in the slow cooking cycle, prepare the lemon caper sauce in a small skillet. Drain and smash the capers with back of a spoon. Melt the butter over low heat, then add the capers, lemon juice and minced garlic and simmer for no more than 1 minute. Remove from heat and stir in the oregano. Let cool for a few minutes, then spoon directly over the cooked salmon. If you wanted to pour it over the salmon for the last few minutes of slow cooker, you could do that too!

Cook the veggies and rice.

Serve Slow Cooker Salmon with Lemon-Caper Sauce with side of rice and veggies.