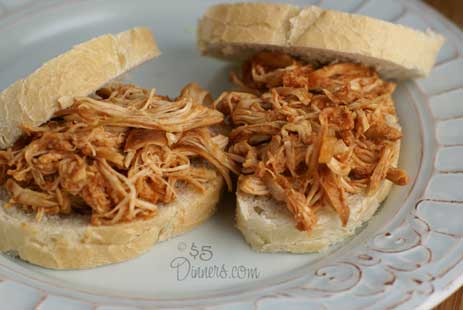 Notice that those are not the homemade wheat rolls from last night's dinner! We ended up making PBJ sliders for lunch, using some homemade blueberry jam that a friend gave us for Christmas!
So…
These intended-to-be sliders are more like sandwiches.
Whatever bread will work. And whatever "title" will work too!
Just going with the flow!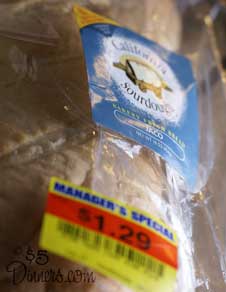 I went for the reduced sourdough loaf that was in the top of the freezer.
Slice. Slice. Slice.
Ingredients
3 chicken breasts ($2.53) About 1.3 lbs, bought on sale for $1.89/lb.

1/2 onion, chopped ($.15)

2 garlic cloves, crushed ($.10)

6 oz. can tomato paste ($.19) Used $1 coupon

1

Tbsp

cider vinegar ($.05)

3

Tbsp

prepared mustard ($.10)

3

Tbsp

brown sugar ($.10)

Bread ($.70)

Lettuce (Free)

Dressing ($.25)
Instructions
Place 3 chicken breasts in the base of the slow cooker.

In small bowl, whisk together the tomato paste plus 2 cans worth of water, the cider vinegar, mustard, and brown sugar. Add a little salt and pepper is you wish. Add the chopped onion and crushed garlic to the sauce.

Pour sauce over chicken breasts. Set slow cooker to high and cook for 4-6 hours.