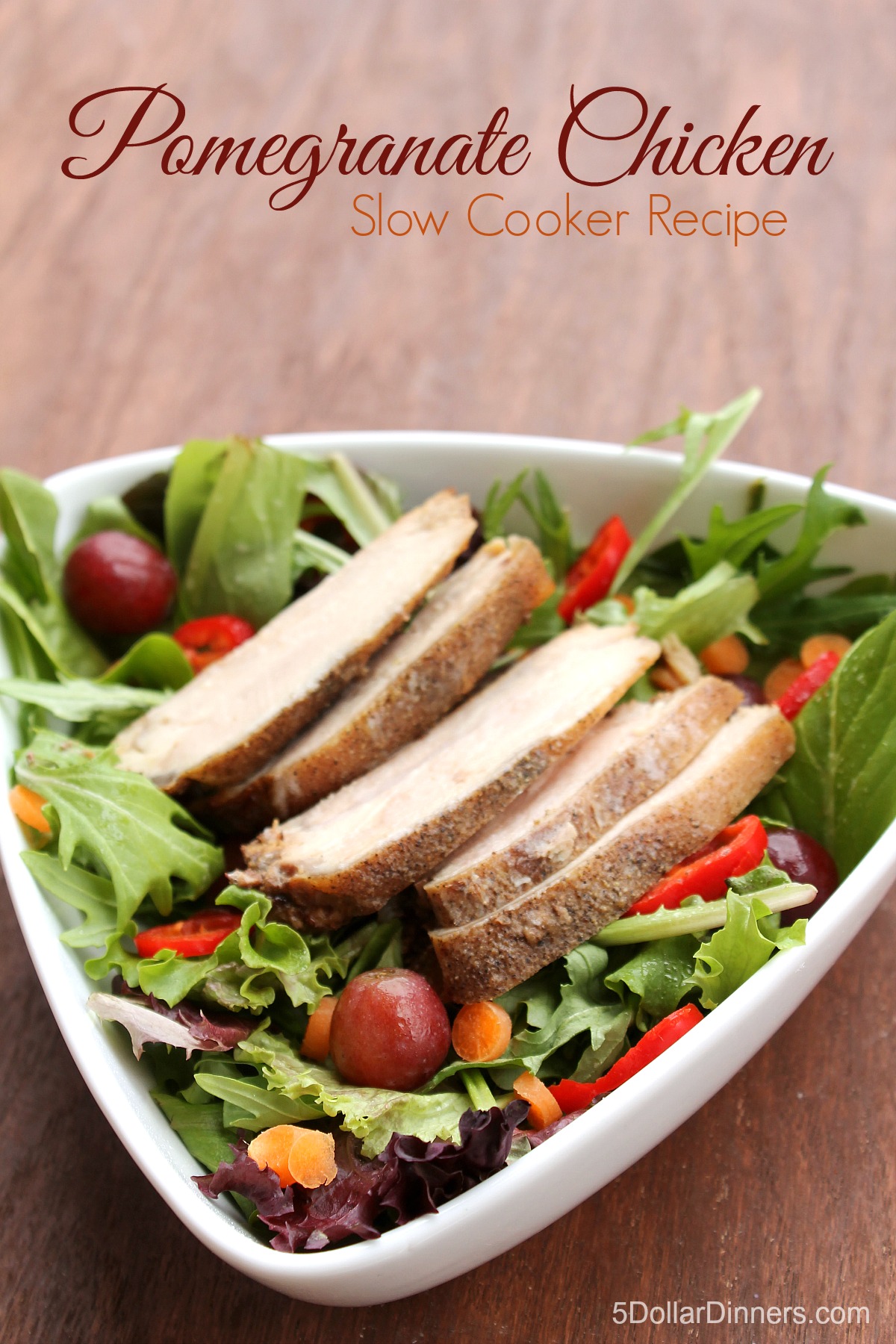 Oh my depth of flavor. Just, oh my.
Pomegranate juice packs a powerful punch – both in antioxidents and in flavors. This perfectly balanced marinade for chicken calls for pomegranate, a touch of honey, a splash of balsamic vinegar, cumin, and garlic.
The honey sweetens up the rich, deep pomegranate flavors, the vinegar adds a nice tang and then there's the addition of a slight smokey flavor from the cumin and just the right amount of zest from the garlic and ginger.
Just so, so, so delicious.
This chicken was served over rice for the boys and I had it over salad…this is a great meal when you want to offer a few options but not have to short order cook! (Love these kinds of meals!)
Hope you enjoy this as much as we did…
A perfectly balanced chicken marinade!
Ingredients
1 1/2

lbs

boneless skinless chicken thighs

1/2

cup

pomegranate juice

2

Tbsp

honey

1

Tbsp

balsamic vinegar

1/4

tsp

cumin

1

tsp

fresh garlic, minced

1

tsp

fresh ginger, minced

1/4

tsp

black pepper

1/2

tsp

salt
Instructions
Spray slow cooker dish with non-stick cooking spray.

Add chicken to the slow cooker.

In a small bowl, combine the pomegranate juice, honey, vinegar, cumin, garlic, ginger, black pepper, and salt.

Pour the sauce mixture over the chicken.

Set on low and cook for 6 - 8 hours. You could also cook on high for 4 hours instead.

Slice and serve on a bed of salad or rice.