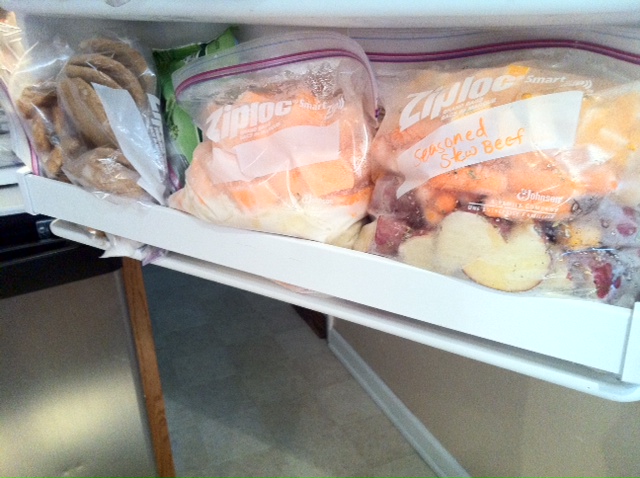 So I'm gone almost 6 full days this week. A new record for me!
In an attempt to keep my guys from having to go out to eat every night while I'm gone, I've put together some meal options for them.
I'm leaving spaghetti for them to have tonight. And here's what I've left for the rest of the week. (I even organized it neatly into the freezer door to make things even easier for our sitter and for my husband, as he plays Mr. Mom while I'm gone.
Slow Cooker Sweet Potato and Chicken Curry (in the middle of the freezer door)
Beef Stew with Potatoes, Butternut and Carrots (in the "seasoned stew beef" bag, recipe coming next week on One Dish Dinners)
Slow Cooker Orange-Cranberry Pork Roast (recipe below) with Steamers Broccoli
Snickerdoodle Cookie Dough (at far end of freezer door, after school snack option)
Whole Wheat Pancakes (breakfast, lunch or snack)
Pizza with dairy free Daiya cheese for the boys with fruit
Out to dinner one of the nights
So now my husband's job as Mr. Mom will hopefully be a little easier while I'm away!
Scrumptious slow cooker meal for your family to enjoy!
Ingredients
2

lb

pork roast or tenderloin

15

oz.

can cranberry sauce

1

orange

zested and juiced

1

tsp

cinnamon

Dash nutmeg and cloves

Salt and pepper

Steamer broccoli

side dish

2

cups

brown rice

side dish
Instructions
Place the pork roast in the base of a slow cooker.

In a small bowl, mix together the cranberry sauce, juice and zest from the orange, cinnamon, nutmeg and cloves. Pour over the roast in the slow cooker.

Prepare broccoli or other vegetables.

Prepare brown rice as directed.

Serve Orange-Cranberry Pork Roast with broccoli and rice.