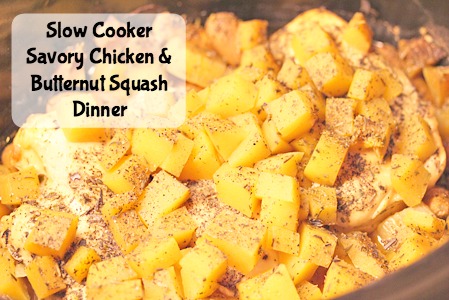 This recipe is part of our 6th Costco Meal Plan: 20 Slow Cooker Freezer Packs from Costco for $150!
We've been enjoying lots of butternut squash lately, after buying some at Kroger, then more at Aldi the next week for just $.59 each!
We've had this…a beef stew with butternut …and I made the same beef stew mix for the guys to enjoy while I'm out of town this week.
(And sorry about the lighting…it was already dark. And dark outside kitchen light does not bode well when photographing food! This is a peek inside the slow cooker, minutes after I took off the lid to serve dinner.)
(And I should add…I had grandiose plans for all the acorn squash that I had growing my little garden. That is, until the squirrels ate them. Sigh.)
Couple notes about this recipe as part of the 6th meal plan in the 20 Meals from Costco for $150 series:
Gluten Free modifications: none.
Whole 30 or Paleo modifications: serve with preferred side dishes in place of the pasta.
Note: I've written the recipe below to be based on the shopping list for the 6th plan in the 20 Meals from Costco for $150 series.
Chicken plus butternut squash with a savory seasonings - so delicious!
Ingredients
2

large

boneless, skinless chicken breasts

2

tsp

red wine vinegar

Salt and pepper

1

lb.

bag baby carrots

or 4-5 peeled carrots sticks

1

medium

butternut squash

peeled, seeded and diced

2

tsp

Italian seasoning

pasta with oil

side dish
Instructions
Place the chicken breasts in the base of the slow cooker and splash the vinegar over the top. Season with salt and pepper.

Add the baby carrots and butternut squash around and on top of the chicken. Season with the Italian seasonings and more salt and pepper if you like.

Set the slow cooker on low for 8 hours.

Prepare pasta as directed.

Serve Savory Slow Cooker Chicken and Butternut Squash with carrots andpasta.

To pack into gallon size freezer baggie: Label and add all ingredients.Do not add pasta to the freezer baggies, it is a side dish.Remove as much air as you can and seal. Freeze up to 6 months in your fridge freezer or 12 months in a deep freezer.

Tothaw, place the bags in the fridge overnight. Or quick thaw in a bowl of warm water.