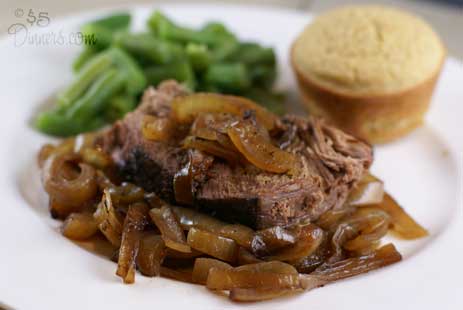 I will make this again.
Maybe tomorrow.
It was THAT GOOD!
If you like the balsamic flavor, this is a must try!
The balsamic onions are a magical complement to the slow cooked, shredded beef.
Ingredients
2

lb.

beef chuck roast

2

small

white onions

sliced

4

garlic cloves

smashed

1/4

cup

balsamic vinegar

Salt and pepper

dinner rolls

side dish

veggies

side dish
Instructions
In a large pot, sear or brown the beef roast on all sides in a little olive oil.

Slice onions into strips. Smoosh garlic clove with flat part of the knife. Is that a technical cooking term, smoosh?!?

Place seared roast into slow cooker with the oil that it was seared in. Season with salt and pepper. Add sliced onions and smooshed garlic around the roast. Sprinkle about 1/4-1/2 cup balsamic vinegar into the slow cooker.

Cook on low for 8 hours.

In mixing bowl, whisk together the cornmeal, flour, sugar, powder and salt. Whisk in the oil, eggs and milk until batter forms. Pour into greased baking dish. Bake in preheated oven for 16-20 minutes, or until toothpick comes out clean in the middle.

Prepare green beans as directed on package.

Serve Slow Cooker Beef Roast with Balsamic Onions, Green Beans and Cornbread.