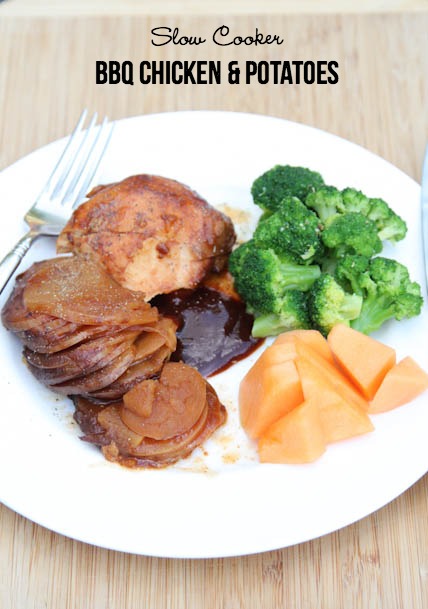 This recipe is part of the 20 Slow Cooker Freezer Packs from Costco for $150 meal plan. Note that this is written as a single recipe, but is doubled in the Costco meal plan, so you will have enough ingredients to make 2 packs.
This chicken is fantastic…I adore BBQ chicken in the slow cooker. The way that I sliced the potatoes and added them to the slow cooker freezer packs and then slipped them into the slow cooker…they came out almost like 'scalloped BBQ potatoes'…haha! A little shredded sharp cheddar cheese on top would be delicious!
I served this with some fruit I had already cut up and broccoli from the freezer!
Ingredients
1 chicken breast, 2-3 chicken thighs

1 pepper, diced

onion

3 potatoes, sliced

BBQ sauce
Instructions
1 chicken breast, 2-3 chicken thighs

1 pepper, diced

onion

3 potatoes, sliced

BBQ sauce