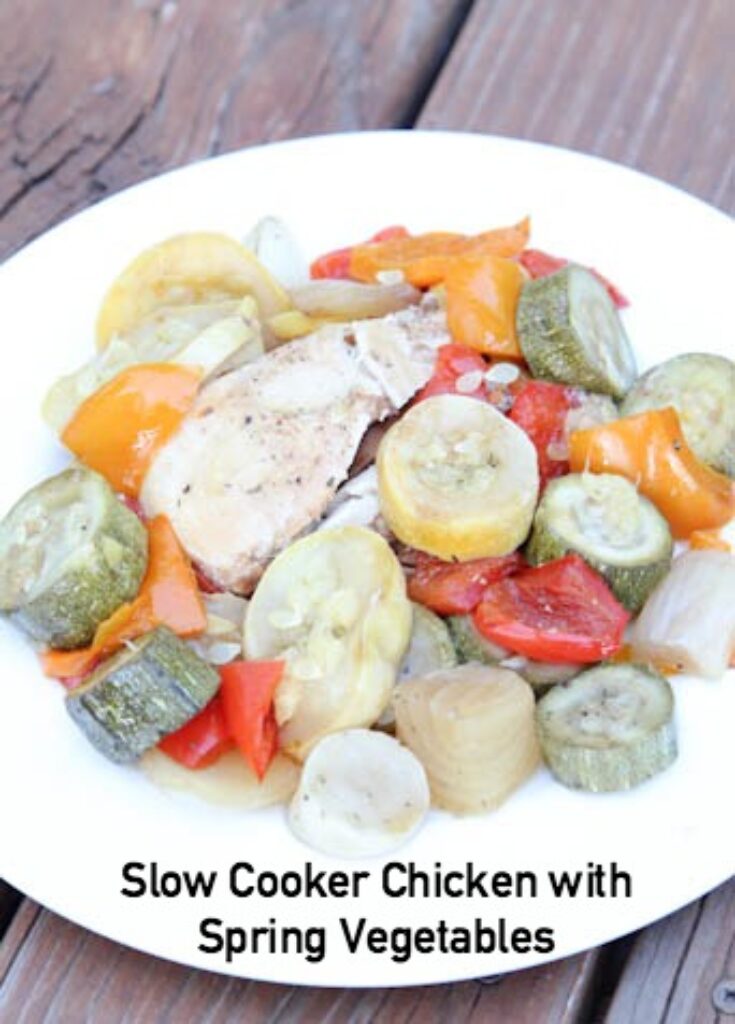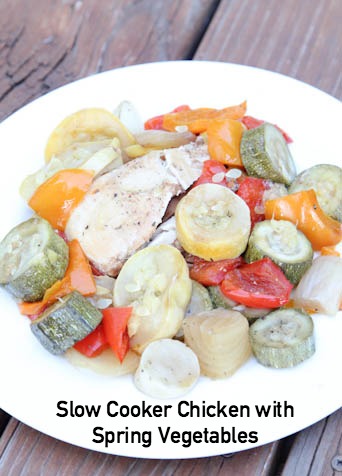 I rarely. I mean rarely. Like practically never. Ever. Maybe once every 2 years. Look at other cookbooks. I use my own all the time (for reference in baking or to check if I've done that recipe before or to replicate a flavor combination, but cook it differently.)
A few weeks ago, I was clearing out a cabinet above the kitchen desk. I was really looking for books to put into the boys' summer reading baskets. I noticed a few cookbooks that I'd received from blogger friends, so I pulled them down with the intention of leafing through them when we were at the ranch for Memorial Day.
I managed to carve out a little free time to leaf through them and came across this recipe from my friend Stephanie from A Year of Slow Cooking. This recipe comes out of her first "Make It Fast, Cook It Slow" cookbook. (See all of her cookbooks here.)
If Stephanie and I lived in the same city, we would be best of friends. We are both on a mission to help people with their grocery spending and making meal prep that much easier. Actually…if we lived in the same city, I think we would have already taken down the internet.
That's another story for another day.
I wanted to share this recipe with you because I have a feeling you could make this for wicked cheap these days…zucchini and squash are super low cost right now…peppers have been $.50-$.60 at my local grocery stores. And well, I hope you know that you should always buy extra packages of chicken breast or thighs when they're on sale. If you're really stretching your grocery bucks…this recipe would totally work with bone-in chicken thighs or drumsticks, as well as bone-in split breasts.
I didn't follow the recipe directions that Stephanie suggested directly…mostly because I'm lazy. And I don't like doing the dishes. And I didn't want to dirty another bowl. And I was literally 'dumping and running' out the door to get the kids to VBS.
If you're wanting to get into slow cooking and don't know where to start, Steph is your girl. Get her book(s).
Now for the recipe…
A simple slow cooker meal made with chicken, sauce and chopped veggies.
Ingredients
1 1/2

lbs.

boneless, skinless chicken breasts

2

Tbsp

balsamic vinegar, divided

2

Tbsp

red cooking wine

2

small

zucchini

sliced

2

small

yellow squash

sliced

1

small

red pepper

seeded and diced

1

small

orange pepper

seeded and diced

1

small

red onion

cut into chunks

Salt and pepper

rice

side dish
Instructions
Place the chicken pieces in the base of the slow cooker. Drizzle about 1 Tbsp of balsamic vinegar over the chicken. Add the red cooking wine (optional) around the chicken as well. Gently toss the zucchini, squash, pepper pieces and onion pieces around and on top of the chicken. Season with salt and pepper.

Set the slow cooker on low and cook for 8 hours.

Before dinner, prepare the rice as directed.

Serve Slow Cooker Balsamic Chicken with Spring Vegetables over rice.
Disclaimer: As an Amazon Associate, I earn commissions on qualifying purchases. Reviews, opinions are my own.