Whew…it's finally here! I know you've been asking for this for a.long.time…and it's ready for you just in time for the new year!
Can I share this golden piece of insight and wisdom as you think about what you're eating and feeding yourself in 2016??? A few years back, I made an appearance on The View. While backstage in the dressing rooms, I had the pleasure of meeting a "big name" celebrity fitness trainer/TV show guy and we got to chatting about eating well on a budget and I asked him what percentage of weight loss is eating vs. exercising. He said it depends on many factors (ones I list out below), but for most people weight loss is 70-80% what you eat and 20-30% how you exercise. Obviously, put them together and you're on the weight loss fast track. But I was kinda surprised at how high the percentage was for the food aspect of weight loss.
I've talked with several other fitness and weight loss experts and they agree on that percentage range.
I'm going to be honest with you…I count dollars and cents when it comes to meals and recipes.
BUT…you've asked again and again and again for a meal plan for weight loss and calorie counting.
I resisted pulling together a "calorie counting" type of meal plan because I really thought my brain might explode from counting dollars and calories at the same time. But as we developed the nutritional information database for the weekly $5 Meal Plan recipes, I eventually decided that my brain wouldn't explode from counting both…and we've finally got this ready.
I went through all of the recipes and nutritional information and pulled out the most popular and best recipes that contain less than 450 calories per serving. Most people trying to lose significant amount of weight work on a 1200 calorie per day diet, so with 450 calories or less used for a meal…you'll have "plenty" of calories to spare for the other meals/snacks in the day. We understand that there are many factors that come into play when it comes to losing weight – metabolism, exercise, genetics – but we know this "Skimpy Calorie" meal plan will be a valuable resource on your calorie counting journey.
All that to say….what you eat and how you are fueling your body is crucial on your weight loss journey.
(Please see disclaimer below.)
So…I (finally get to) present to you…the "Skimpy Calorie" Meal Plan…

What is the Skimpy Calorie Meal Plan?
The "Skimpy Calorie" meal plan was created by my $5 Meal Plan weekly meal planning service, to help those who are counting calories.
I spend more time counting dollars than I do count calories, but I've gone through our $5 Meal Plan Nutritional Information database and pulled out all recipes that contain 450 calories per serving or less and dropped them into the "Skimpy Calorie" meal plan!
What matters is…I've taken the all the best "skimpy calorie" meals and pulled them all together into this amazing meal plan for you!
Who is this 6-Week Skimpy Calorie Meal Plan for? 
This plan is for anyone who is looking to skimp on calories without breaking the bank.
It's also for anyone who is overwhelmed with where to start in the calorie reducing process and wants someone to just do the legwork for them.
Is this a diabetic plan?
No. But it would work well for those looking to reduce calories and better manage their carb intake. (See disclaimer below. Pre-diabetics and diabetics should consult with their doctor or dietitian before making changes to their diet.)
Who is this plan is NOT for?
This plan is not for everyone. If you are not looking to lose weight or count calories, move along 🙂
Remember, that it's most important to listen to your body and talk with your physician when making changes to your diet!
How many portions are in each recipe?
As always, the meals in this Skimpy Calorie plan are portioned out to 4 adult servings. Because of the way that I cook and prepare meals, it's super easy to add a starch-y side dish (like whole wheat bread, toast or brown rice) for those in your family who aren't counting calories.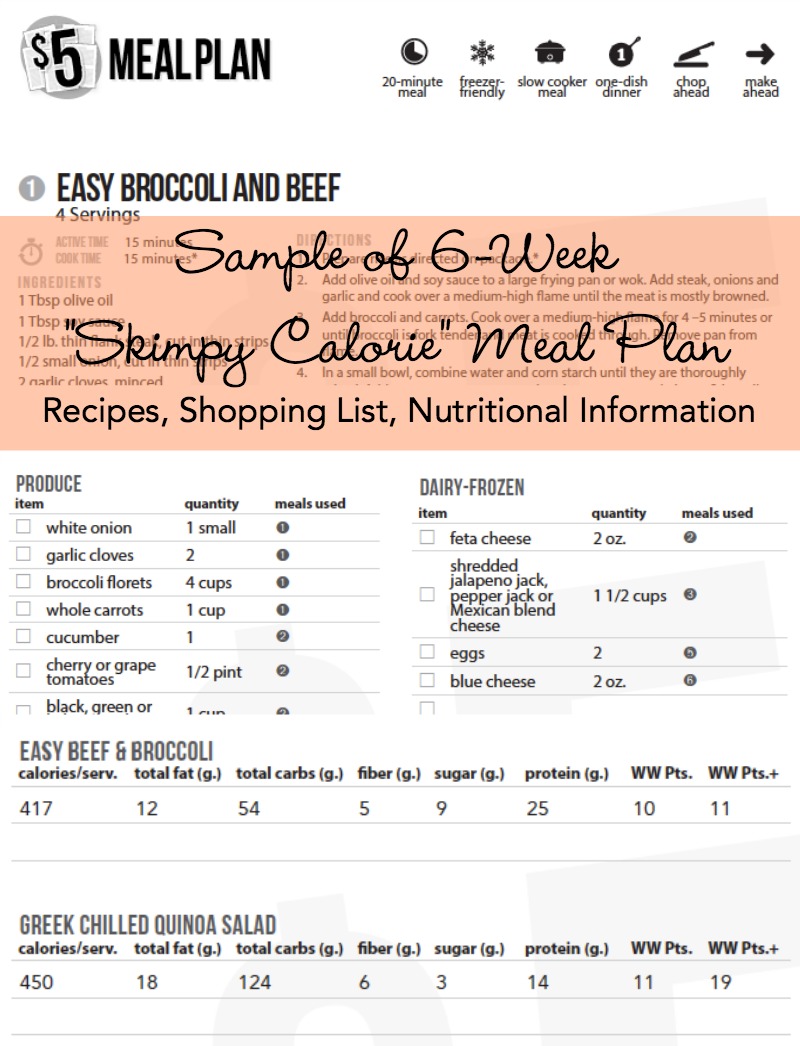 If you think the new Skimpy Calorie meal plan is right for you and you want to give it a try to help your calorie counting and weight loss efforts, then it's right here for you!
The plan has 6 weeks worth of meals with 6 meals in each week. There are 5 dinner meals plus a breakfast idea, lunch idea or snack idea, on each of the weekly lists.
Here is a little taste of some of the recipes in the plan…
Beef Fajita Skillet Dinner
Thai Chicken Bake
Southwestern Frittata
Shredded Hawaiian Chicken Sandwiches
Citrus Salmon Packets
Taco Zucchini Boats
Moroccan Chicken
BLT Salad
Banana Breakfast Split
Jambalaya Kebabs
Each weekly plan also contains a shopping list for all the ingredients needed for that week, as well as a page with the nutritional information for each week's recipes.
The nutritional information that we include on each recipe is the following:
Calories per serving
Total fat (g.)
Total carbs (g.)
Fiber (g.)
Sugar (g.)
Protein (g.)
WW Pts.
WW Pts.+
Information is pulled from the MyFitnessPal nutrition calculator. 

If you're wanting to shave 20% off the price, you can sign up to be a free trial member of our $5 Meal Plan weekly subscription service and get the Skimpy Calorie plan for $8. 
I hope this plan helps you stay on a budget while enjoying "skimpy calorie" meals in the new year! If you have any questions, please email us…we're here to help!
*mwah*
Erin
Disclaimer: I am not a physician. I am not a dietitian. Consult with your physician anytime you are changing your diet or exercise routine.  This site and meal plan is not a substitute for the services of a trained health professional. Although we provide nutritional information for our recipes, the information on this site is for informational purposes only. No information offered by or through this site shall be construed as or understood to be medical advice or care. None of the information on this site shall be used to diagnose or treat any health problem or disease. Please discuss any concerns with your physician or registered dietitian. 5 Dollar Dinners & 5 Dollar Meal Plan believes this information to be accurate but we are not responsible for typographical or other errors.  Nutritional information is calculated with a tool on MyFitnessPal. Nutitional information is based on the ingredients and cooking instructions as described in each recipe and are by nature based on statistical averages. Nutrition may vary based on methods of preparation, origin, freshness of ingredients, etc. Nutritional information is based on the ingredients and cooking instructions as described in each recipe and are by nature based on statistical averages. Nutrition may vary based on methods of preparation, origin, freshness of ingredients, etc.