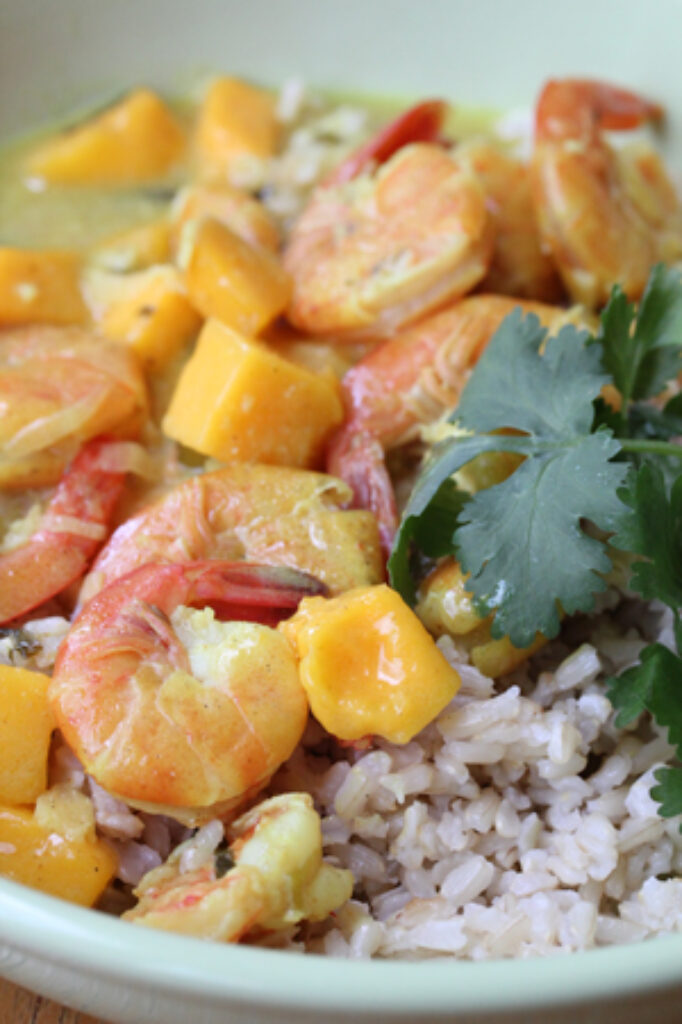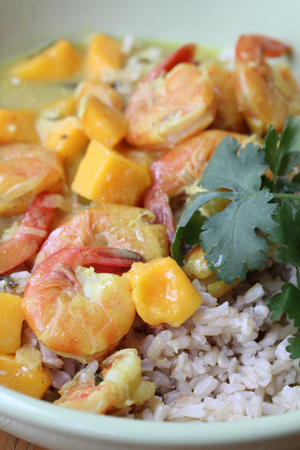 Shrimp reeks expensive. And it certainly can be expensive.
But it doesn't have to be. Shrimp can be bought in a number of different varieties – cooked, raw, fresh, frozen, tailless, by count, from mini to jumbo prawn. It's often on unadvertised sales, and can be found for less at non-chain grocery stores.
The next most expensive ingredient in many curries is the coconut milk. But don't fret, it's not uncommon for brand name coupons to be in circulation for coconut milk. And it's not uncommon to see store brand cans for less than $1.50.
Reduce the costs of the shrimp and coconut milk as best you can – as the remaining ingredients are all very inexpensive. (Don't pay more than $1 for a mango.)
A quick and easy Dutch oven meal for weeknight dinners!
Ingredients
1

Tbsp

olive oil

1

bunch

green onions

2

garlic cloves, crushed

15

oz.

can light coconut milk

1 1/2

Tbsp

curry powder

1

tsp

ground ginger

1

lb

pound shrimp

with or without tails, cooked or raw

1

mango

peeled, seeded and diced

Salt and pepper to taste

1

cup

brown rice, cooked

Cilantro for garnish
Instructions
In a large Dutch oven, heat the olive oil and saute the green onions and crushed garlic for 30 seconds to 1 minute.

Stir in the coconut milk, curry powder and ginger.Drop the shrimp and diced mango into the sauce. Let cook for 3 to 5 minutes, or until shrimp have turned pink (if they were raw).

Reduce heat to low and cook for 10 minutes, allowing flavors to marry.

If you dont plan to serve it right away, remove it from the heat and reheat, so the mangoes dont overcook.

Serve Shrimp Mango Curry over brown rice with cilantro garnish.