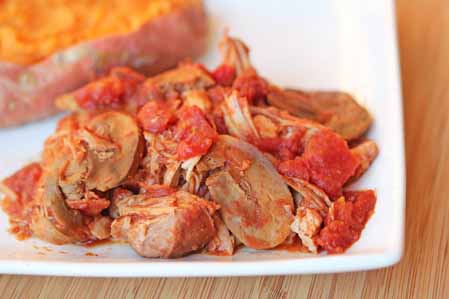 I love slow cooker meals.
I love how smoothly my days "run" when I've got dinner going in the slow cooker. I love being able to sit on the couch through the "witching hour." (Who am I kidding…I'm don't sit on the couch. And just sit.) So I guess, I love being able to get through the witching hour without being in the kitchen and having little people pulling at my knees or tugging on my shirt, asking for a snack.
"Dinner will be ready in 5 minutes…you can wait until then."
How many times have I uttered that phrase?
Thousands, maybe.
So this meal was a big hit…with all the little men, the big man and I really enjoyed it too. Plates were cleared, stakes were claimed on the leftovers (pulled pork sandwiches for lunch), and we all left the table with full, happy bellies.
The delicious flavors, the ease of the prep and cooking…a winner indeed!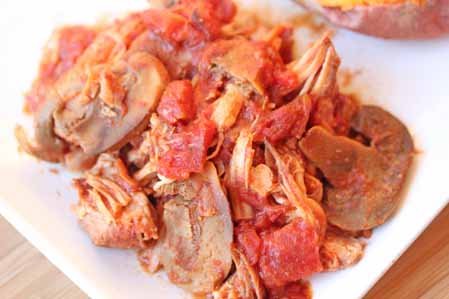 Ingredients
PAM Original No-Stick Cooking Spray

3 pounds boneless pork shoulder, cut into large pieces

2 cans (14.5 oz each) Hunt's Diced Tomatoes with Spicy Red Pepper, undrained

1 can (6 oz each) Hunt's Tomato Paste

1 pkg (0.87 oz each) pork gravy mix

3 tablespoons packed brown sugar

1 pkg (8 oz each) sliced fresh mushrooms
Instructions
Spray inside of 4 to 5-quart slow cooker with cooking spray. Combine remaining ingredients in slow cooker.

Cover; cook on LOW 8 to 10 hours or on HIGH 4 to 6 hours or until meat is tender. Separate pork into smaller pieces.
*Disclosure: This is part of a sponsored campaign on behalf of Kroger and ConAgra foods. Opinions are my own.