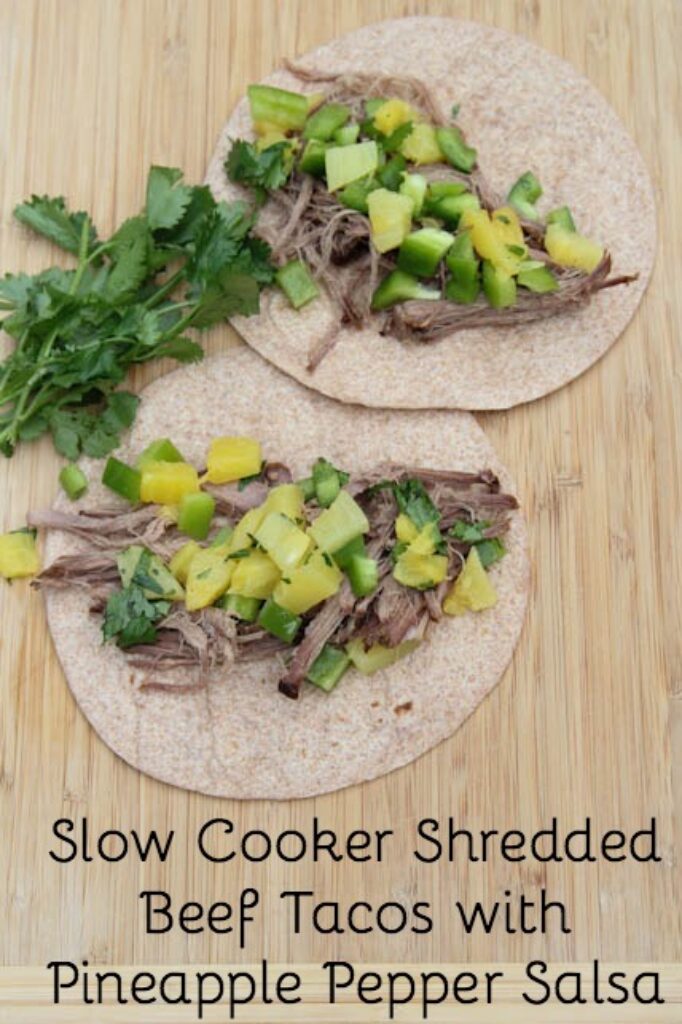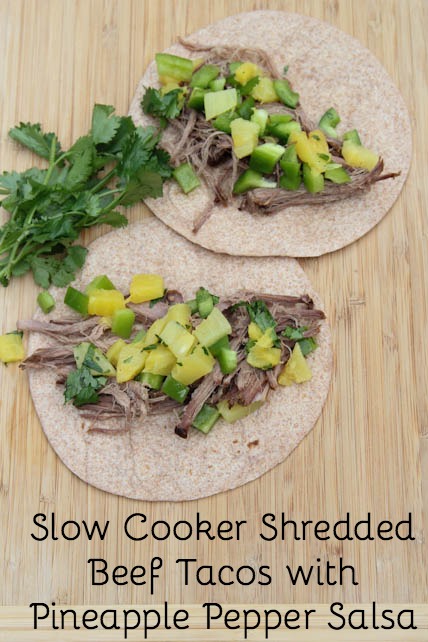 I'm often asked why I share so many taco recipes…and there are 3Â reasons.
One, my boys love them.
Two, I live in the land of ridiculously cheap corn and flour tortillas…where the grocery stores have in-store tortilla making presses.
And three, because I'm trying to pretend that my kitchen is like a taco truck, specifically Torchey's Tacos. (Last ate at one in Austin. I might start a petition to bring them to San Antonio!)
Here's a delicious spin off of the shredded beef tacos with mango-avocado salsa. If you find a great deal on a large chuck roast (3+ lbs.) – you can cook it and use the beef for each of these meals. Just mix up the Mango-Avocado salsa for one night, and then the pineapple-pepper salsa below another night. (Cooked, shredded beef freezes really well!)
I adore the sweetness from the pineapple, plus the crunch from the bell peppers in these tacos…MMMMMMMmmmmmmm. Buen provecho!
Ingredients
1+ pound beef roast, chuck roast or sirloin roast (whatever is on sale!)

1 lime, squeezed or 1 Tbsp lime juice

1 tsp ground cumin

1 tsp salt and pepper, each

1/2

cup

water

1 15 oz. can pineapple in 100% juice

2

small

green bell peppers, seeded and diced

1 lime, squeezed or 1 Tbsp lime juice

Small bunch of cilantro, chopped

Salt and pepper to taste

Tortillas - flour or corn (if GF)

Side dish ideas ~ corn on the cob, tex-mex style rice, refried beans
Instructions
Place the beef roast in theslow cooker. Squeeze the lime juice over the top, then sprinkle with cumin,salt and pepperon top as well. Carefully pour the water around the beef roast. (I like to add water so that the environment inside theslow cookerstays nice and moistI think it makes for more tender beef!) Set on low and cook for 8 hours. Once cooked, shred it with 2 forks.

Before dinner, mix up thepineapple pieces, chopped peppers,lime juice, cilantro andsalt and peppertogether in a bowl.

Addthe slow cooked beef into the tortillas and top with the pineapple-peppersalsa.

Prepare side dishes.

Serve Shredded Beef Tacos with Pineapple-PepperSalsa & preferred side dishes.