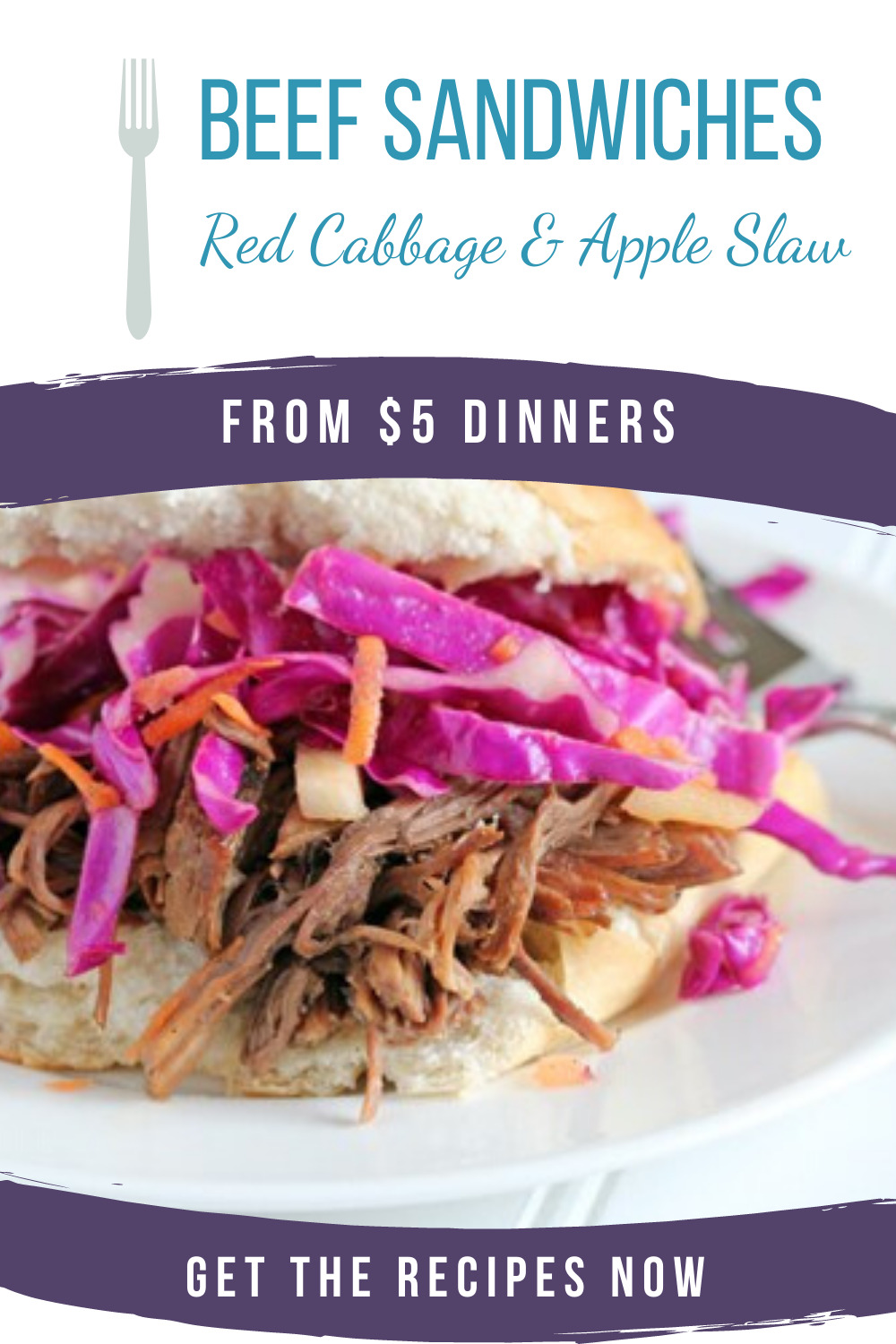 Right now in SW Ohio, we are entering what my friend Jenny has dubbed "hormonal weather" season. It's the high, low, warm weather tease one day, snow flurries the next.
HOT FLASHES.
That's what these warm weather teases are y'all. Weather hot flashes.
One day there's a dusting of snow on the ground and the next we are swinging at the park in our t-shirts. It's during these times that it's tough to plan what to eat.
Because when there's snow on the ground, even the tiniest bit, I need soup. I need the warmth. And I need the comfort.
And when the thermometer blasts up close to 70 (which feels like 90, when you are used to 20 degree temps.), all I want is a light summery meal.
I have accidentally come up with the perfect 2 meals for those hormonal days. Both use red cabbage (which we've already talked about this week. How to Shred it, specifically), and both use chuck roast beef.
For the stew that I shared the other night, you have to cut part of the roast into cubes and for this shredded beef, you just place the remainder in a slow cooker and then shred it once it's cooked.
There you have it…
Ingredients
1 1/4

lb

chuck roast

1

Tbsp

chili powder

1

tsp

ground cumin

Couple dashes salt and pepper

1

cup

beef broth or water

3

cups

shredded red cabbage

2

apples

peeled, cored and julienned

4

carrots

peeled and shredded

3

Tbsp

olive oil

1/4

cup

apple cider vinegar

1/2

tsp

ground cumin

1

tsp

salt

Couple dashes pepper

Buns, homemade or store bought
Instructions
Place the beef roast into the slow cooker with the chili powder, cumin, salt and pepper and water/broth. Set on low and cook for 8 hours. Once finished cooking, remove the meat from the liquid and pull apart and shred with 2 forks.

In a mixing bowl, toss together the cabbage, apple pieces, shredded carrots.

In a small resealable container, add the olive oil, vinegar, cumin, salt and pepper. Shake, shake, shake. Then pour over the cabbage mix.

To serve, spoon some shredded beef onto the buns and top with the slaw. Use small dinner rolls for "sliders," or regular buns for sandwiches.

Serve with a side of fresh fruit, or as is. (Just the sandwich itself was meal enough for me!)