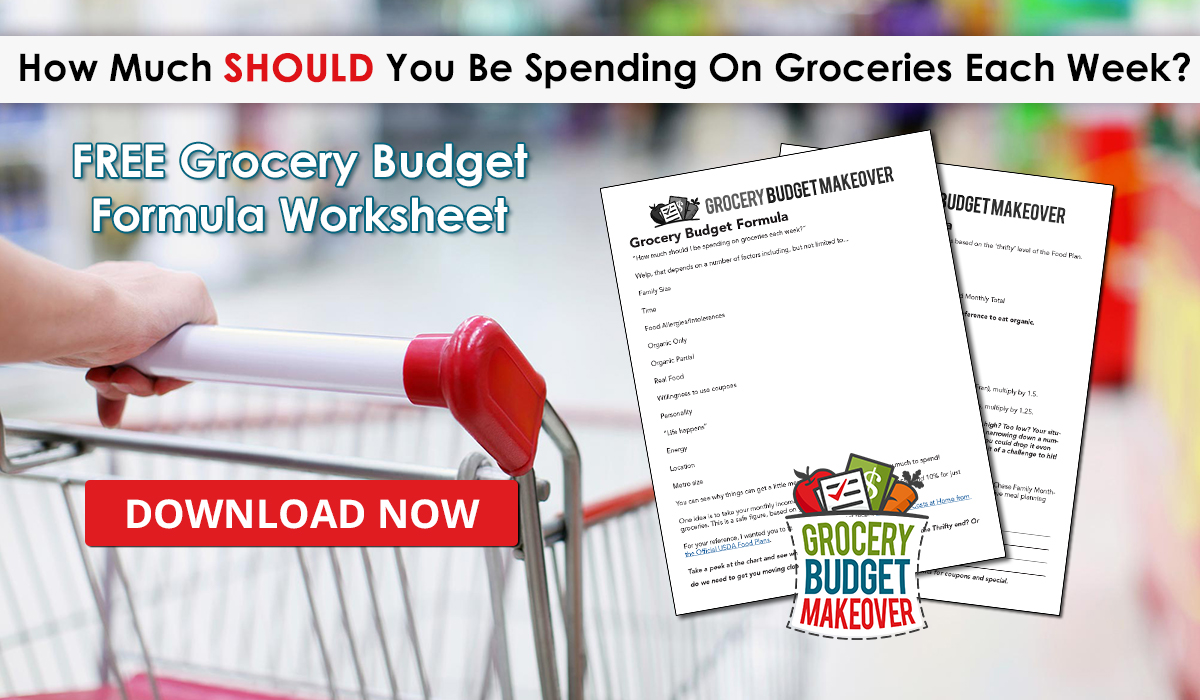 This is a very important question. And the answer will help you decide if you need to join our class.
This past weekend, I shared on Facebook live and answered the question – Is the Grocery Budget Makeover right for me? (If you're on the fence, or wondering, you need to watch it!)
The BEST way to answer 'is this right for me?' is to answer the question: how much you SHOULD be spending on groceries???
This Grocery Budget Formula Worksheet is actually a part of the first lesson in the Grocery Budget Makeover online class. We will look at the formula in more depth in the course with a video and answer some deeper questions around this. But I thought I should share this worksheet with you ahead of time…in case you wanted to see and use it to decide whether or not to join in the fall class.
Now.
Before we go any further, and before you download it.
You need to be warned that you might be completely shocked.
You might have to pick your jaw up off the floor.
If you are shocked and picking your jaw up off the floor, then I need to help you. And I need you to join the next class. You NEED to need to join the next class.
Here's what I want you to do.
Calculate how much you spent on groceries last month. (Just groceries, we'll talk about eating out later.) – Yes, this is going to involve looking at bank statements. You can't afford not to do this. Knowledge is power and you NEED to know exactly how much you're spending. (This is the part that might send you into a state of shock.)
Download the formula worksheet and use it to decide how much you SHOULD be spending. It has all kinds of factors and multipliers to help as many situations as possible.
Then, email me and tell me your numbers and we'll decide if I can help you.
(You might already be doing just fine and not need the makeover…but my guess is, you have lots to learn to be a smarter, savvier shopper!)
Got it. It will take a few minutes to work through all of this.
But don't be afraid to. Don't keep living in your…"well, I know I spend too much on groceries…but that's okay" world.
NO. No, no, no.
Nope, nope, nope.
I won't tolerate that kind of thinking…you need to know, so that you can do better with your spending and your finances. And so you can save more money too – for that vacation you're dreaming about, or to pay for preschool tuition, or to pay off debt, or for some crazy medical bill you weren't expecting.
Your grocery spending is probably the easiest line item in your personal budget where you have complete control and you can free up money for other things. I want to teach you my system and strategy. I want to help you find some extra money in the form of grocery savings.
Now.
Get the formula worksheet downloaded…and you'll be on your way to knowing, doing and improving your grocery habits!!!