I thought I'd share a little about my adventures from last week!
Just a day and a half after returning back home from the holidays in Texas, I hit the road again!  The adventures started with a news segment with my friends at Fox45 in Dayton.  I do a regular weekly segment on their morning show, so it was great to get to share the "the book just hit shelves today" news first with them!  (You can view the entire interview here.)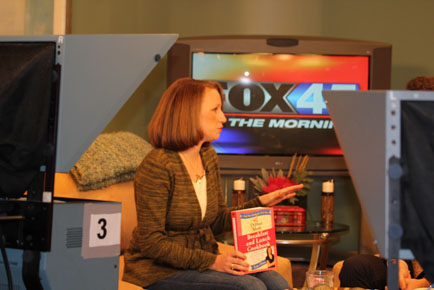 Behind the scenes.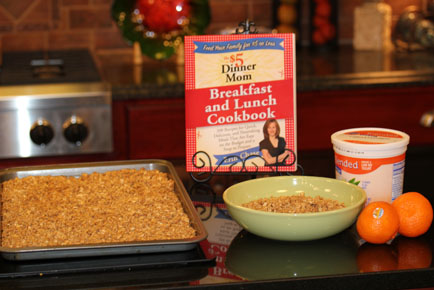 My Overnight Spiced Granola…one of my favorite (and possibly the easiest) breakfast recipe in the cookbook!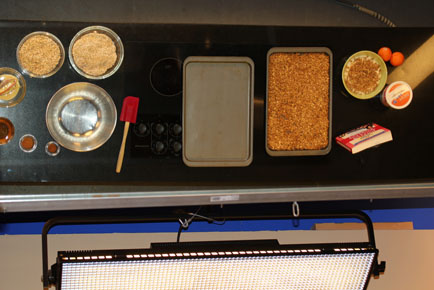 The view from the mirror they use to shoot the "top shots" during the cooking segments.
Later that evening was my local cookbook signing at Books & Co. at The Greene.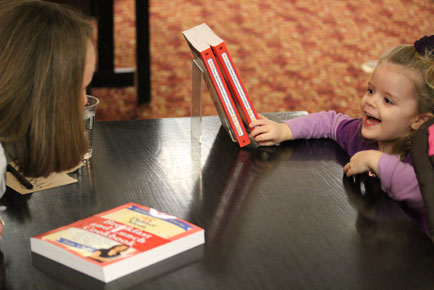 I'd like for you to meet P. I want to adopt her.  In part because of her infectious smile, in part because of her enthusiasm in the kitchen (as reported by her mom), and in part because I need a little more estrogen around here!
Her mom emailed me after the signing to let me know that she confiscated my cookbook, loved the photos and was not going to give it back! 😉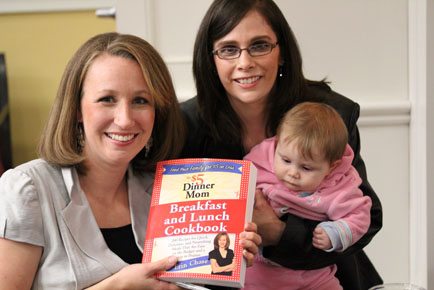 And this is Mary.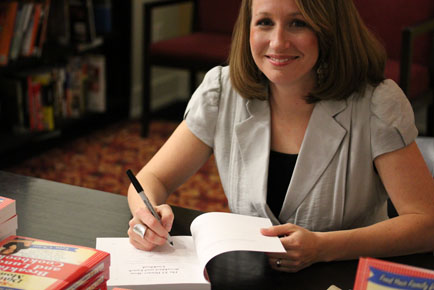 And me 🙂
Early the next morning, I hit the road…headed south to Atlanta.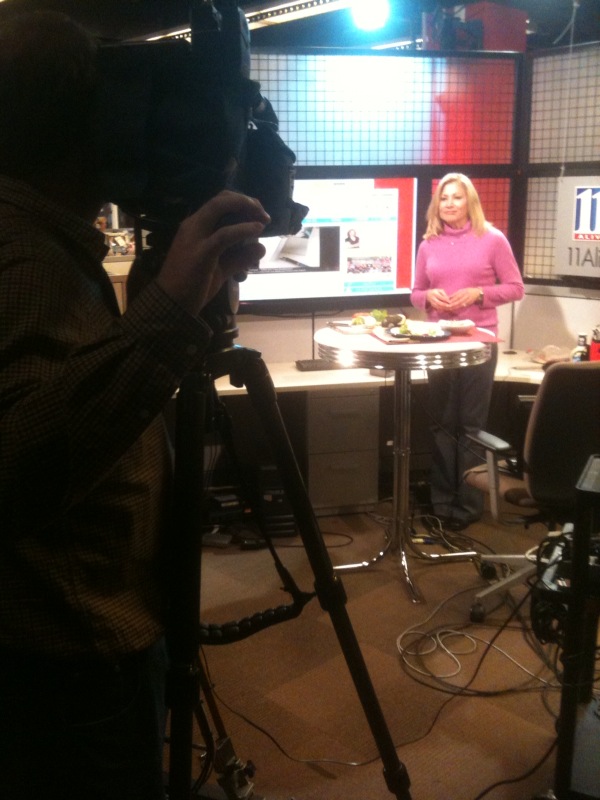 I did another interview with Valerie Hoff with 11Alive News.  She's a new-old friend from the Savvy Blogging Summit and it was lovely working with her! (You can view the interview on the 11Alive website.)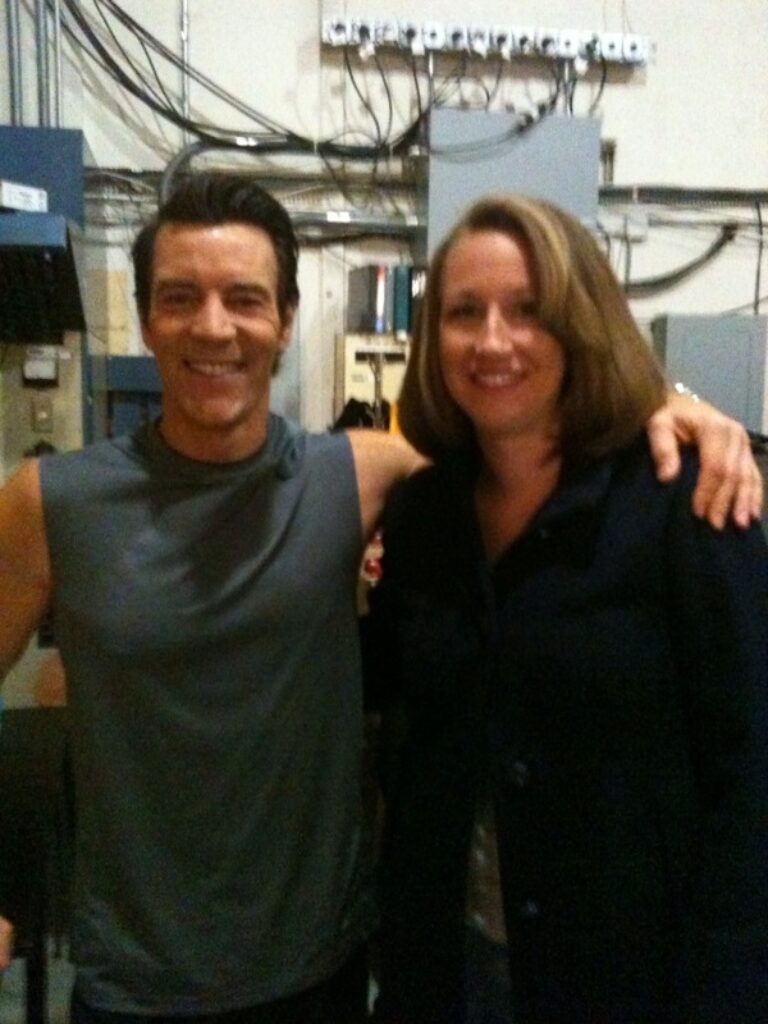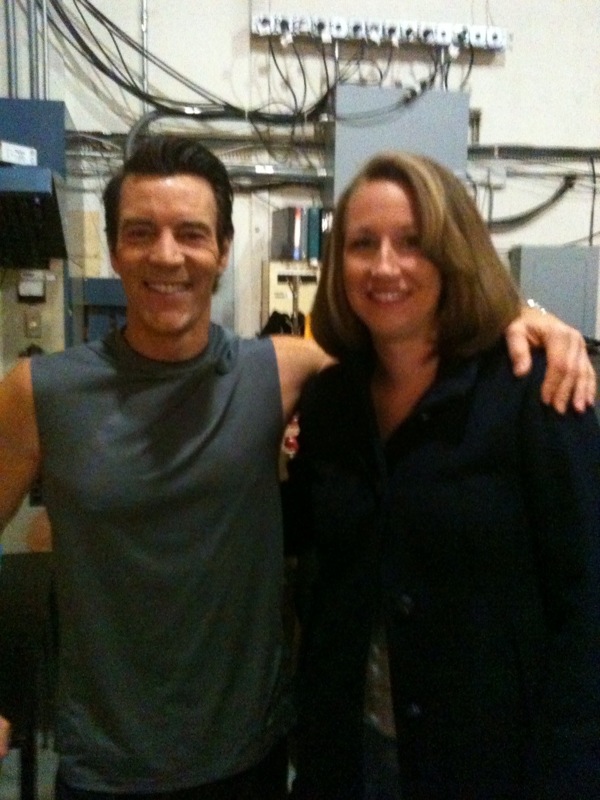 The following morning I did a live interview on Good Day Atlanta.  It was quite the adventure getting there…and quite the adventure when I was at the studio!
After my interview with Val at 11Alive, I thought it would be a good idea to drive by the Fox station, so I would know where I was going and could get a sense of how long it would take me to get there from my hotel.  Afternoon traffic was a smidge "heavy," but nothing crazy.
On Thursday morning, I left in plenty of time to get to the studios, giving myself 20 minutes to go less than 5 miles on surface streets. I was cruising along with no trouble…then I hit a wall.  I checked my iPhone map, which gives traffic statuses as well.  All red.
Not good.
So I cranked up the tunes and sat. And sat. And inched.  Then inched a little more. Then sat.
Then watched a man in the side mirror walk from several hundred feet behind me, to walk so far ahead, that I lost sight of him around a curve up ahead. It might be faster just to ditch the car and walk at this point, I thought.
I called the producer.  Told her that I was inching along.  I told her I was not exaggerating.  She'd heard about the traffic, but they hadn't heard about anything in particular happening in the area.
In all, it took my 50 minutes to go 1.4 miles. I told you I was inching!!!
Turns out that Matt Damon was in town…he'd just starting shooting a new film at the CDC headquarters, which just so happens to be located RIGHT BEHIND the news station.
Hence, the traffic mess…as all the people who wanted to be "extras" had to be checked in at the security gate before entering the CDC property.
Needless to say I made it. Did the segment…then heard that Tony Horton, the creator of P90X, was doing the segment following mine on Good Day Atlanta. So I hung around and watched him nearly kill the "models" in the segment with his crazy exercise moves!!!
At that moment, I was grateful to be in street clothes with my hair and makeup all done up…as there was no way I'd subject myself to his intense workout moves!!!
(Yes, that is him pictured above.)
Besides the fact that he will make your muscles hurt and burn with his P90X fitness program, I really enjoyed chatting with him and hearing his passion and zeal for helping others get on and maintain a healthy lifestyle!
That evening I had a cookbook signing in Marietta. With Ana (and others).  It was Ana's birthday and she brought cupcakes for the group!  (Which of course made me feel terrible that I didn't have anything…and she did!)
We had a lovely informal conversation about all things $5 Dinners…Breakfast…and Lunch!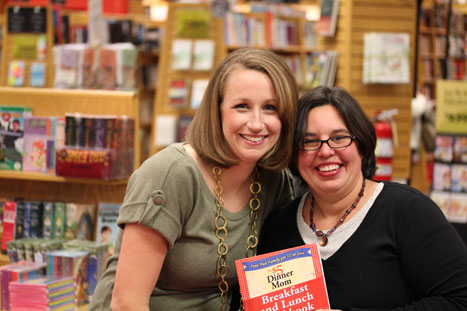 Meet @kathill. Love her!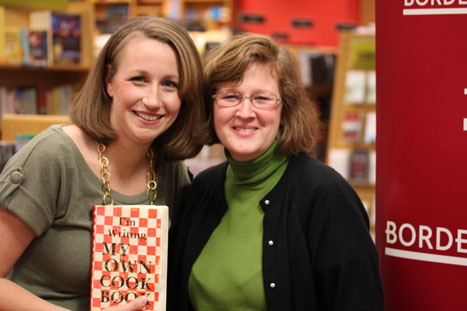 And meet Tricia!  You all know her…she is a regular recipe contributor on $5 Dinners!
It was a pleasure to meet her and her husband, and to learn more about that book you see me holding.  I'll be sharing more about that in February…as I'm enthralled with the concept behind it!
I really enjoyed my time in Atlanta…what a gorgeous city! I had an amazing time meeting new friends, and visiting with old friends!!!  There's not much more that this girl could ask for…
I'm off to Chicago and Minneapolis this week!  I'd love to meet you if you're near by!
Erin