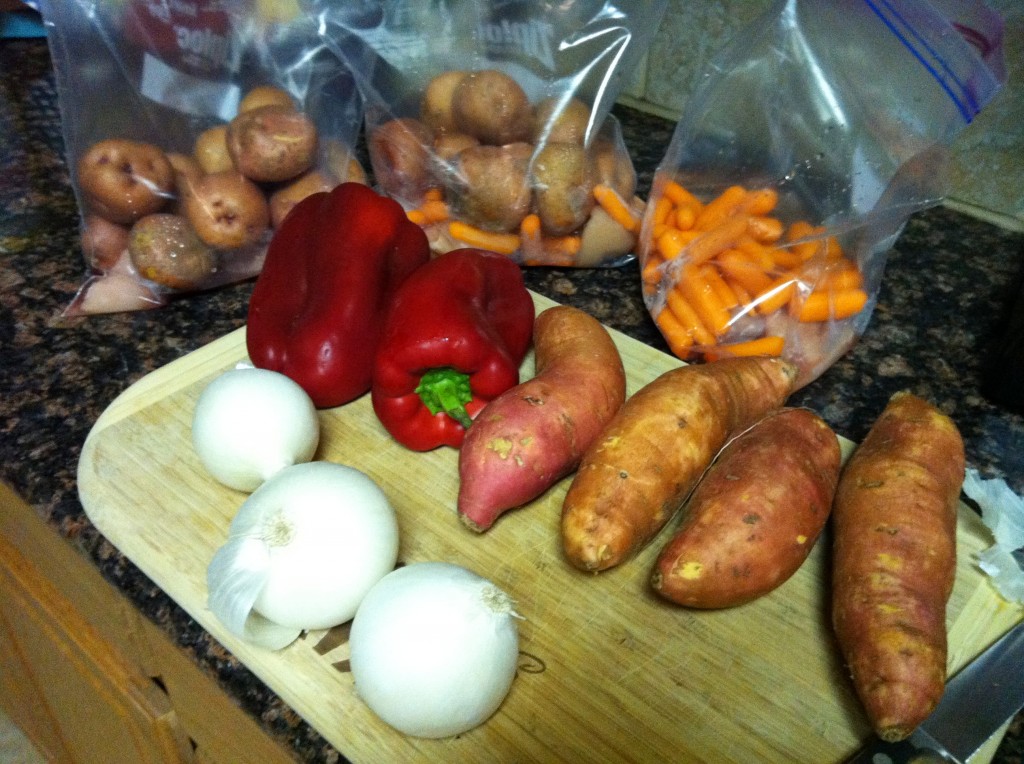 So this was the scene on my kitchen counter at 7:18 this morning. I'm still adjusting to the fact that my kiddos have to be on the bus at 6:55 am…and we all have to be up by 6:15.
But…
The upside is that I can get a lot lot lot done right after they get on the bus, while littlest brother is still sleeping. This morning that meant getting food ready for my "week away." Tonight I'm flying to Atlanta to co-host the annual Savvy Blogging Summit. I'm super PUMPED to get to see some of my favorite blogging friends, meet new blogging friends and help other bloggers learn how to transform their blogs into businesses!
While I know that my husband, my mom and our sitter are fully capable of holding down the fort while I'm gone, I like to make things as simple as possible for them. This morning's task…dinners for the week.
In 30 minutes, I assembled 3 slow cooker packs and I browned 5 lbs. of ground beef (1 lb. for tacos, 1 lb. for spaghetti, and the other 3 lbs. I divided up and put in to the freezer.)
5 Meals, 30 minutes!
I recently discovered Sprouts grocery store in San Antonio. When I lived here as a kid, these were "Sun Harvest" stores…and only 'crunchy people' shopped there 😉 But I've fallen in love…they publish monthly sales, weekly sales and have "double dip Wednesdays," which means that both the previous and upcoming weeks sale items are all on sale on Wednesdays. Much of the produce you see above came from last week's "double dip" sale…sweet potatoes, organic baby carrots for $.99/bag, $.50 red peppers (I shared about the green peppers here on Facebook!), and baby red potatoes on sale too. And here's then what I put together…
Slow Cooker Sweet Potato and Chicken Curry (and I threw in a diced red pepper for kicks!)
Slow Cooker Chicken with Potatoes, Carrots, Tomatoes, Red Pepper & Italian Seasoning
Slow Cooker Chicken with Potatoes, Carrots, Tomatoes & Italian Seasoning
Taco Meat with Homemade Taco Seasoning
Spaghetti Sauce (mixed up the meat and sauce and left in a storage container in the fridge for easy reheating!)
And later today I plan to make a loaf of whole wheat banana bread and pumpkin bread…boys love this in their lunchboxes!
Anyone else batch cooking or freezing cooking this week? Would love to know what you're up to in the kitchen!