Grilled Scallops with Herbed Tomato Sauce is a stellar budget gourmet recipe!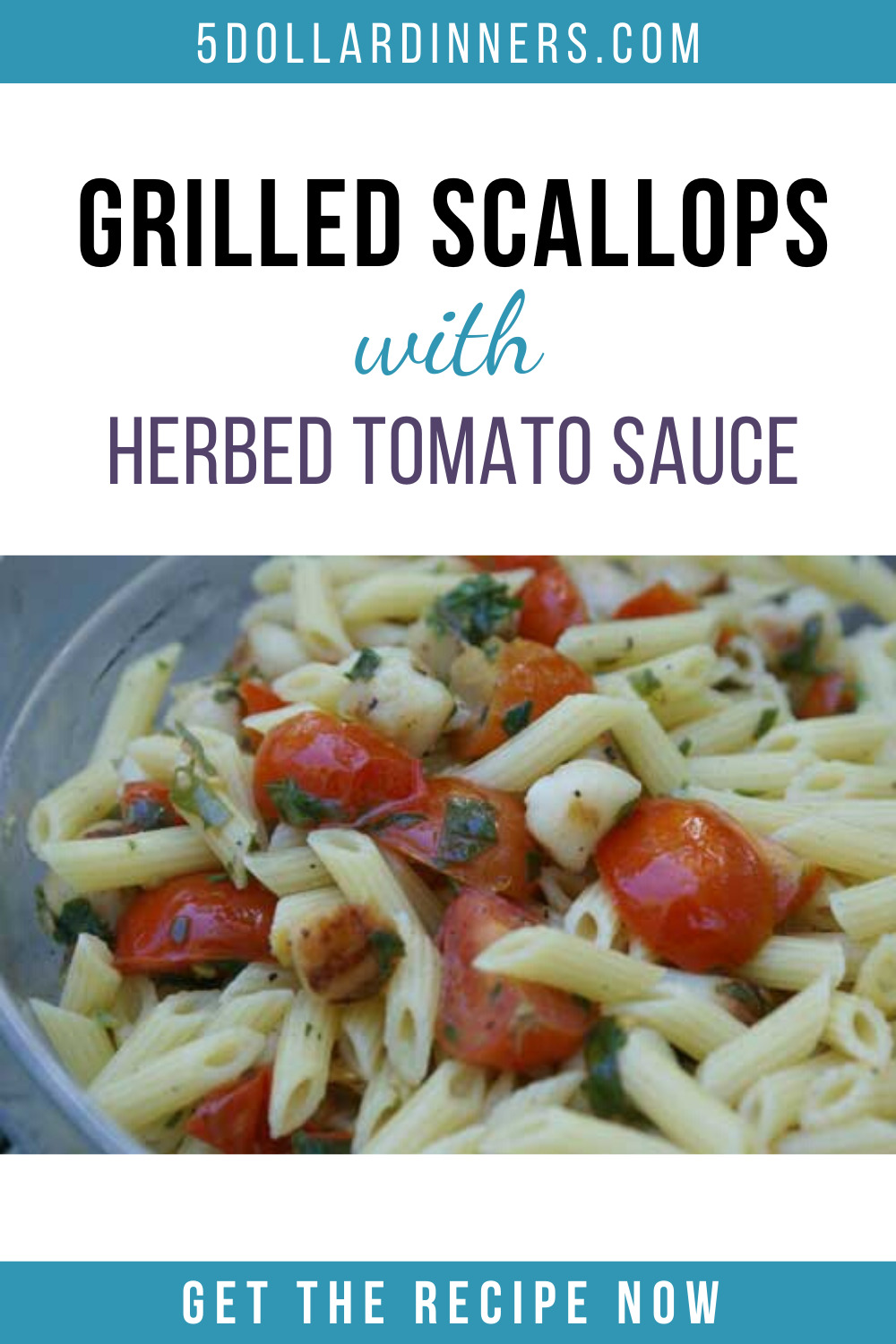 Nikki told me about a recipe in the August issue of the Rachael Ray magazine…Scallops and Herbed Raw Tomato Sauce. I took the idea of grilling the scallops, and then tossed it with a partially sauteed herb, tomato and olive oil sauce…and some pasta too! I had some "on sale" scallops in the freezer…and tomatoes from the garden, so this fancy dish could be made for less than $5!!!
Scallops grilled to perfection with an easy, homemade sauce.
Ingredients
12

oz

frozen scallops

2

tsp

olive oil

to brush on scallops

Salt/Pepper

to sprinkle on scallops

1/4

cup

olive oil

1/2

cup

fresh chopped herbs

basil, mint, rosemary and parsley

2

cups

cherry tomatoes

1

lb.

mini penne pasta

Salt and pepper

to taste

4

corn cobs
Instructions
Thaw, rinse and pat dry the scallops. Place on skewers and brush with olive oil and sprinkle with salt and pepper. Grill for 3-4 minutes on each side. Grilling time may vary depending on size of scallops. My scallops were really small. Larger scallops will take longer to cook through.

In medium saucepan, cook pasta according to package instructions. Drain and then toss with below sauce.

In large skillet, add 1/4 cup olive oil with fresh herbs, salt and pepper, and halved cherry tomatoes. Saute for 3-5 minutes, or until tomato skins start to peel away. Remove from heat. Note: If you don't want to grill the scallops, then saute them first in the olive oil with the fresh herbs, then add the tomatoes.

Toss pasta, grilled scallops, and herbed tomato sauce.

Cook corn cobs in boiling water for 4-5 minutes, or in a microwavable dish covered with plastic wrap for 2-2.5 minutes per ear.

Serve Scallops with Herbed Tomato Pasta and Corn Cobs.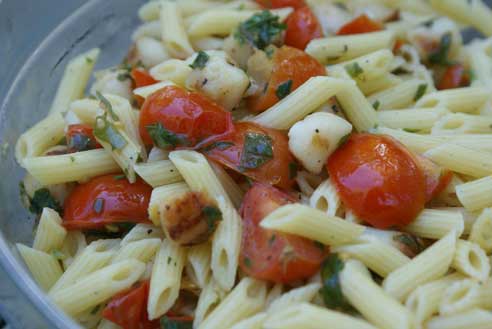 Cost $4.62 Plus, there is enough leftovers for all of us to have for lunch!
And P.S…
Last night I shared some ideas for how to get a healthy dinner on the table FAST on the Frugal Coast2Coast Blog Talk Radio Show with Jenn from Frugal Upstate and Lynnae from Being Frugal! If you're interested in hearing about my latest kitchen disaster and how you can be absolved of all "I can't believe I just fed my family that meal" guilt, then head on over to listen to the podcast!