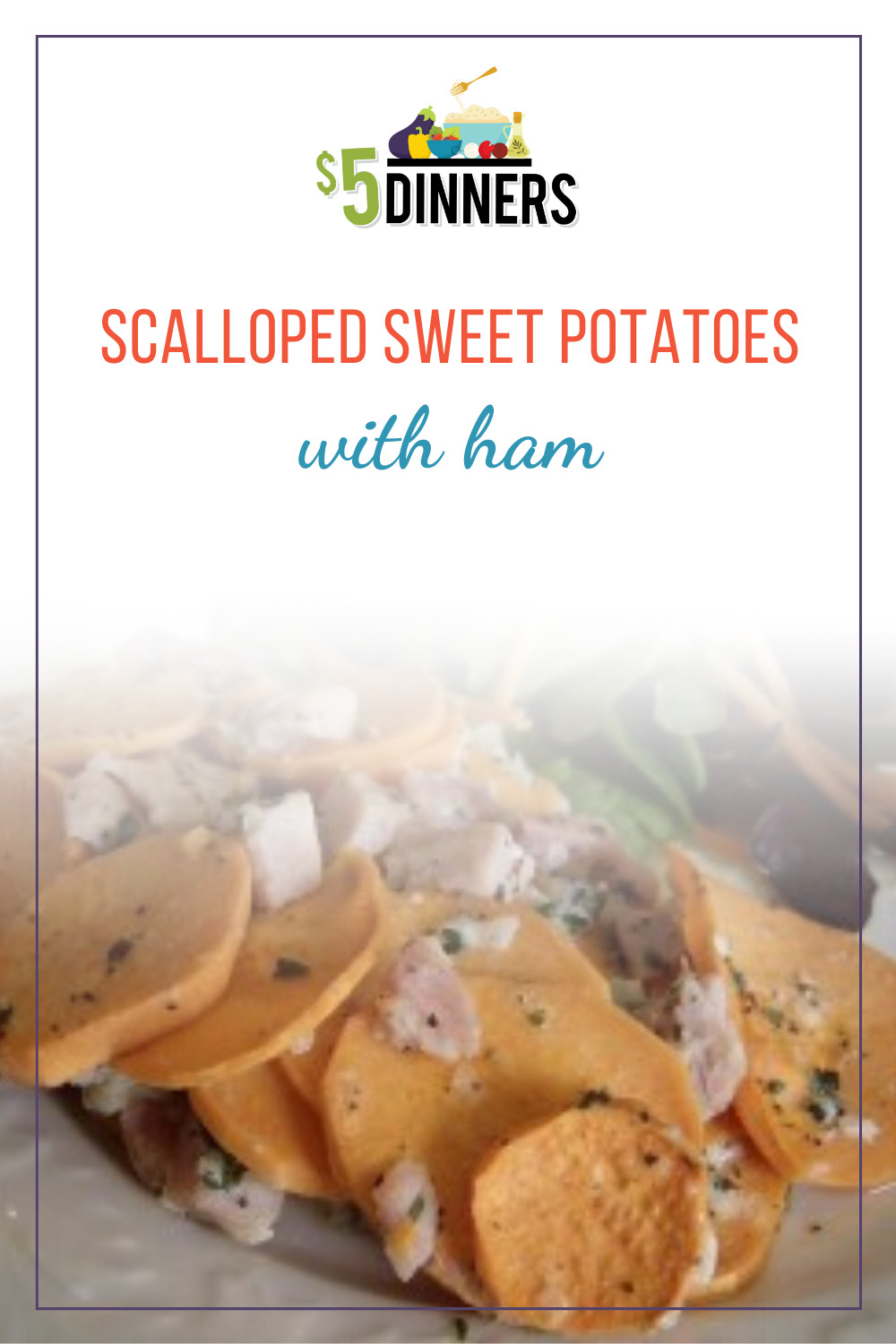 I was unable to find a small ham for our Christmas dinner, so I went ahead and purchased a large one. I have had fun coming up with new ways to use the leftover ham, especially since this has given me an excuse to play with some of my Christmas presents.
My entire family loved the scalloped sweet potatoes with ham, giving it the highest compliment in their vocabulary, "this is bloggable".
You can use yams instead of sweet potatoes, though there was some debate about whether you should change the name to Scalloped Yams with Ham if you do. We universally agreed that scalloped yams did not sound as delicious as scalloped sweet potatoes, but some of the younger members thought that Scalloped Yams with Ham sounded like something from a Dr. Seuss book. If you spend a little too much time sounding like Sam-I-Am at the dinner table, you should probably go with the most appetizing name you can think of. 🙂
Melt in your mouth deliciousness! Kid approved!
Ingredients
2

tbsp

butter (or dairy free margarine)

1/2

cup

onion, finely chopped

1

tbsp

cornstarch (or 2 tablespoons all-purpose flour)

2

cups

milk (or almond or ricemilk)

1

tsp

basil

1

tsp

ginger

1

tbsp

parsley

3

medium

sweet potatoes (~2lbs.), peeled and thinly sliced

1 1/2

cups

diced ham
Instructions
In a sauce pan, cook the onion in butter until it is tender.

In a small bowl, combine cornstarch and milk. Add the milk mixture to the onions. Cook over a medium flame until it begins to boil, stirring regularly. Remove from heat and stir in spices.

Place a third of the sweet potatoes in a large greased casserole dish. Then top with a 1/2 cup of diced ham:

Cover with a third of the sauce:

Bake, covered at 350 F for 40 minutes. Uncover; bake for an additional 30 minutes or until the potatoes are tender. Let stand for 5 minutes before serving.

The top layer of sweet potatoes are slightly crisp while the under-layers are tender.