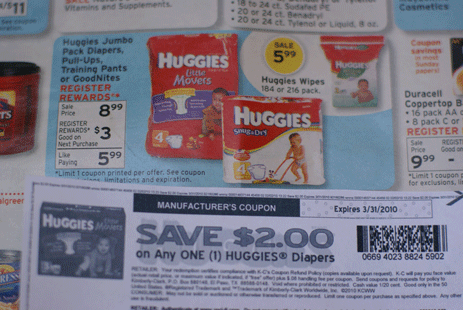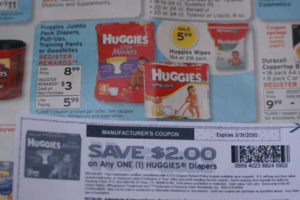 Diapers. Oh diapers.
They are expensive…but they don't have to be.
(I don't use cloth diapers. I explain here.)
My goal, as with everything, is to pay as little as possible…and this rings especially true with diapers…as I buy them often.
I watch the drugstore circulars and the grocery store circulars to see if there are any great deals to be had.
(I use Huggies jumbo size pack as the example because that's what I use!)
Here's what to look for…
Sale price – Look for a sale of $9 or less
Coupons – Print or clip coupons
Register Reward or Extra Care Buck – Pair the sale price with coupon and RR/ECB deal
Upromise deposit – Sign up for Upromise and activate "e-coupons" on your store loyalty cards (CVS and Kroger in my area…participating stores vary by area.) E-coupon values are deposited back into a Upromise college savings account.
Combine each of these items together and pay very little for a package of diapers!
My goal price per Jumbo pack is $6 after sale, coupon, RR/ECB, Upromise deposit!
What other ways to save on diapers do you know?!?