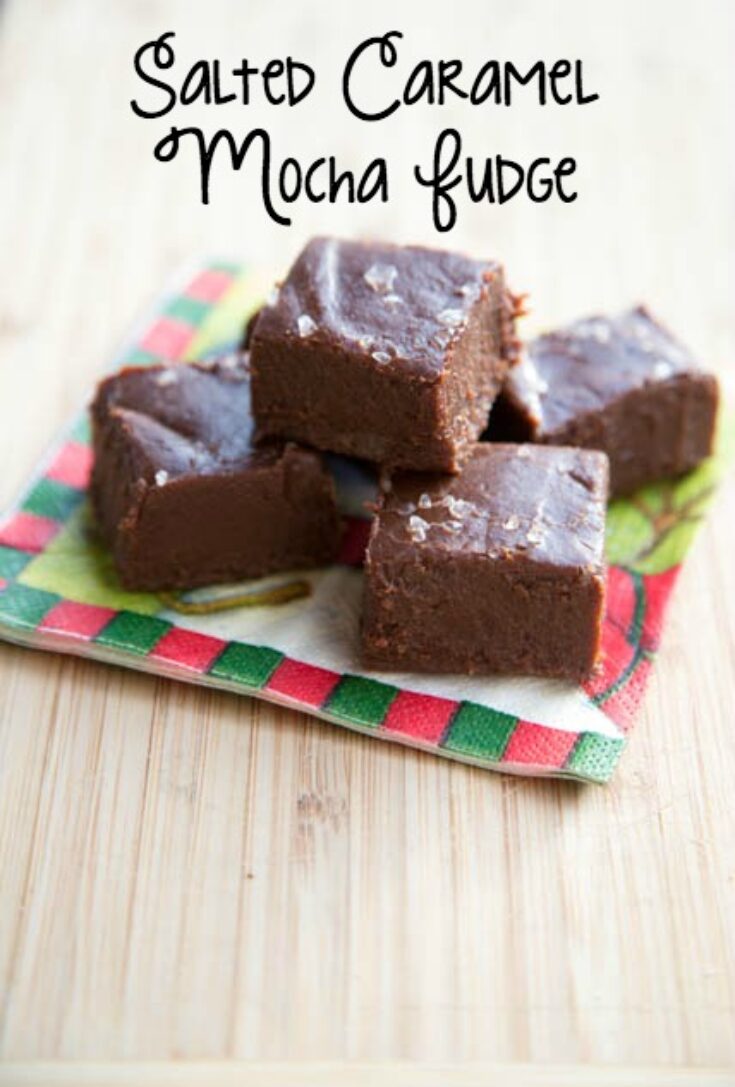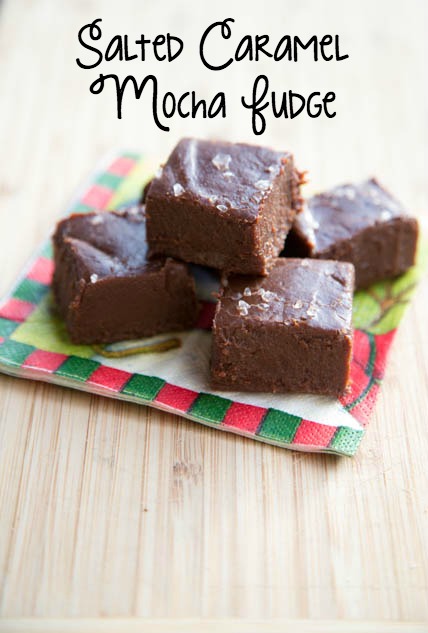 Yesterday we had a packed day…church and Sunday school, then home for lunch, then back out the door to drop off the baby with Nana, in time to get to the Woodlawn Theatre for the A Christmas Story, Musical. (Fabulous show, if you are in San Antonio!)
While we were shuffling through the kitchen, I mentioned to Steve…I really need to get this fudge made so it can set in the fridge in time for tomorrow's piano Christmas recital. People were flying in all directions, babies were toddling in and out of the kitchen, Christmas songs are being practiced on the piano and I've got 2o minutes.
But amidst the chaos, I managed to get this fudge made and poured into the pan…in plenty of time to get to the theatre. 15 minutes, mostly in the microwave and this was done!
I took the Eagle Brand Dulce Fudge recipe and added in some instant coffee, coarse sea salt, melted chocolate chips…then sprinkled a little more coarse sea salt on top. Drool…….worthy, this fudge.
And the very best part…I had some lovely fudge to enjoy when we got home from the musical 🙂
Hope y'all enjoy this favorite coffee beverage from the 'bucks…in fudge form!
Go Team SCM!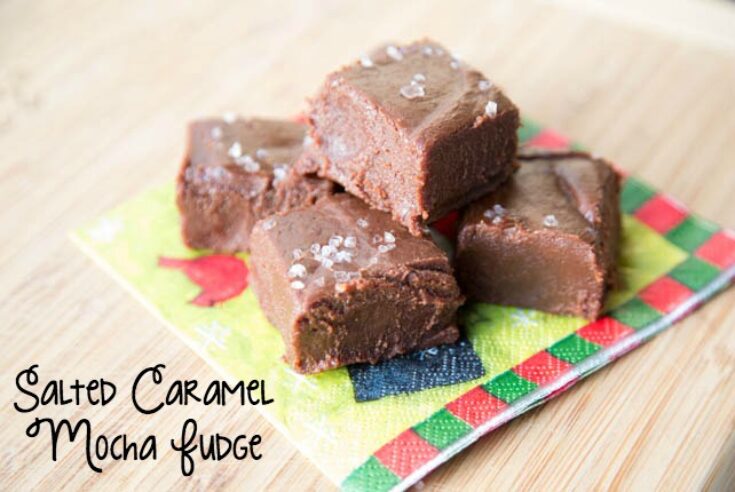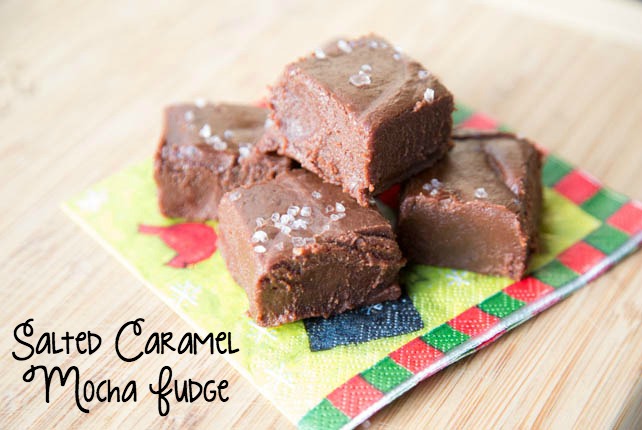 Ingredients
1

cup

butter

2

cups

brown sugar

1 13oz. can Dulce de Leche flavored caramel sauce

1

cup

chocolate chips

2 tsp instant coffee granules

1 tsp coarse sea salt

about 1 Tbsp coarse sea salt for topping
Instructions
Line an 8x8" glass baking dish with parchment paper. This will help easily remove the fudge once it is set.

In a glass microwavable mixing bowl, add the butter, brown sugar and Dulce de leche flavored caramel sauce. Microwave for 10 minutes, stirring every 2 minutes, scraping the sides of the bowl well. Then let cool for a few minutes.

In a small glass bowl, add the chocolate chips. Cook on high in the microwave for 1 minute, then stir. Cook for another 30 seconds, then stir. Repeat in 30 second intervals until smooth.

Stir the melted chocolate chips into the melted caramel. Then gently stir in the instant coffee granules and the coarse sea salt. Stir with an electric beater for 3 minutes, or whisk aggressively for 3 minutes.

Then spread the mixture into the prepared baking dish. Sprinkle some coarse sea salt over the top.

Chill in the refrigerator for about 2 hours, or until set.

Remove the fudge from parchment paper and baking dish. Place on a cutting board and slice with a sharp knife into 1" square pieces. Makes 48-64 pieces, depending on how large you slice the pieces.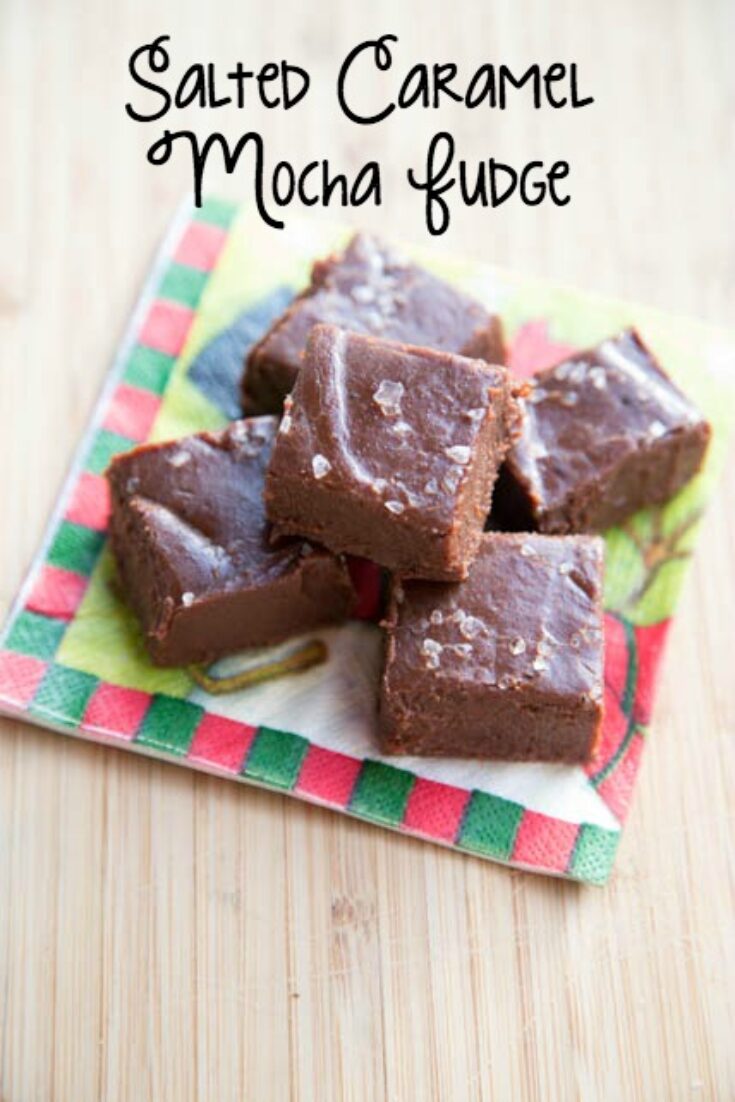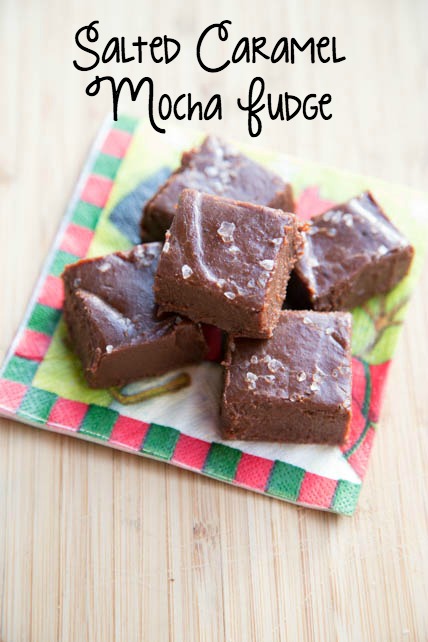 This recipe is featured on Meal Plan Monday Holiday Treats.