Thanks to 2 great sales on salmon and broccoli this week, we get to have a salmon dinner for $5!!! This was a delicious and nutritious meal! And there's even some leftovers to throw on my salad for lunch tomorrow! My boys both ate their portions of the salmon and the broccoli! Fish is an excellent source of Omega 3 fatty acids. Be sure to get those Omega 3s into your weekly diet!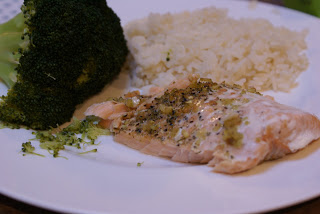 Scrumptilicious!
The citrus and the salmon are a perfect pair!
Ingredients
3/4

lb.

Salmon Fillet

1

cup

brown or white rice

1

Tbsp

lemon juice

2

tsp

seafood blend (dill, garlic)

Fresh veggies, as side dish
Instructions
Prepare rice as directed. (Brown rice can take up to 50 minutes.)*

Preheat oven to 350 F.

Place salmon onto large piece of foil. Drizzle lemon juice on top and sprinkle spices over the top. Fold foil around the fillet(s).Bake for 20 minutes. Be sure to check that salmon has cooked through, as cooking time will vary depending on thickness of the fillet!

Prepare fresh veggies.

Serve Baked Lemon Salmon with side of fresh veggies and rice.