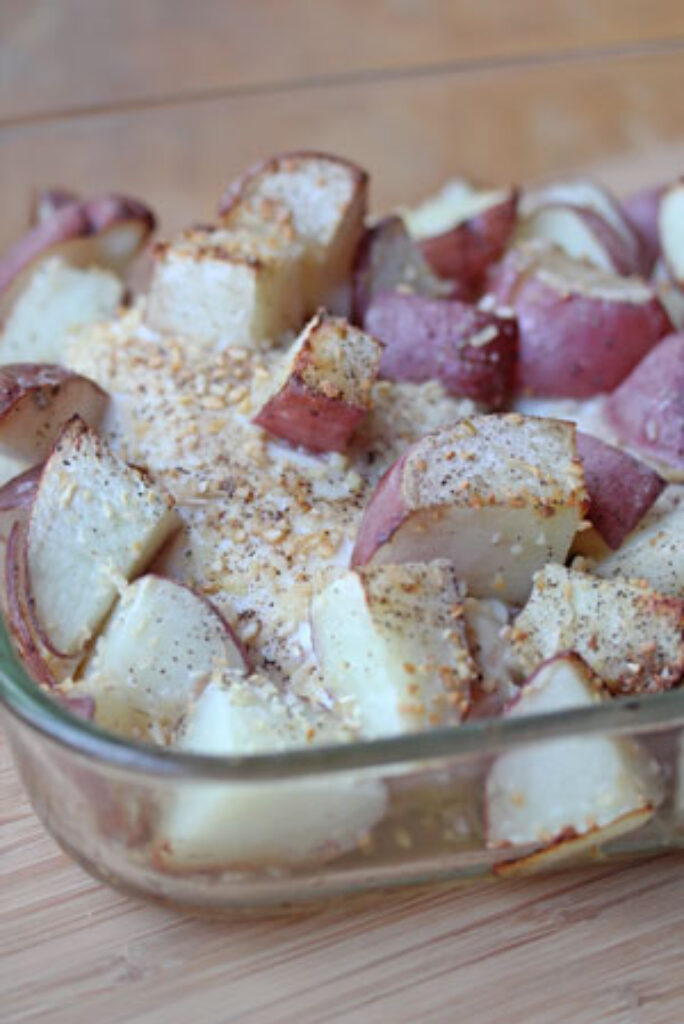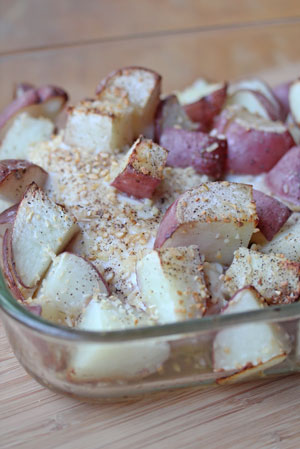 Our house is now on the market. Which means I'm in "do-all-it-takes-to-keep-it-super-clean" mode. I'm coming up with as many shortcuts and time savers as I can to keep the house clean and picked up throughout the day. We've already had 2 showings…another one on the calendar for this weekend. In anticipation of this "someone could be coming to look any time," I've decided that most of our meals will be baked.
No need to dirty the stove-top.
No time to clean up any spills or overflows.
This is the first "house on the market bakes" I've made. Thus far. I imagine many more in our future. (For more easy cleanup dinners, visit One Dish Dinners!)
Garlic. Don't skimp on it when you make this roasted chicken and red potatoes. Be liberal. Very liberal.
(I should note that you could also use fresh garlic…I'd use 8-10 cloves, crushed or minced!)
Ingredients
3 chicken breasts, about 1 1/4 lb. ($2.50)

6

medium

red potatoes, about 2-3 lbs., quartered ($.99) $1.99/5 lb. bag

Olive oil, drizzled on top ($.05)

Balsamic vinegar, drizzled on top ($.05)

2 tsp minced dried garlic, or couple cloves fresh garlic, minced or crushed ($.10)

Salt and pepper

Fresh or frozen veggies, or side salad ($1)
Instructions
Preheat oven to 400.

Place the chicken in the bottom of a 9x13 glass baking dish. Add the quartered red potatoes around and on top of the chicken.

Drizzle the olive oil and balsamic vinegar over the top. Sprinkle salt and pepper over top and as well as the garlic. Be liberal with the garlic 🙂

Bake in the preheated oven for 45 to 50 minutes, or until the chicken has cooked through and the potatoes are fork tender.

Prepare the veggies as directed or your favorite way.

Serve Roasted Garlic Chicken with Red Potatoes and veggies.