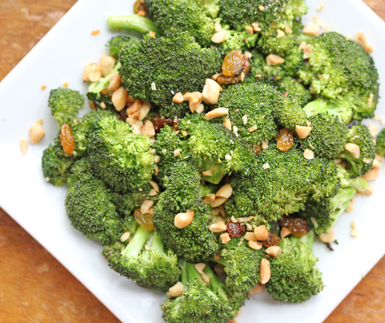 Broccoli Raisin Salad. Quite possibly my favorite "cold vegetable" salad.
When thinking about trying a new way to fix broccoli, I kept going back to my favorite cold version of broccoli raisin salad. But it didn't sound right as I thought about it. Maybe it's the chili weather, or mourning the loss of summer (yes, I am in mourning. Not a winter person here.), or all the rain. But, I felt a summer-like broccoli raisin salad wouldn't sit right. It would make me feel funny…and thus make it taste funny. Even if I made it the same way I always do.
Then it occurred to me that a warm version would be entirely possible. And that it might actually be good. And that any leftovers could be turned into a cold version with a little sweet mayo dressing.
So that settled it.
Roasted Broccoli Raisin Salad it would be. Without the mayo part.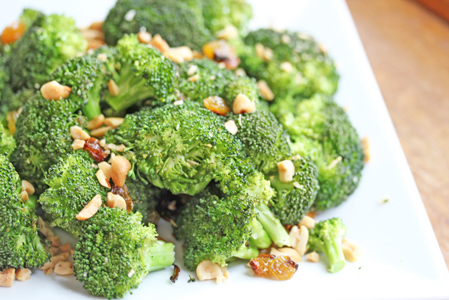 And it did not disappoint.
(So much so that I'm thinking about serving this with one of our holiday meals this year.)
Broccoli Raisin Salad. Quite possibly my favorite "cold vegetable" salad. This is the mayo-less version!
Ingredients
4

heads

broccoli, cut into florets

1/2

cup

golden raisins

1

Tbsp

minced onion

Drizzles of olive oil

Salt and pepper

1/2

cup

peanuts

chopped
Instructions
Preheat oven to 400.

Place the broccoli florets on silicone baking mat on a baking sheet. (Parchment paper would work if you don't have a silicone mat.) Sprinkle the raisins and minced onion over the top.

Drizzle olive oil over top, then sprinkle with salt and pepper.

Roast in the preheated oven for 8 to 10 minutes, or until broccoli turns brighter green (but don't let the raisins brown too much.) I suggest checking it after 8 minutes, or gently tossing if you notice the raisins on the edge getting brown.

Remove from oven and let cool slightly. Sprinkle chopped peanuts over top just before serving.

Serve Roasted Broccoli with Golden Raisins and Peanuts.