I've been holding onto summer. It has been warm and still very much feels like summer! Until today! The high is only 68. Fall is upon us! I've just got to make one last pasta salad!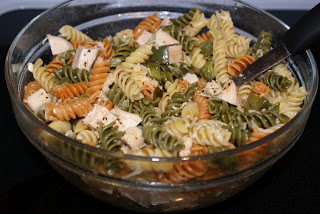 Ingredients
8

oz

Rotini

2

Chicken breasts

1/2

cup

mozzarella cheese

1

green pepper, roasted (

3

tbsp

3 T EVOO/2 T vinegar, Italian spices or favorite dressing

Salt and pepper to taste

3

3 ears of corn
Instructions
Boil pasta according to package. Drain and set aside.

Cut bell pepper in half. Place in baking dish or bread pan and roast at 450 for 10-15 minutes. Let cool. Slice or dice it.

Cook chicken breasts and dice them. Or dice them and cook them (I like this way...seems they cook faster and you know they've cooked through without having to cut into them!).

Combine pasta, chicken, peppers, cheese and dressing. Stir through and serve cold or warm, however you and yours like it!

Boil or microwave corn.