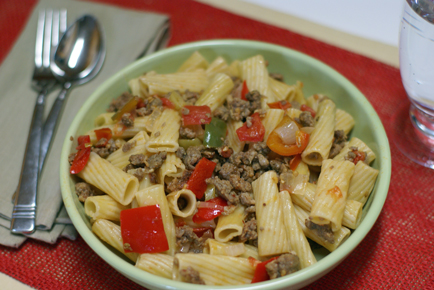 Super Simple Supper!
This is a one dish dinner.
(That brings up an important question…when you hear one dish dinner, do you think of it being a dinner that is SERVED in one dish, or COOKED in one dish?!)
So this is technically a one dish served dinner…as the whole meal is in one bowl. But it was cooked in 2 pots…a pot for the pasta, and a skillet for the sausage, then the veggies.
Would love to know you thoughts!
Now for the recipe…but be warned…it's a $6 dinner! The key to this meal…it uses an expensive lean all natural sausage that costs nearly $5…but when paired with inexpensive pasta and veggies all from the garden, it's not as terribly priced as it could be! It's all about the balance!
Ingredients
1

lb.

Italian sausage ($4.85) WHAT?!? I know...this is the 100% all natural, grass fed sausage from the farmer's market.

1

lb.

Rigatoni pasta ($.79) Manager's special

1/2 yellow onion ($.15)

1 red pepper, from the garden

1 green pepper, from the garden

1 banana pepper, from the garden

2

medium

tomatoes, from the garden

3 garlic cloves, crushed ($.15)

1/2

cup

grated Parmesan cheese ($.25) Optional

Salt and pepper to taste
Instructions
Brown the sausage in a skillet. Once browned, place onto a plate with paper towels to drain/absorb the grease. Pour off any excess grease, leaving just a little to saute the veggies.

While browning, start the pasta. Cook the rigatoni according to package directions. Set aside 1/3 cup pasta cooking water and drain.

Chop all the veggies and crush the garlic. In the same skillet that you browned the sausage, saute the veggies for 5 to 7 minutes, or until peppers begin to soften.

Toss the cooked rigatoni, the 1/3 cup pasta cooking water, browned sausage and the sauteed veggies in the saucepan or in a large mixing bowl. (Optional...sprinkle in some parmesan cheese.)

Serve Rigatoni with Italian Sausage and Red Peppers.