Seriously I have had enough. Winter started way too early this past November. And it continues to drag on, with a tease of warm weather here and there.
In a feeble attempt to pretend that it may in fact be spring, or summer, I pulled out the tomatoes and basil that I dried, after having picked them from my garden last year.
And for a few glorious minutes, I got to taste summer.
Dried tomatoes have such a delicious tanginess. With a touch of sweetness in every third bite or so. Mmmm.
Paired with some batch grilled chicken, and this was an easy throw together dinner…ready in the same amount of time it takes to cook the pasta!
And this one got RAVE reviews from the husband and the big boys. The big boys even liked the flavor and tanginess of the dried tomatoes. (And they don't usually like fresh tomatoes. But we are going to try to fix that this summer, as "we eat what we grow.")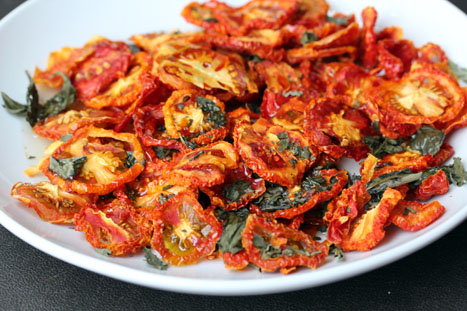 The dried tomato slices and basil leaves.
Please. Please. Please…this summer, you must dry some tomatoes. Whether from your own garden, or from the farmer's market. You will thank yourself in the middle of the winter. (Or near the end of winter.)
You must, you must, you must.
(Come on spring…I sure hope that groundhog was right!)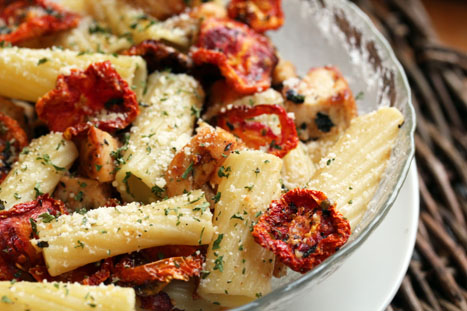 All the best ingredients and flavors in this dish!
Ingredients
1

lb.

box rigatoni noodles

2

chicken breasts, grilled and diced

2

cups

dried garden tomatoes and basil

3

Tbsp

olive oil

1

tsp

Kosher salt

Parmesan cheese and parsley, sprinkles

2

oranges, sliced
Instructions
Cook the pasta as directed on the box. Drain and add to a mixing bowl.

On a small plate, drizzle the olive oil over the dried tomatoes and basil. Season with some kosher salt and pepper.

To the pasta in the mixing bowl, add the diced grilled chicken, dried tomatoes and basil with the olive oil. Toss well.

Serve with sprinkles of parmesan cheese and parsley.

We ate this with orange slices.