Well, the $5 Dinner Challenge is back in action!!!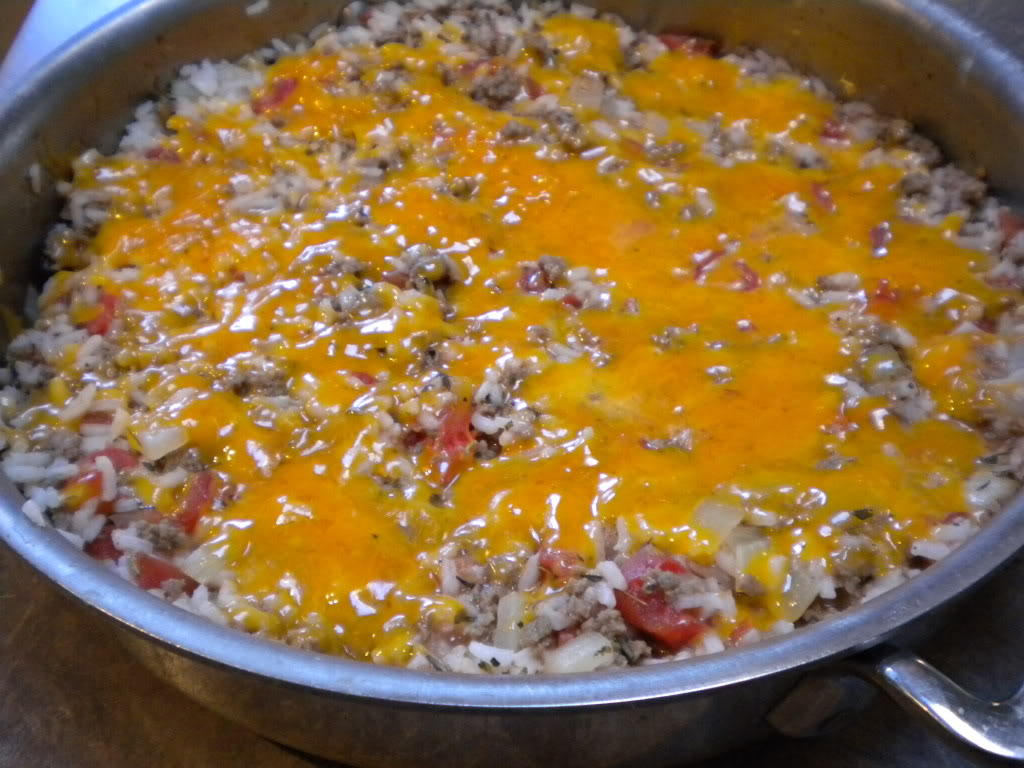 Ingredients
1

cup

rice ($.20)

1/2 onion ($.20)

3/4

lb

ground beef ($1.07) On sale last week for $1.49/lb!

15

oz

can of diced tomatoes ($.49) Bought with coupon

1 tsp Italian seasonings ($.05)

1 tsp garlic powder ($.05)

Salt and pepper, to taste

4-6

oz

shredded cheese ($1.08)

1

bag

baby spinach ($.99) Manager's Special
Instructions
Bring 2.5 cups of water to boil. Add 1 cup of rice. Return to boil. Stir and reduce heat to medium low. Cover and cook for 20 minutes.

Chop onion and put in skillet. Add 3/4-1 lb ground beef. Brown the beef with the onion. Drain and rinse, if you prefer.

Return meat/onion mixture to skillet. Set heat to medium-low. Add 1 can of diced tomatoes. Add Italian seasonings, garlic powder, salt and pepper to taste. Cook for about 5-7 minutes to allow flavors to mingle.

Once rice has finished cooking, add to meat/onion/tomato mixture in the skillet. Mix well.

Shred 4-6 oz of sharp cheddar cheese (or other favorite!). Sprinkle over the top of the rice/meat mixture in the skillet. Set to cook on low for about 5 minutes, giving cheese time to melt!

Steam spinach in steamer for 4-5 minutes, until soft and tender.

Serve Rice and Beef Skillet Casserole with side of steamed spinach!