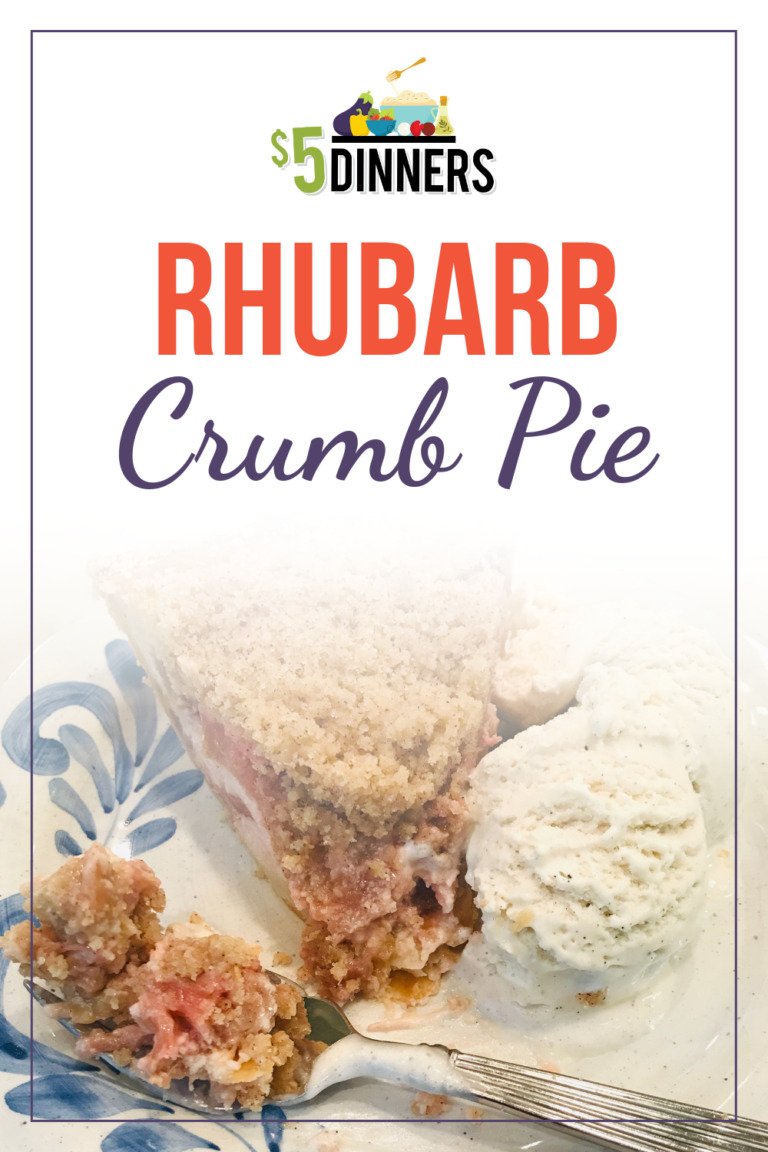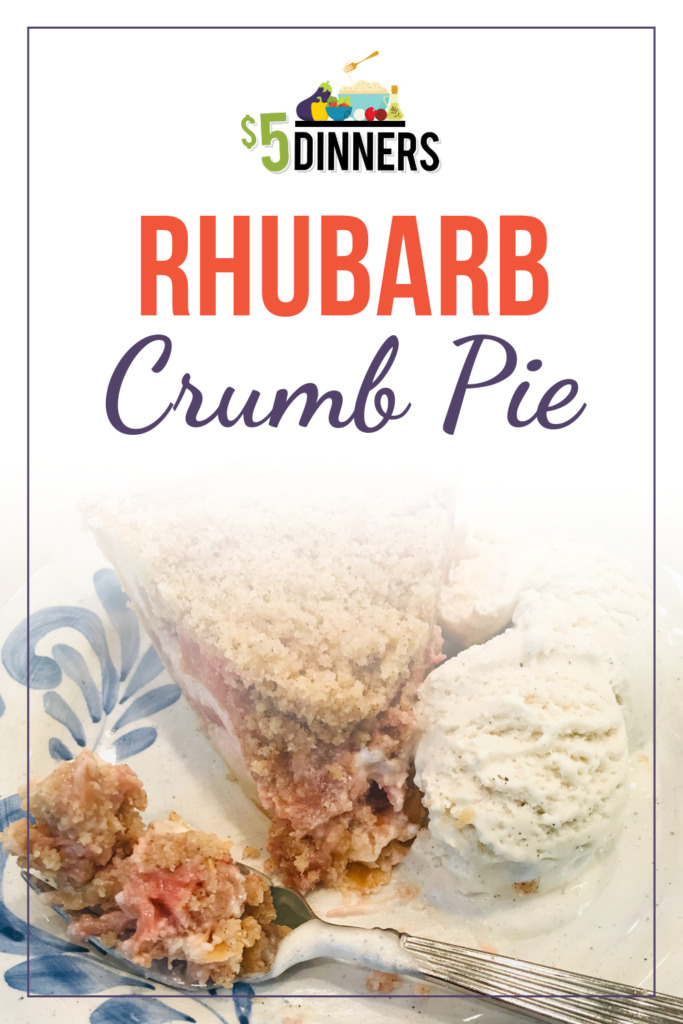 Just before Easter, I asked my mom what I could bring.
Pie, she said.
Ok…I can work with that. But there are still so many options. Oh wait, mom's favorite pie is Rhubarb…
You see, her favorite is a tart, not-too-sweet rhubarb pie. Has been since she was a kid.
So I set out to make the perfect Rhubarb pie that was tart, with a touch of sweet…and based on her reaction, I hit this one out of the part.
It's a crumb pie.
With a "sour cream-like filling" and a load of frozen rhubarb. (I haven't tried this with fresh rhubarb.)
(Also, pardon the iphone photos.)
It was phenomenal.
Seriously, quite possibly the best pie I've ever made. Rave reviews from every single person at the table.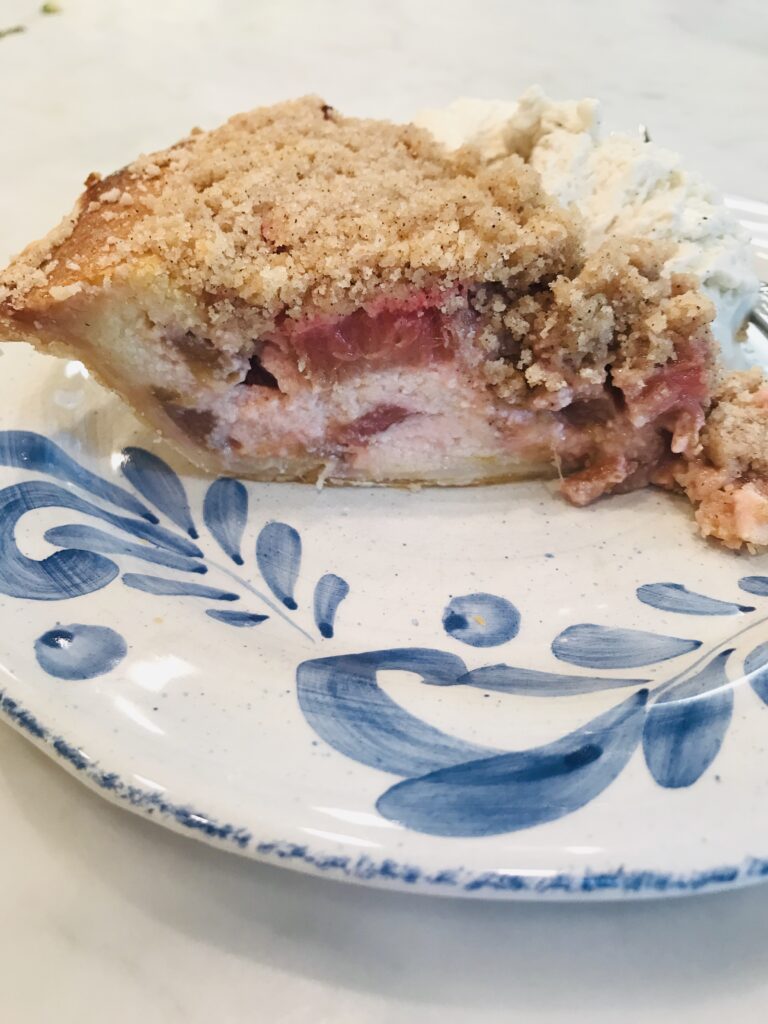 Here's how you make it…
Rhubarb Crumb Pie

Yield – 8 pie slices

Preparation Time – 15 minutes

Cooking Time – 1 hour + cooling

Ingredients

1 refrigerated pie crust (or 1 homemade pie crust)
4 cups frozen rhubarb slices
1 egg
1 1/2 cups white sugar
1 cup sour cream
1/3 cup + 1/2 cup all-purpose flour, divided
1/2 cup brown sugar
1/4 cup melted butter
Ice cream or whipped topping

Directions

Preheat the oven to 450 F. Lightly grease a 9-inch pie plate with non-stick cooking spray.
Add the pie crust to the prepared pie plate. Add the rhubarb into the pie plate, and if it "mounds" a little, that's ok – it will bake down.
In a mixing bowl, whisk together the egg, sugar, sour cream and 1/3 cup of flour until smooth. Pour over the rhubarb in the pie plate and let it settle into the cracks between the rhubarb.
In another small bowl, combine together the 1/2 cup of flour and brown sugar. Stir in the melted butter until the mixture is crumbly, and then sprinkle over the top.
Bake in the preheated oven for 15 minutes, then reduce the heat to 350 F. Bake for another 40 minutes, or until the edges have puffed, and the topping is golden. If needed, add a pie protector or piece of foil over the top to prevent over-browning of the crumb topping.
Cool completely before slicing. Serve with ice cream or whipped topping. Enjoy!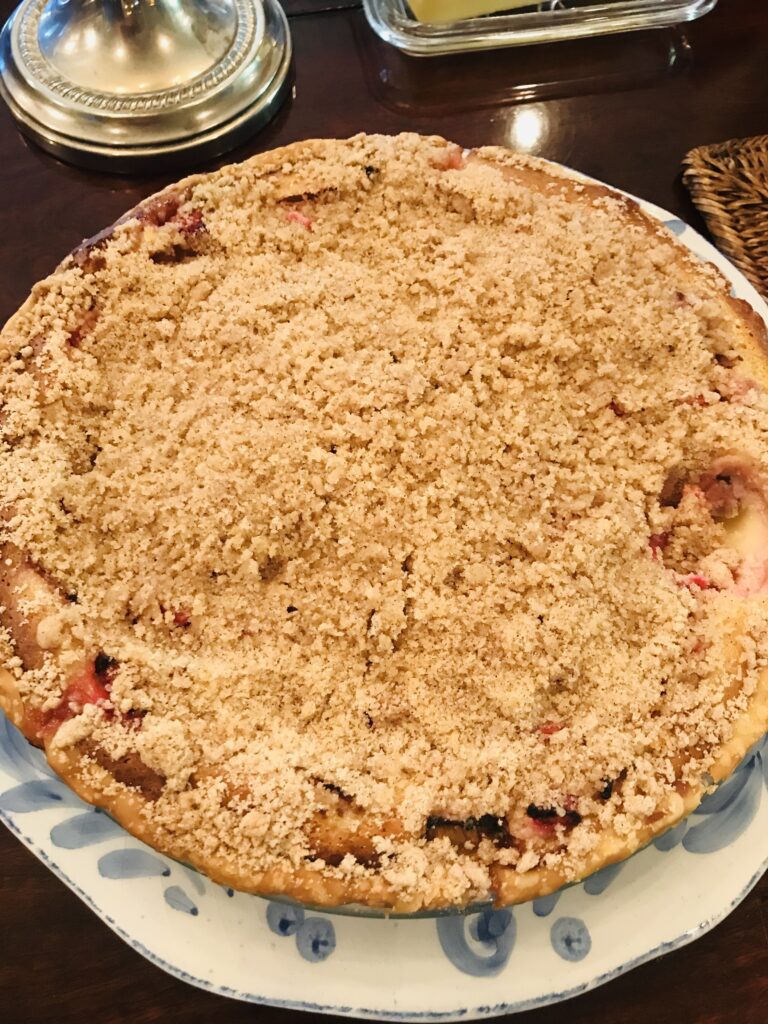 Also, pardon the "bite" out of the right side there. That is from an unnamed, impatient child, wanting a taste before it was dessert time! 😉
This recipe is featured on Meal Plan Monday #162