Have you heard me talk about the Grocery Budget Makeover yet?
I've mentioned it a few times over the past few weeks…and will be mentioning it A.L.O.T. this week. Because I need you to know about it. I need you to stop overspending on groceries. I want to help you.
I get dozens of emails every week from people asking.. "how do I cut my grocery bill in half? Is that really possible? How do I save money on groceries? I just found out we have an upcoming surgery and need to spend less to cover those costs? etc etc etc."
There a so many different ways that you can cut your grocery spending, but there is only one amazing system and strategy that will help you cut your grocery spending in half.
And it's all laid out for you in the Grocery Budget Makeover.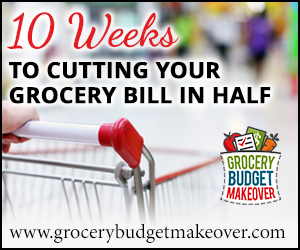 The goal and purpose of the Grocery Budget Makeover is to walk you through each of the different pieces of the grocery planning and shopping process, and to help you figure out where you are breaking down and how you can make changes to be a smarter shopper.
This system and strategy is proven to save money…it's worked for me and it works for others. Our past students have collectively saved tens of thousands on their groceries. The overall framework and "big picture" for how it all fits together, along with the nitty gritty practical details to saving money on groceries is what makes this makeover and online class so valuable.
When you can put all the pieces of the puzzle together in the right order, you'll be rolling in the grocery savings!
Registration is closed…please let me know if you'd like to be notified when the class is open again 🙂