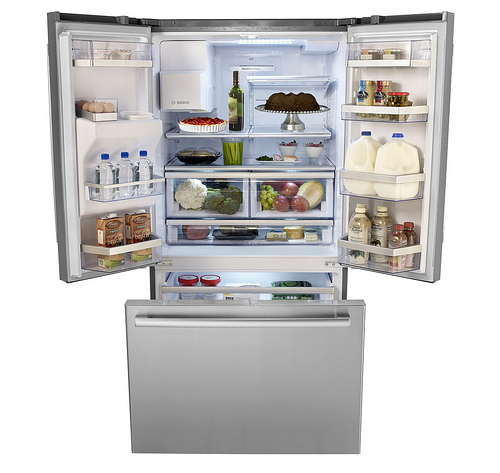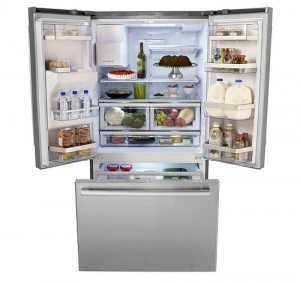 A while back we all worked together to create a Pantry Staples List…along with some Pantry Staples Printable Recipes (that you all sent in!) to go with the List. And while I don't have any intention of creating a recipe list (because the possibilities are infinite) from the Refrigerator Staples List, I do intend to create a Refrigerator Staples List.
The List
Dairy products – Milk, eggs, butter, sour cream, shredded and block cheese, yogurt, cream cheese
Produce – Apples, Oranges, Lemons, Limes, Melons, Squash, Green Beans, Broccoli…anything really 🙂
Condiments – Vinegars, Cooking Wines, Dressings, Ketchup, BBQ Sauce, Mayo, Mustard, Preserves/Jam/Jelly
Not only do we need to know what we should always have on hand, we also need to know where to store these products!
Where to Store Products
The Door – This is the warmest part of the refrigerator, and also the part that is most subject to frequent temperature fluctuations.  Store all your condiments in the door, as well as juices that contain citric acid, like OJ and apple juice.
The Drawers – Make one a fruit drawer, and the other a veggie drawer.  The lower humidity in the drawers will keep the fruit and vegetables fresh longer.
The Top Shelf – Butter, leftovers, snacks
The Middle Shelf – Leftovers and snacks
The Bottom Shelf – This is the coldest part of the refrigerator.  Store milk, eggs in their carton, and packaged meats on the bottom shelf.  Take caution to keep meat juices from touching other products on the bottom shelf.
(Now I'm craving a piece of that chocolate cake.)
(Oh yeah, and don't you wish your refrigerator looked this clean and organized all the time?!)
(And if your refrigerator does look like this, then please come on over and give mine a makeover!!!)
What did I forget!? What's always in your refrigerator?!  What's that one condiment, dressing, or product that you'll splurge on…even pay full price for?! 😉  (For me, it's Pickapeppa sauce…although I haven't bought it in a while!)