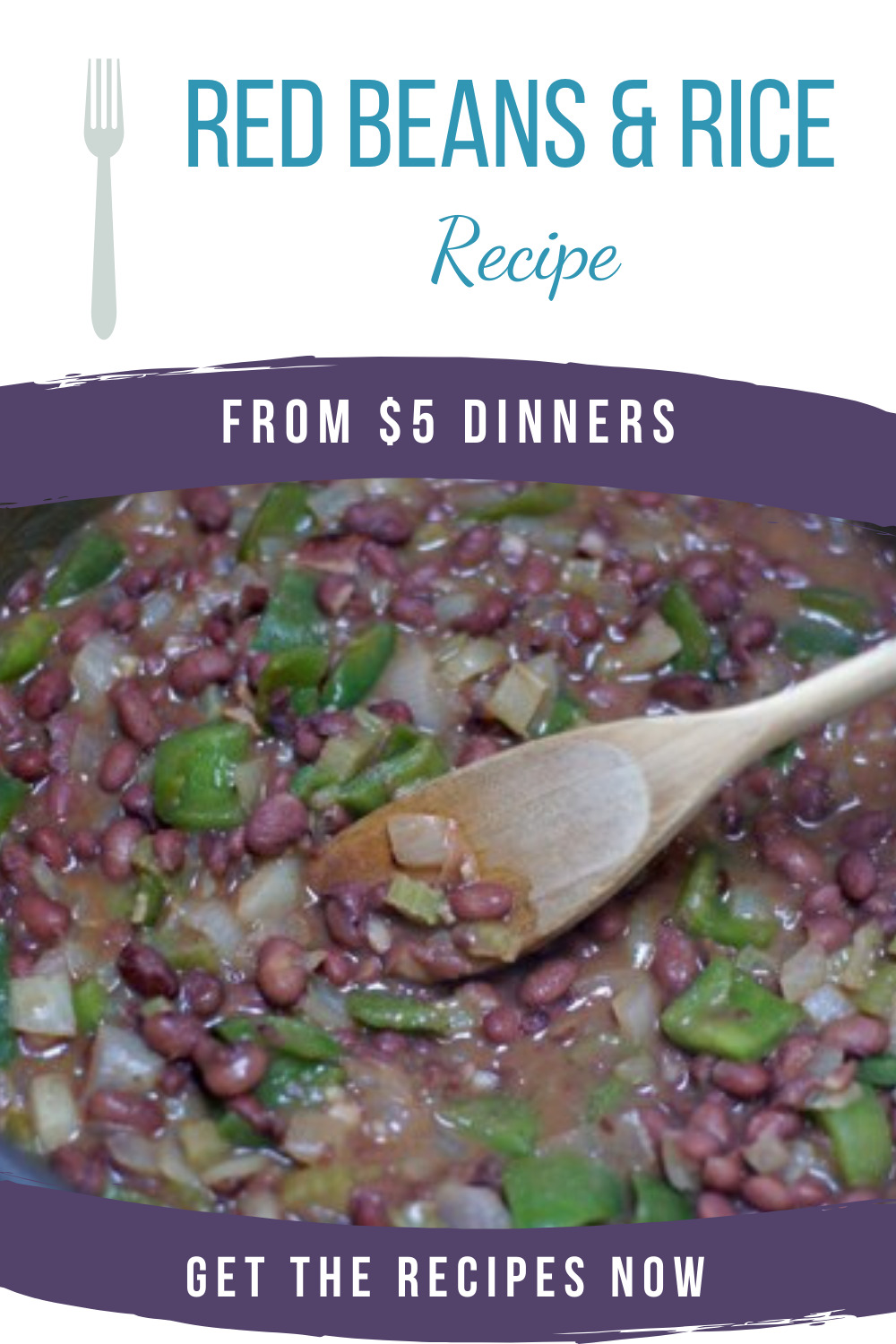 I've been wanting to whip up Red Beans and Rice for a month or two. Ever since I picked up Creole seasoning at the store to make Jamie's Cajun Meatball Stew, really. I turned to the one man who could help me make the best Red Beans and Rice with what I had on hand.
Emeril.
We're on a first name basis…because well, he's on a first name basis with everyone! So, Emeril has this great recipe with all sorts of ingredients to make extravagantly delicious red beans and rice that probably cost $20-$30. I looked over the ingredient list…pulled out what on the ingredient list I had from the pantry and freezer. But I had to get creative for the sausage/ham part. I had neither sausage nor ham…but I did have turkey bacon. (Remember that $.99/pkg turkey bacon!) That would have to do for the "smokiness" flavor that the ham or sausage would give.
Toss it all together in a pot…and let it simmer…and fill your home with the smells of Louisiana (pronounced "lose-i-ana"!)
Here's my $5 version…served with a side of corn.

(It's really not anything close to Emeril's recipe…but it did the trick!)
Toss it all together in a pot…and let it simmer…and fill your home with the smells of Louisiana!
Ingredients
2

Tbsp

olive oil

1

onion

chopped

1

green pepper

chopped

5

garlic cloves

crushed

2

strips cooked turkey bacon

chopped

3

cups

cooked red kidney beans

1

cup

broth

vegetable or chicken

2

tsp

Creole seasoning

1/4

tsp

crushed red pepper optional

Few dashes of salt and pepper

1 1/4

cup

uncooked brown rice

1

bag frozen corn
Instructions
Add the olive oil to a large saucepan.

Saute the chopped onion, chopped green pepper, crushed garlic for 4-5 minutes.

Add the chopped bacon, cooked red beans, and broth.

Stir in the seasonings, then turn heat to low and simmer for 30-45 minutes.

If too much liquid simmers off, cover for the remainder of the simmer time…or add some water or more broth.

Cook the brown rice as directed on a package…takes about 50-55 minutes, so plan accordingly.

Cook the frozen corn as directed on the bag.

Serve Red Beans and Rice with side of corn.