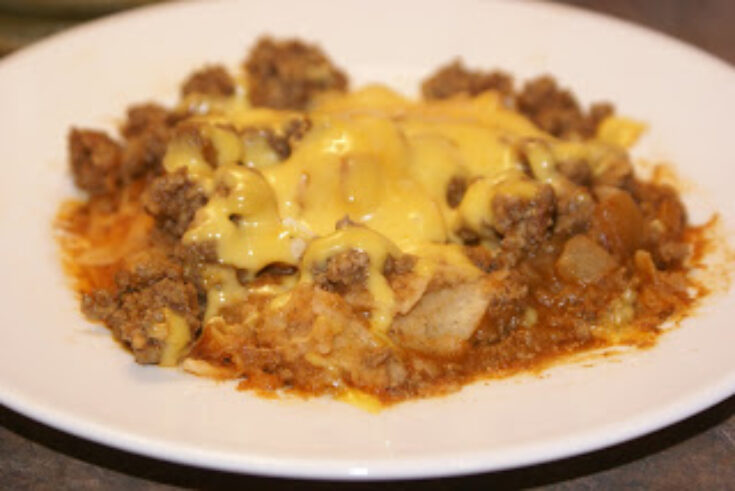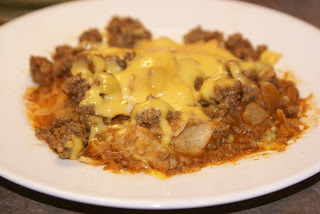 Ingredients
1/2

lb

ground sirloin ($.95) (heres how I got it so cheap!)

1 packet Taco Seasoning (Or make your own taco seasoning here.)

1/2

cup

dry kidney beans, cooked ($.25)

1

cup

salsa ($.20) On sale for $1 at Kroger and I had a $.50 ecoupon from Shortcuts.com

1

cup

water

4 corn tortillas, cut in 1 1/2 inch squares ($.25) Flour be great too!

1

cup

shredded cheese ($.75) Omit if GFCFSF

1/2

bag

frozen organic green beans ($.75)

1/2

bag

frozen organic corn ($.75)

Sour cream, guacamole, lettuce, tomato ($.50-$1)
Instructions
Soak beans overnight or at least 2 hours in hot water. Boil 1 1.5 hours until soft. Watch the water level. Start with water at least 2 inches above the beans. Add more during boiling if necessary.

Brown meat and drain. Add taco season, beans, salsa and water.

Bring to a boil, reduce heat and let simmer for 5- 10 minutes.

Stir in tortillas, top with cheese. Cover and let sit for 5 minutes or until cheese in melted.

Garnish with sour cream, tomato, lettuce and guacamole whatever you wish. I did not garnish as I was all out of these things this week 🙁 It tasted just fine without the garnishes!

Cook frozen green beans and corn as directed on package.