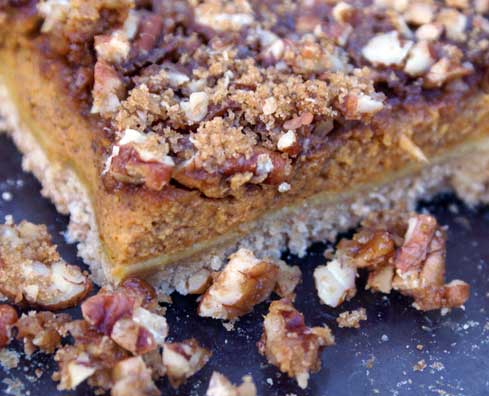 Well, it would seem that the Pumpkin Shortage of 2009 continues on into the holiday season of 2010.
The shelves remain empty. Still.
But I would imagine come November 1st, the canned pumpkin will start to show up again on store's shelves…just in time for the biggest pumpkin pie fest ever! (Did you know that over 50 million pumpkin pies are baked on Thanksgiving day?!)
I can just see it now…we have all been so deprived of our canned pumpkin…I mean…it's been 2 years now, right.  We've all learned our lesson and we know better this time to STOCK UP!!!  This could get really ugly…12 people vying for that last can from the holiday shipment. Oy!
Just remember to look for organic variety that may still be sitting on the shelf, perhaps in another part of your grocery store. Of course, you can make your own pumpkin puree, or use baked butternut squash in place of pumpkin puree.
And if all else fails and you are completely desperate to make some Pumpkin Chocolate Chip Muffins…you can order organic canned pumpkin puree from Amazon. But you're going to pay a pretty penny for it!
Just promise me…no elbow throwing or cart shoving when it does show up on the shelves…m'kay?!
Update: If you'd like to know how to cook a pumpkin in your slow cooker, Toni has a great tutorial!
Are you having trouble finding canned pumpkin in your area?  Let us know "your area/store's status"!
Disclaimer: As an Amazon Associate, I earn commissions on qualifying purchases. Reviews, opinions are my own.