Erin's Favorite Holiday Pie – Pumpkin Double Chocolate Cheesecake
Y'all.
I have to share this recipe with you. And you have to make it.
Many years ago, I created this recipe…and will be making it for the third year in a row (in 2010).
Updated to add that I've made this pie every year for the past 9 years 🙂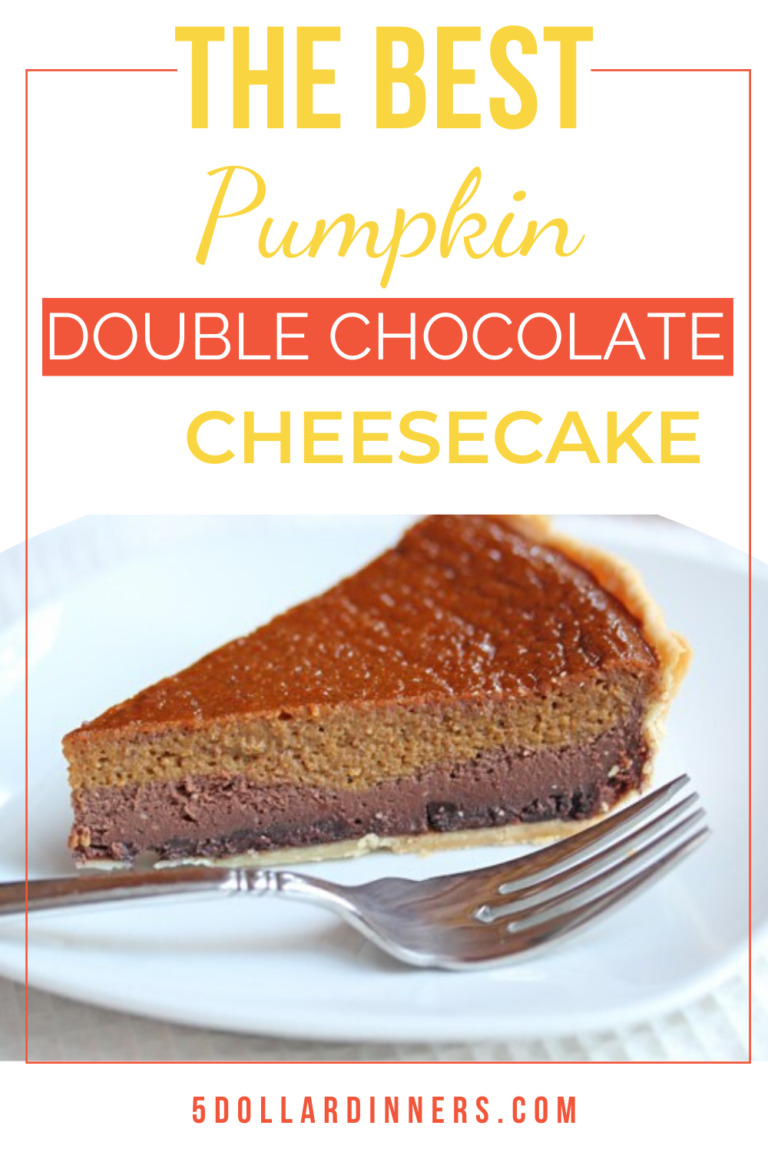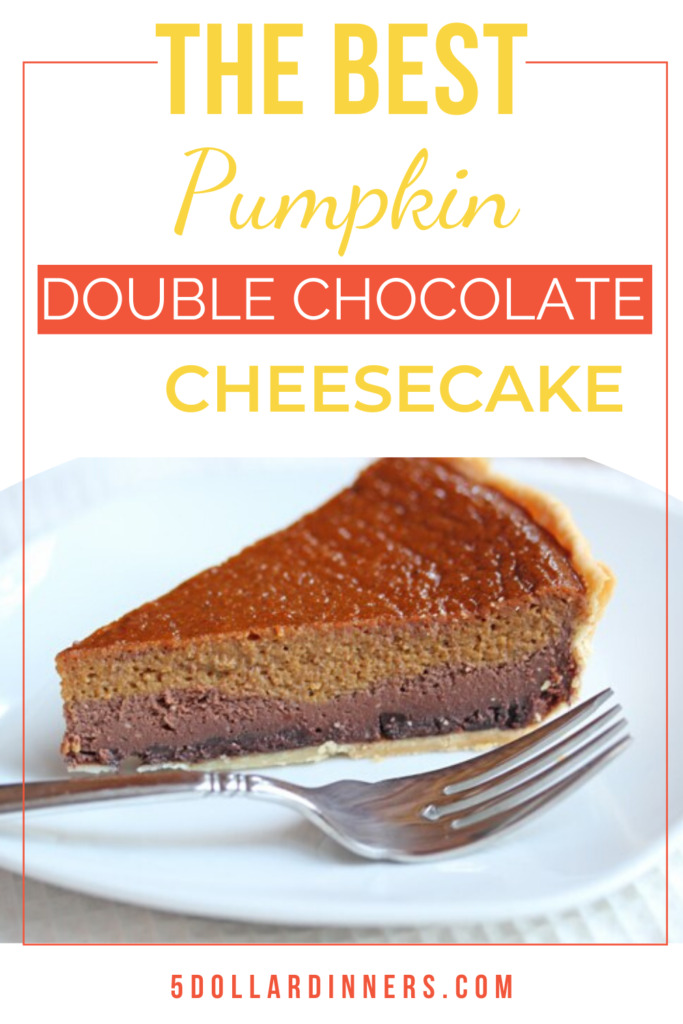 Half of this pie is reserved for me…everyone else gets a sliver.
Just kidding.
Maybe.
Maybe not. *snort*
I love the pumpkin and chocolate flavors together.
Plus I love creamy, smooth pies and cheesecakes.
So a pie with a thin layer of mini-chocolate chips, then a chocolate cheesecake layer with a pumpkin pie layer on top…Sends me straight on into pie heaven.
This is definitely my favorite ALL-TIME holiday pie! I've made it every year for the past 9 years!
Enjoy!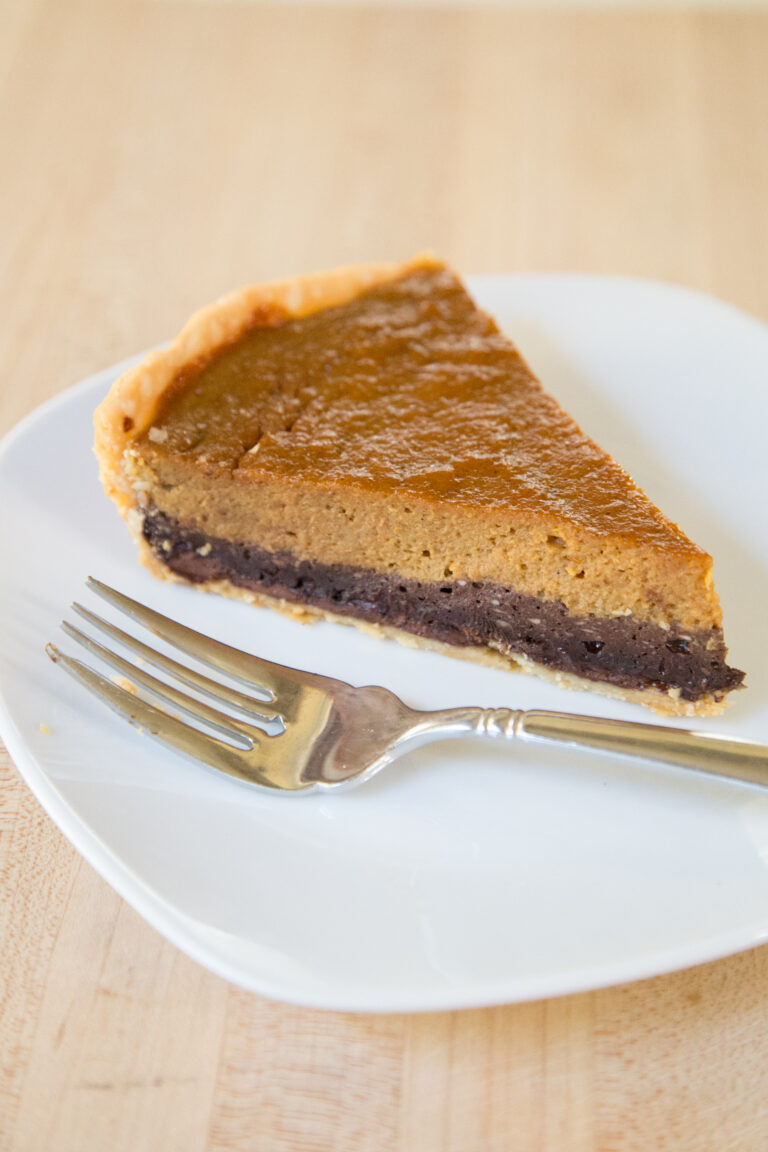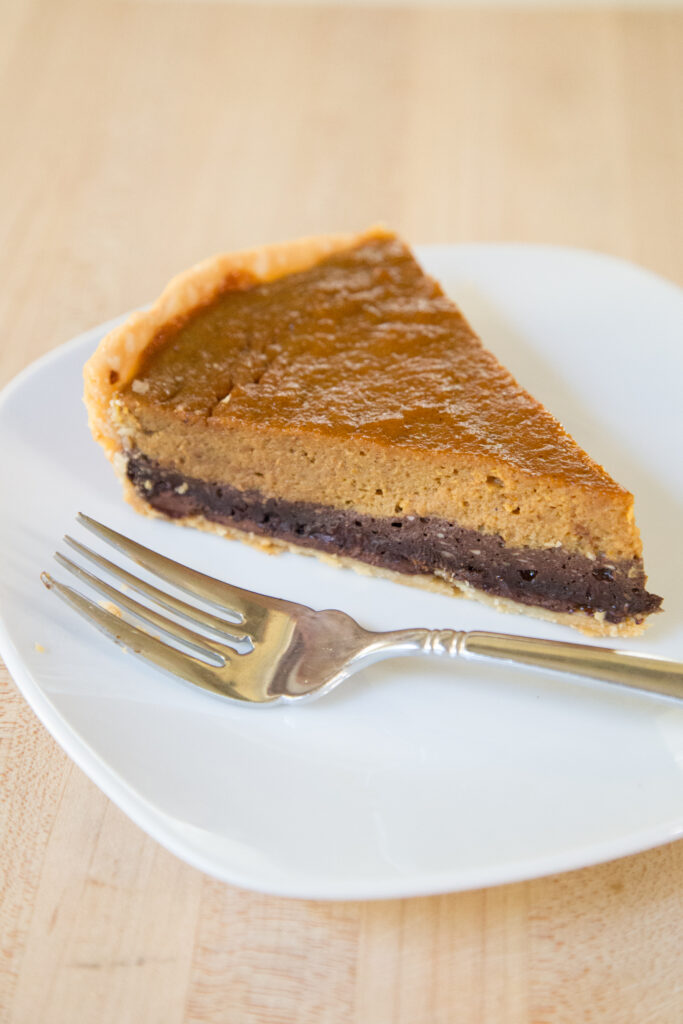 My absolute favorite pie!
Equipment
9-inch pie plate

pie crust shield
Ingredients
1

cup

all-purpose flour

1/8

tsp

salt

1/8

cup

shortening or butter

2

Tbsp

cold water

(2-4 Tbsp)

3/4

cup

mini chocolate chips

8

oz.

cream cheese

softened

1/8

cup

white sugar

5

Tbsp

cocoa

1

egg

15

oz.

can pumpkin puree

2/3

cup

brown sugar

2

tsp

pumpkin pie spice mix

1/4

tsp

salt

4

eggs
Instructions
Preheat oven to 375 F. Grease a deep dish pie plate with non-stick cooking spray.

To prepare homemade pie crust, place flour in mixing bowl; add butter and cut in with pastry blender. Add salt and then add cold water 1 Tablespoon at a time. Mix and toss ingredients together with a fork until dough ball forms. Place in plastic wrap or Ziploc baggie and put into the refrigerator while you make the filling. Pie crust can be made up to a day in advance and kept in the refrigerator.

In a mixing bowl, beat together the cream cheese, sugar, cocoa and egg.

In another mixing bowl, beat together the pumpkin puree, brown sugar, and pumpking pie spice mix. Whisk in the eggs.

Once filling is prepared, take the dough ball from the fridge and place on lightly floured surface.

Using a lightly floured rolling pin, roll out the crust dough into a circle at least 12 inches in diameter and gently fold pie crust into quarters. Move the folded pie crust from the counter to the pie plate.

Unfold in the pie plate. Flute edges in your favorite design.

Sprinkle the mini chocolate chips in the base of the pie shell.

Spread the cream cheese filling over top of the chocolate chips, then pour the pumpkin filling on top of the cream cheese layer.

Bake at 375 for 60 to 70 minutes, or until filling has set in the middle. Use a pie crust shield, or foil to keep the crust edges from burning.

Let cool completely on cooling rack. Cover and refrigerate for at least 2 hours to chill.

Serve Pumpkin Double Chocolate Cheesecake, chilled.