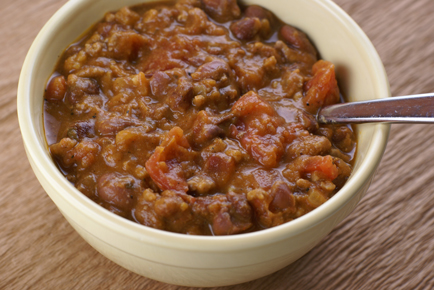 I remember seeing a recipe for some kind of chili with pumpkin in it about this time last year. If you remember, this time last year, I was suffering from "newborn mommy brain!"
I have no recollection as to where I saw this recipe, but I remember being both intrigued and bothered by the concept of adding pumpkin to chili. I also remember thinking that it was as simple as adding canned pumpkin to a basic chili recipe.
So fast forward to today…I am no longer suffering from "newborn mommy brain" and there is finally canned pumpkin in the stores (after 2 years of shortage and not being able to find any of the shelves other than during the holiday season). It's about time I tried this.
The adventurous part of me thought it seemed totally possible. But the sensible side of me knew it wouldn't work.
The adventurous side was right. Smooth, with little pumpkin taste coming through. It left me with the same taste that I have after leaving Skyline Chili…it's the cinnamon that lingers on your taste buds!
Chili with Pumpkin and Cinnamon

Adapted from I can't remember where!

Ingredients

About 1.3 lb. ground beef ($1.99)
1 small red onion, chopped ($.35)
4 garlic cloves, crushed ($.10)
1 15 oz can diced tomatoes with jalapenos (free)
1 15 oz can diced tomatoes (free)
1 15 oz canned pure pumpkin ($.99)
1 cup homemade or store bought beef broth
3  cups cooked red kidney beans ($.60)
1 1/2 Tbsp chili powder ($.15)
Couple dashes cinnamon ($.03)
Salt and pepper to taste
Veggies – We had with leftover Gingered Carrots! ($.50-ish)

Directions

Brown the ground beef with the red onion and garlic in a large saucepan.  Drain and return to pan.
Add both cans of diced tomatoes, the pumpkin, beef broth and beans and stir through.
Stir in the chili powder and cinnamon.  Season with salt and pepper to taste.  Let simmer over low heat for 45 minutes to an hour.
Reheat or cook carrots or other veggie.
Serve Chili with Pumpkin and Cinnamon with Gingered Carrots.

Cost $4.71