This recipe is featured in the 21 Freezer Cooking Recipes from Costco Meal Plan #5.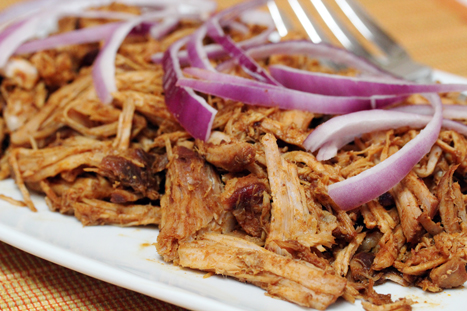 Several weeks ago I purchased a large pork tenderloin. I used part of it to make Spanish Stew, sliced off a few pork chops, and then left the remaining portion whole to cook in the slow cooker.
This is quite simple…I placed the roast fat side up in the slow cooker, topped it with some spicy BBQ sauce that Kelly sent me recently (long story…thanks Kelly!), as well as some brown sugar to counteract the heat. I also whisked in a little water into the BBQ sauce that fell into the bottom of the slow cooker. I've noticed that BBQ sauce sometimes burns in the slow cooker, and water helps it not do that!
And one final note about this recipe…don't make this right before going out on a date with your husband! (Not that I speak from experience or anything!) We had this meal just before going to the Rock & Worship Road Show. I was not thinking at all…and felt terrible that my breath stank. But so did his…so all was well!
And in case you every find yourself in the same situation…here's the advice I received for how to make the stinky onion breath disappear quickly!
Ingredients
1

lb.

pork tenderloin or pork roast

1/2

cups

BBQ sauce

1

Tbsp

brown sugar

optional

1/2

red onion

sliced

Bread slices

Broccoli

steamed
Instructions
Place the roast, fat side up, in a slow cooker. Pour the BBQ sauce over the top and whisk in some water if you prefer. (And brown sugar if you need it.)

Set on low and cook for 8 hours. Once cooked, use two forks to pull the pork apart.

Steam some broccoli.

Serve the pulled pork on bread with red onion slices. Add a little extra BBQ sauce if you need it.

Freeze & Thaw Instructions: To freeze, remove as much air as you can from the bag, coating the pork roast with the BBQ sauce as you squeeze the air out. Put in the freezer on a plate or baking sheet (so it doesn't stick to the grates or floor of the freezer). Freeze up to 6 months in fridge freezer or 12 months transferring to a slow cooker to cook.