Last chance to print this $3/1 Tide Power PODS Coupon!
PRINT PRINT PRINT!!!!
Tide, America's #1 laundry detergent and consumers' #1 trusted laundry detergent brand in Reader's Digest survey, is launching Tide Power PODS, as the ultimate solution to the issue of large laundry loads.
I have been using the Power PODS for the past few weeks, and they've been perfect for basketball season!
I only need to use 1 POD for the uniform loads. My boys get STINKY after their games and practices – and so do their practice clothes and uniforms.
But these Power PODS have had no trouble taking care of the stink and the stains!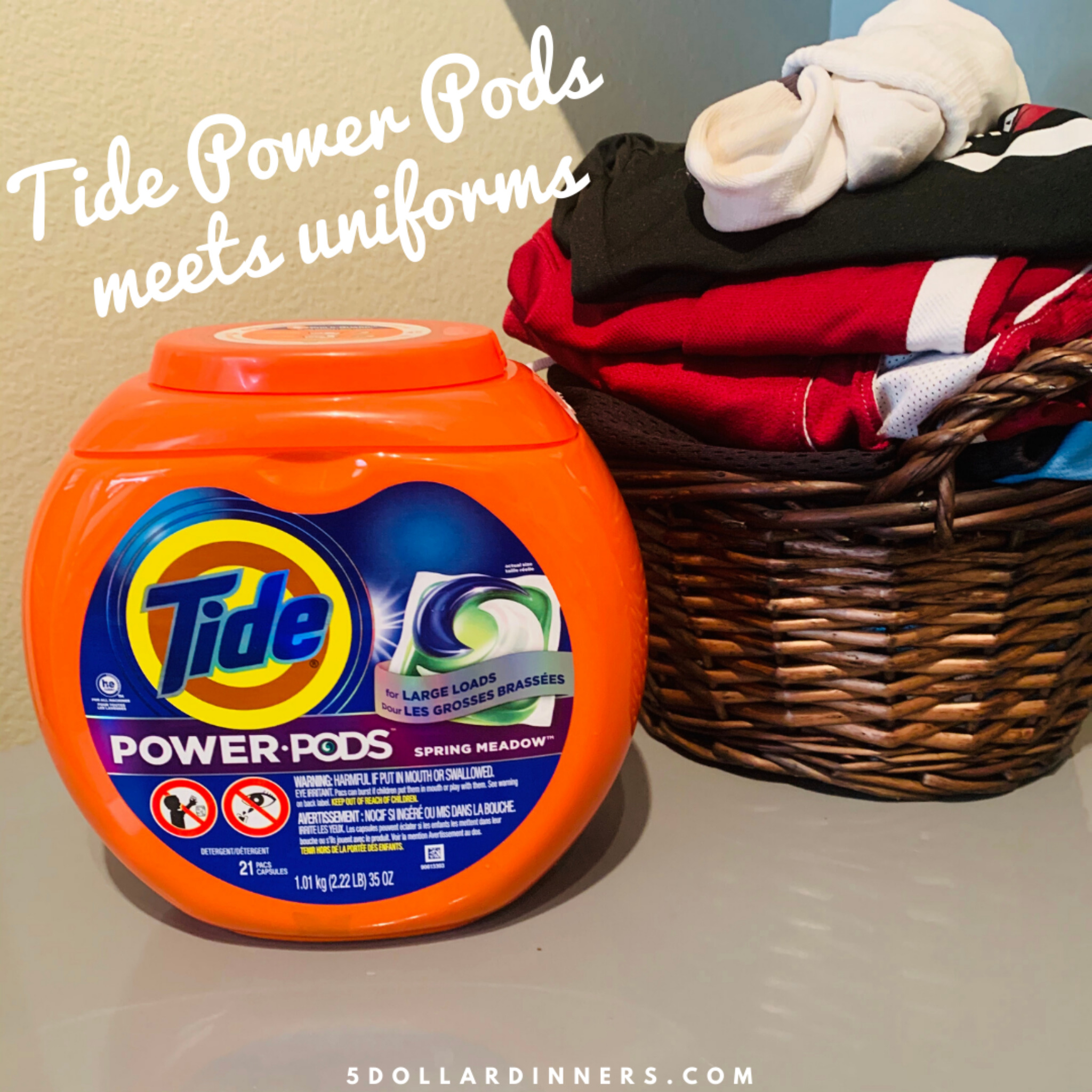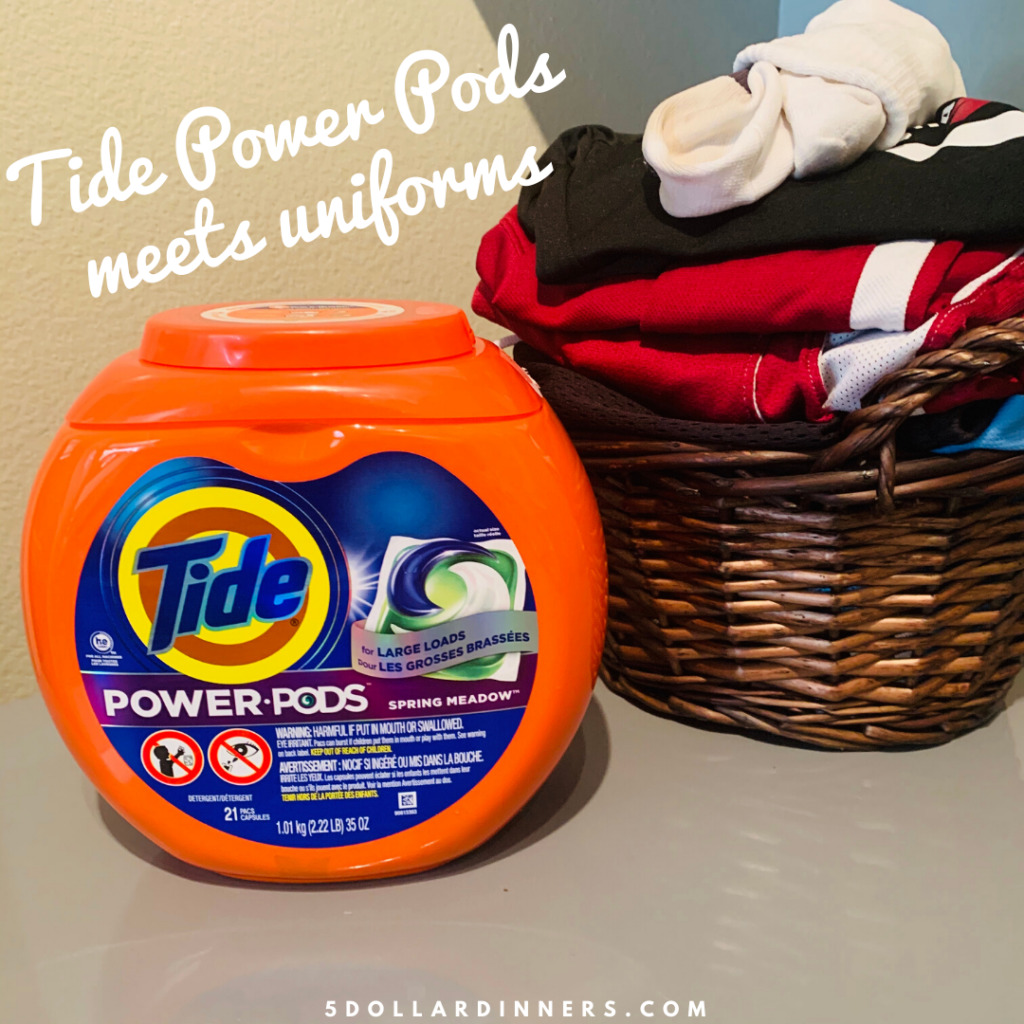 Why switch to Tide Power PODS?!
Because you only need 1 for large loads, tough stains, and stinky uniforms. They have 50% more cleaning power than Tide Original Liquid and are perfect for the large, active family.
Also, I decided to run a little cost analysis on a load that I would have used 2 regular Tide PODS. Below you'll see the "cost per load" based on using a Power POD vs. a regular POD.
Cost of 2 original Tide PODS – $.75 per load
Cost of 1 Tide Power PODS – $.57 per load
Cost based on unit price without the coupon. Add the coupon you can print for the Power PODS to use this week and it's even less 🙂
Analysis using these prices: $11.99 for 32 3-in-1 PODS & $11.99 for 21 Power PODS.
More details on Tide Power PODS vs. Tide PODS…
More cleaning ingredients vs. 2 Tide PODS
2X more freshness power vs. 2 Tide PODS
Long lasting fresh scent
With 50% more cleaning power than Tide Original Liquid, Tide Power PODS tackle large loads so stains don't sneak through. Tide Power PODS dissolve completely and work in any machine, temperature, and water condition.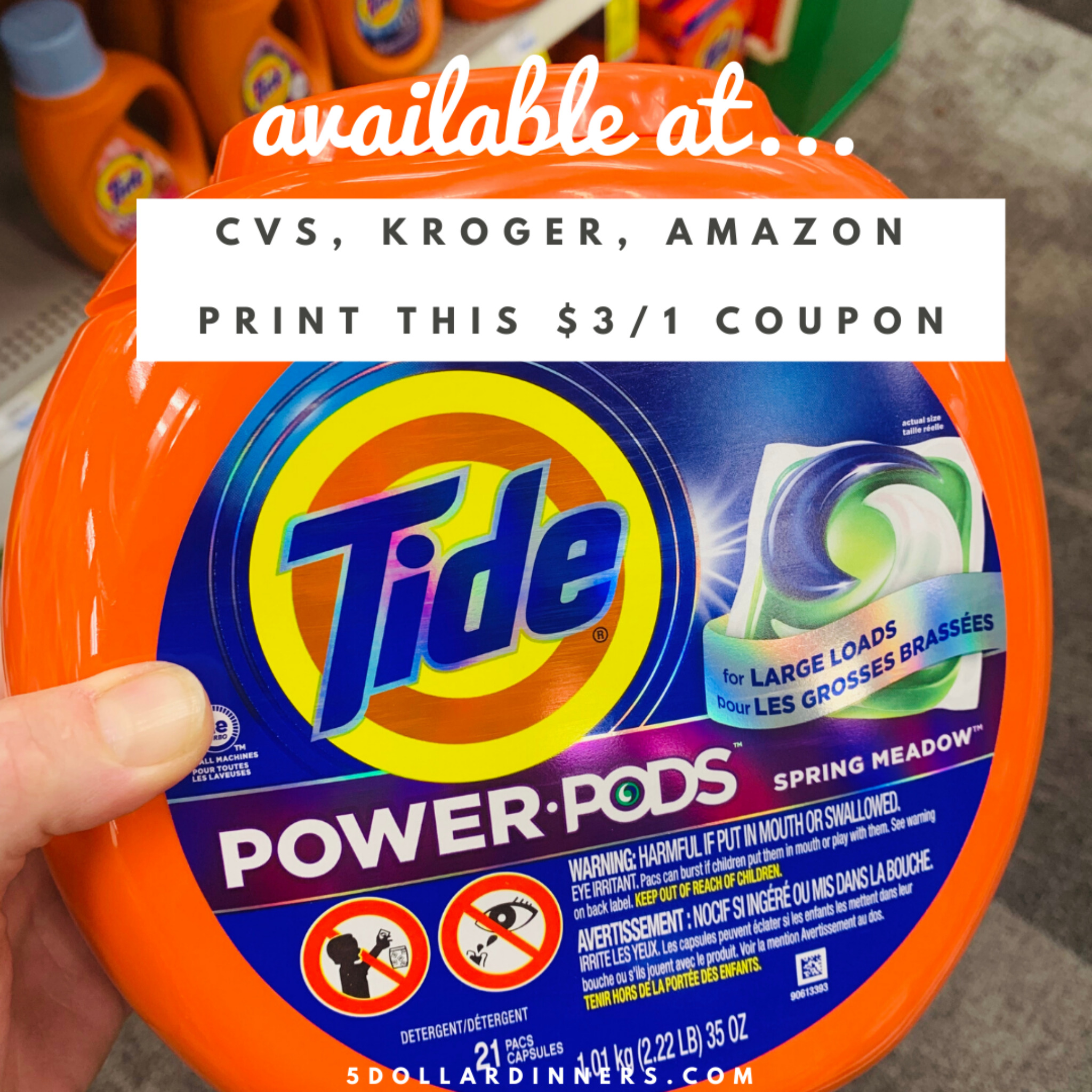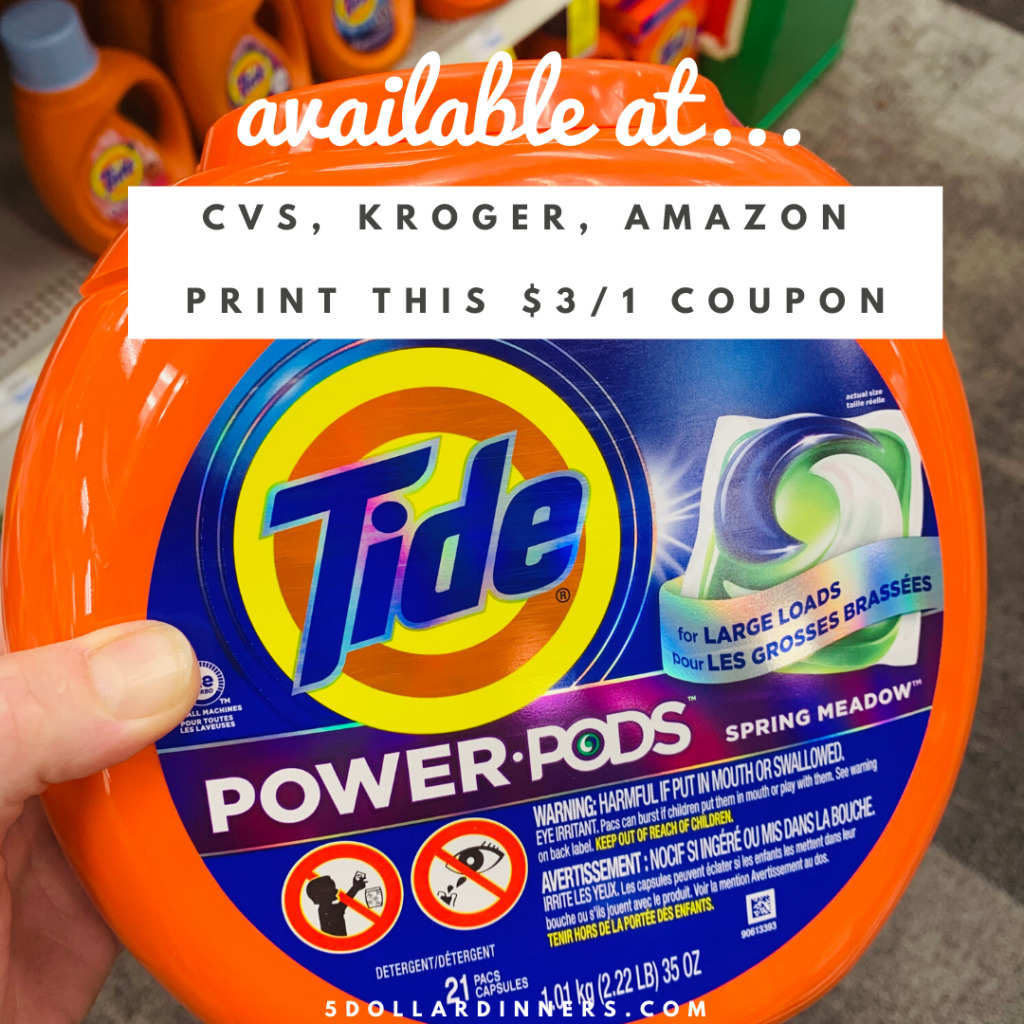 Print Tide Power PODS Coupons
This week is your LAST CHANCE TO PRINT THESE COUPONS!!!
Tide Power PODS are now available at these retailers – CVS, Kroger, and Amazon!
Also, there are several other great Tide coupons on this page – just be sure to print and use right away!
Finally, here are some more specifics on what coupons products this $3/1 coupon can be used with:
Tide Power PODS, 21 ct or larger

Tide PODS, 32 ct or larger (includes Tide PODS 26 ct)

Gain Flings, 30ct or larger

Gain Ultra Flings, 18ct or larger

Note: excludes Tide Liquid/Powder Laundry Detergent, Tide Simply, Tide Simply PODS, Gain Liquid/Laundry Detergent,Tide PODS 9 ct and below, and trial/travel size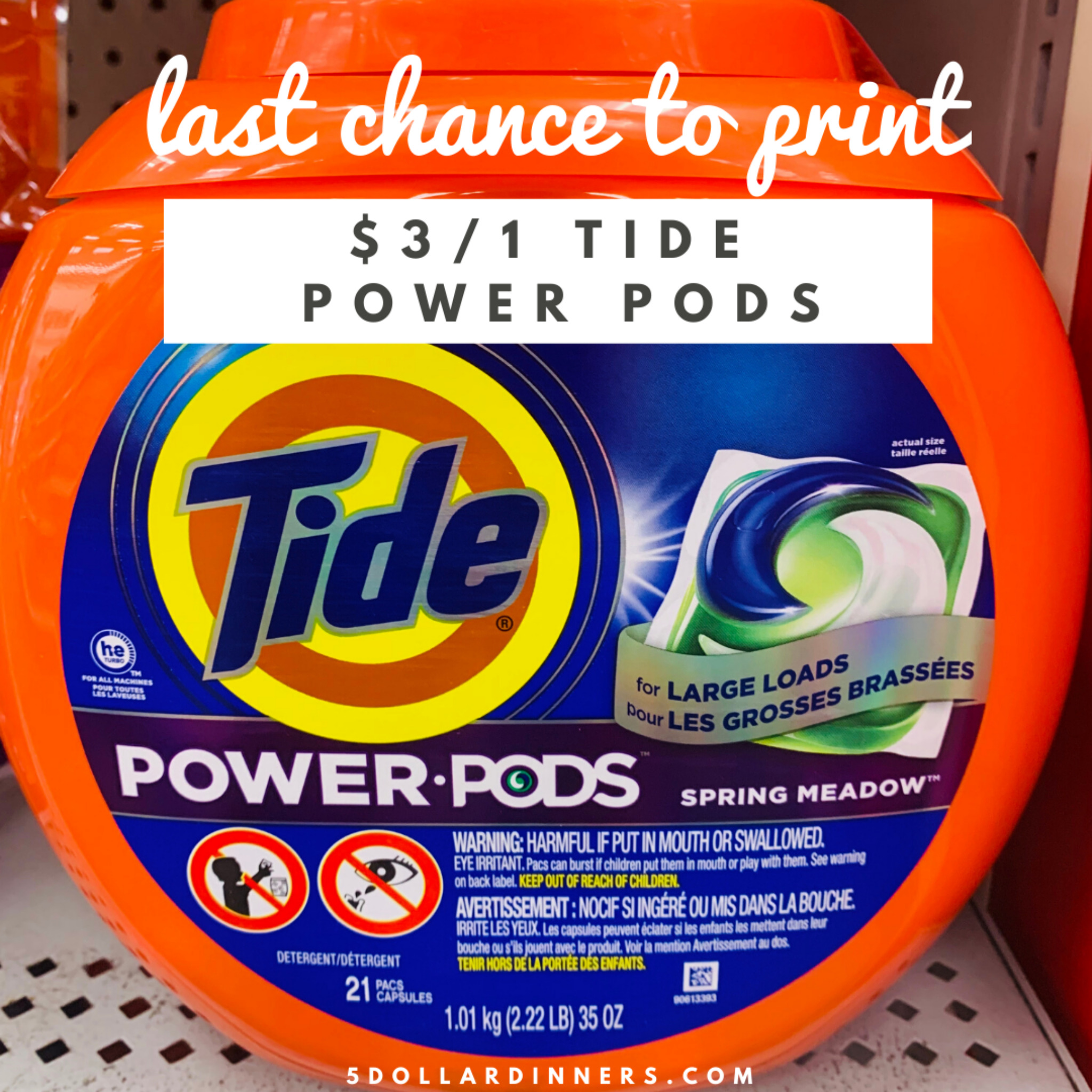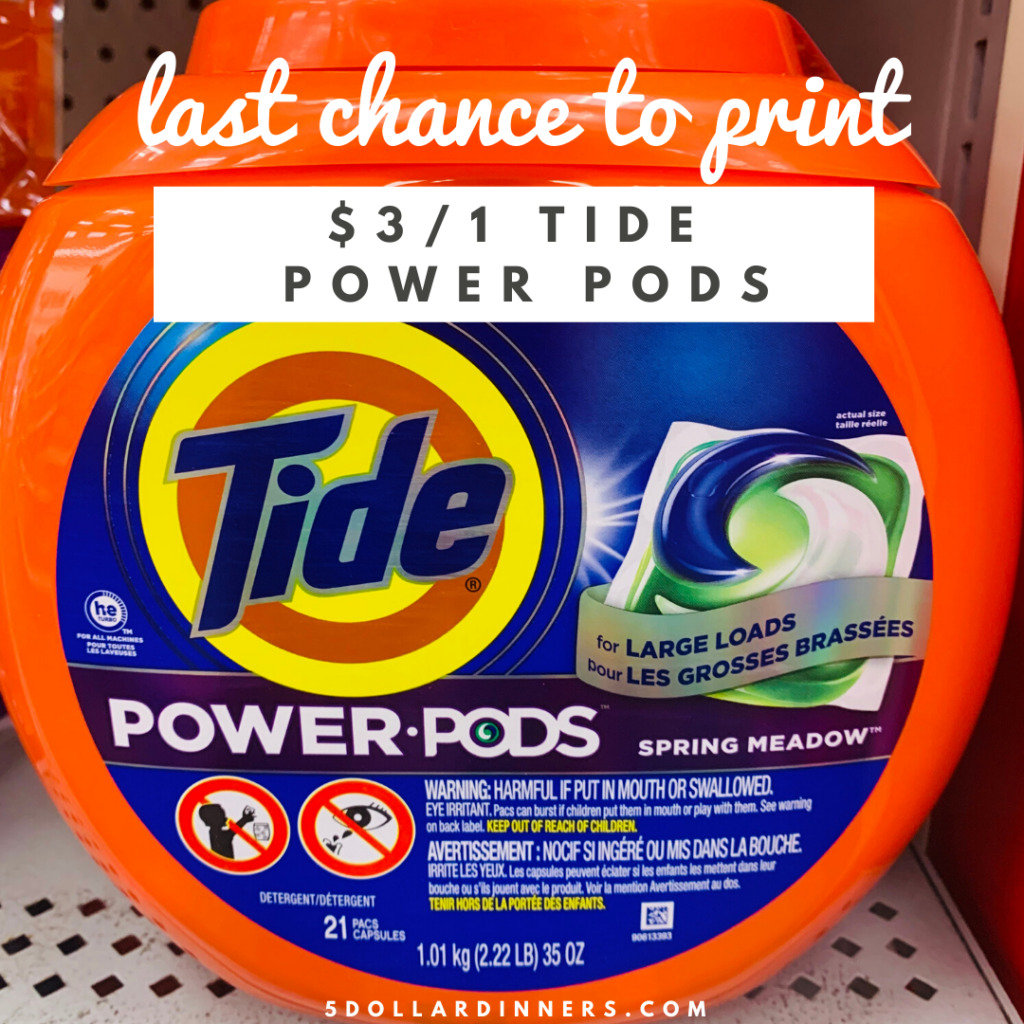 Disclaimer: This post may contain affiliate links and is written in partnership with Tide Power PODS. Opinions are my own.