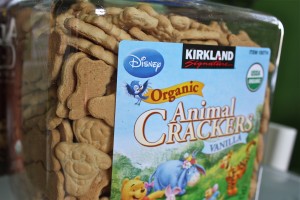 When I was in Atlanta, I had dinner with my good friend and Savvy Blogging co-conspirator, Crystal from The Thrifty Mama. As dinner came to a close, she mentioned how much she wanted to stop by Costco and create a list of the prices on some of their organic products. Well, I had nothing better to do, so I went with her (and her 2 kiddos) and wrote down the prices of all the different organic products in the store.
(Because that's what two money saving, grocery shopping nerds do on a Wednesday night.)
If you have a Costco near you, you might want to check out the list.  You can find the complete list of organic products sold at Costco on Crystal's site.
And I must say…I was quite impressed with some of the prices on their organic products.  Way cheaper than my grocery store, and way cheaper than most Amazon organics offers. Too bad there's not a Costco closer to me, as I may be able to integrate more organics into our budget.
Now go check out the complete list…and let us know what you think!  Are these good prices for organics?!  What are some of your prices for organics?!