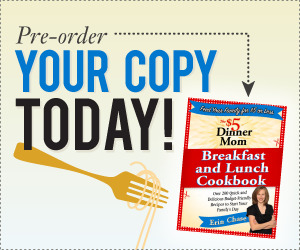 One. I love helping you spend less money and less time on your grocery shopping and your meal prep.
Two. I love creating new recipes, tweaking old favorite recipes, and sharing them with you.
Three. I love encouraging and empowering you to be creative and resourceful with what's on sale each week at the grocery store.
Take all these things that I love to do and roll them all up into a cookbook.  That's just what I've done for you!!!
Inspire. Empower. Encourage.
This cookbook is where I come alongside of you and give you that gentle little nudge (or swift kick if that's what you need!) that will help you cook healthier foods without spending a fortune on the ingredients.  That little reminder that coupons really do help you spend less money. That little hint that meal planning really does save your sanity.
This is the cookbook that will get you out of the peanut butter and jelly or mac and cheese rut!!!
This is the cookbook that will bring that spark back to your breakfast and lunch table!
So if you're ready for that swift kick, or gentle nudge, then it's time to get your pre-order on!
ORDER NOW
The Breakfast and Lunch Cookbook is now available for purchase!!!
Why?!
Because you can bless someone else (or yourself!) with a guide to help you spend less money at the grocery store, spend less time in the kitchen, and make healthier foods for breakfast, lunch and snacks…all in one shot!
GIVEAWAYS
There will be a number of ways to win a copy of The $5 Dinner Mom Breakfast and Lunch Cookbook over the next several weeks! Check them out…
__________________________________________________________
So get thee over there and order your copy now!
And order a few copies for your friends too! 😉