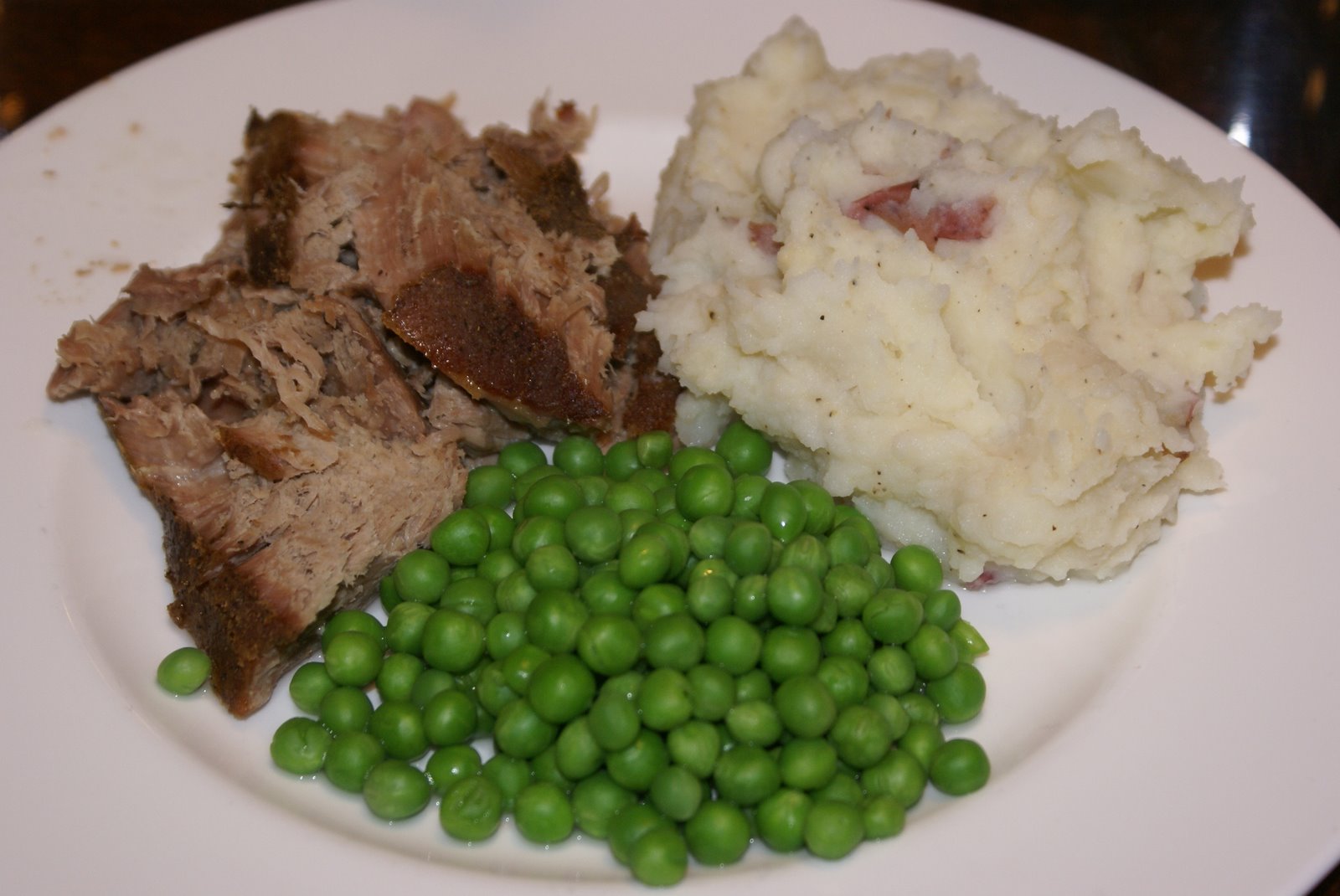 Ingredients
1 - 2.5 lb pork roast ($4.05) I used half or less than half for tonight's meal, so we'll call it $2 for this meal! I'll show you later in the week what I do with the other half!!!

Salt, pepper and garlic powder ($.05)

6 red potatoes ($.79)

1/4

cup

low fat sour cream ($.10) Recently on sale matched with Cellfire.com coupon

1/4-1/2

cup

fat free milk ($.10)

1-2 cloves fresh garlic, crushed ($.20)

Salt and pepper to taste

2

cups

organic frozen peas ($1)
Instructions
Place pork roast in slow cooker with 1/2 cup of water (or you can spray slow cooker with cooking spray). Season with salt, cracked pepper and garlic powder. Cook on low for 8-10 hours.

Scrub and cut red potatoes into quarters. Boil for about 10 minutes, until soft and "mashable." Drain water and place in bowl to mash.

Mash cooked red potatoes with potato masher. Add sour cream and milk (I'm all out of butter, but 2-3 Tbsp butter would be good too!). Add more milk for creamier potatoes or less milk for chunkier potatoes. Add crushed garlic. Season with salt and pepper to taste.

Cook frozen green beans according to package instructions.

Remove pork from slow cooker when it's finished. Slice into 1/3-1/2 inch slices.

Serve sliced pork roast with gravy and a side of mashed red potatoes and green beans.