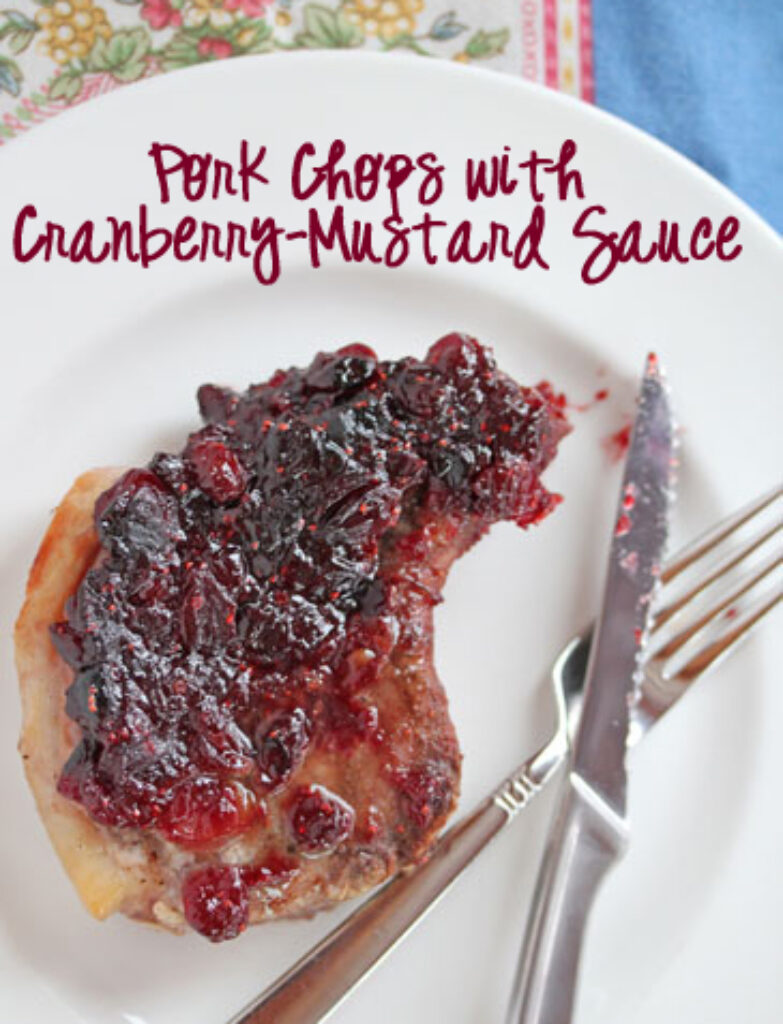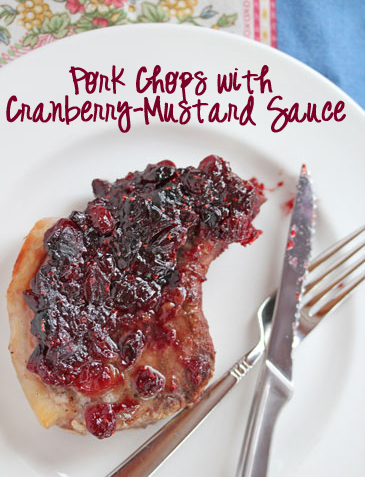 Oh.my.yum-ness.
Here's how this pork chop recipe went down. I found some pork chops in the freezer that I'd purchased before Austin was born. And I also came across a bag of fresh cranberries that I'd dropped in the freezer during the holidays. I was *supposed* to make and bring homemade cranberry sauce to our family's holiday feast this past year…but we were hit with some kind of weird virus, so we were quarantined and I never did get to make my cranberry sauce (or my pies.)…so I had a couple bags of fresh cranberries left over in the freezer. (And yes, I was able to get them for $.25 using the $1/1 coupon that came out during the holidays.)
The pork chops were $1.99/lb…that's my 'never pay more than price'…and paired with ingredients I already had on hand, plus rice and some frozen veggies I stocked up on when they were $1 per bag…I've got a simple, well balanced and well round dinner on the table!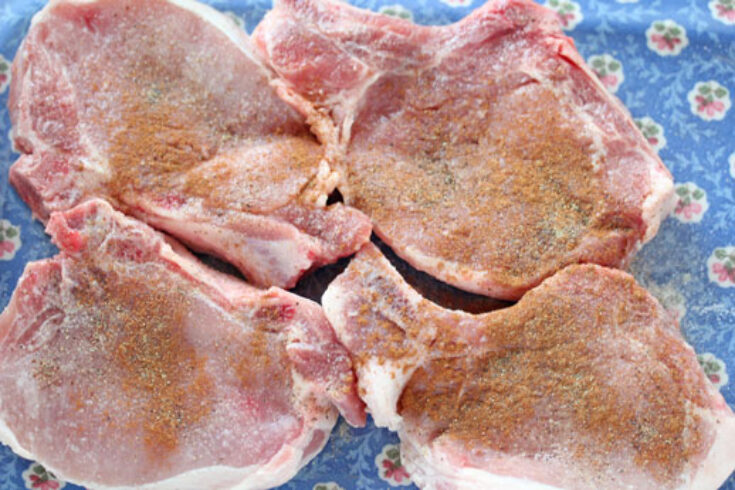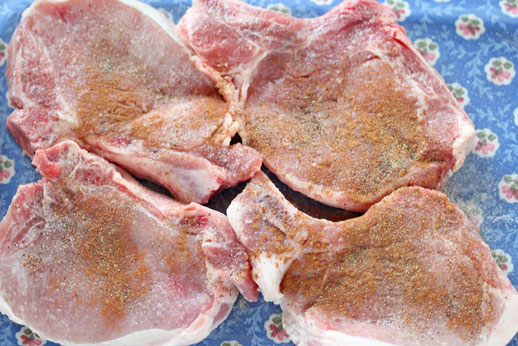 Season the chops, while the cranberry sauce is simmering.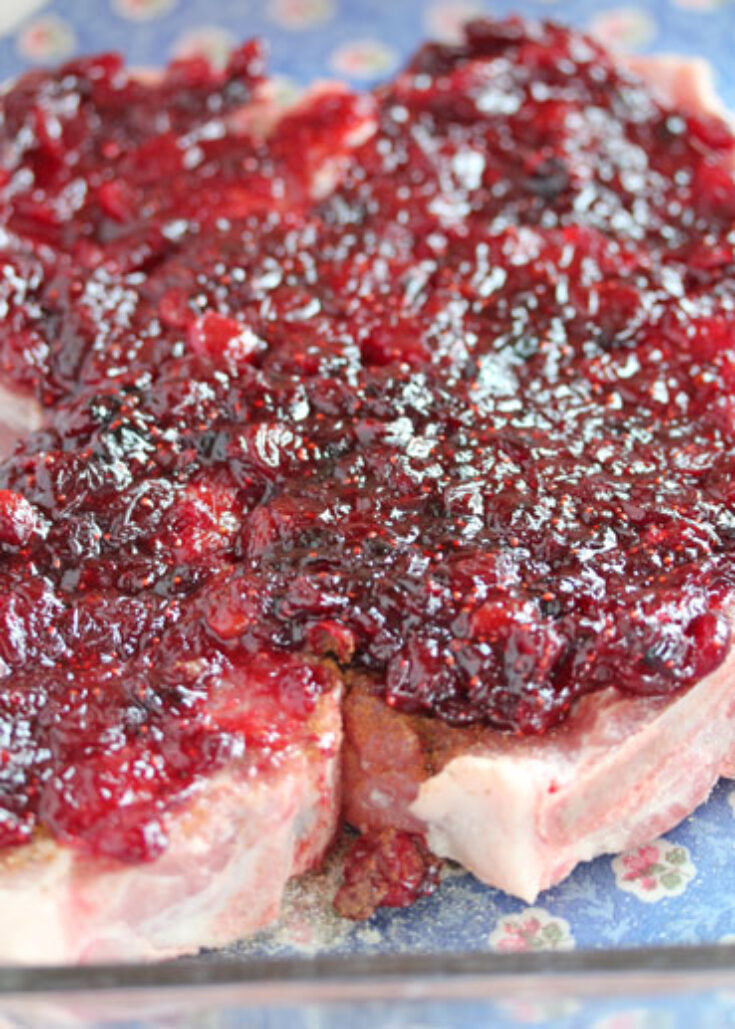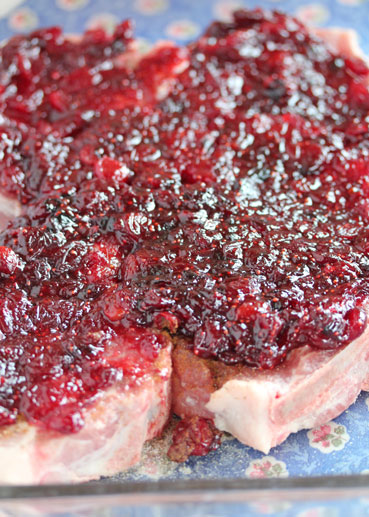 Douse the chops in the sauce. And then bake…
Simple ingredients with a complex, delightful flavor!
Ingredients
4

pork chops

about 1.5 lbs.

Salt and pepper

Dash of cinnamon on top of each chop

12

oz.

fresh cranberries

or one 15 oz. can

1/4

cup

spicy mustard

1

cup

sugar

1

cup

brown rice

16

oz

frozen veggies
Instructions
Preheat oven to 375. Spray a 9x13 inch glass baking dish with non-stick cooking spray.

In a medium saucepan, combine the cranberries, spicy mustard, sugar with 1 cup of water.

Bring to a boil, then reduce heat to medium and cook at a rolling boil for about 20 minutes, or until the cranberries have popped and sauce begins to thicken.

(If using canned cranberries, stir together the cranberries, spicy mustard and half of the sugar in a bowl, then spread over the chops.)

Add the pork chops to the baking dish and season with salt and pepper and a dash of cinnamon to each chop.

Pour the cooked sauce over the top of the pork chops and bake in the preheated oven for 30-35 minutes, or until pork chops are cooked through. Cooking time may vary, depending on thickness of the chop.

Serve Pork Chops with Cranberry-Mustard Sauce with a side of rice and veggies.