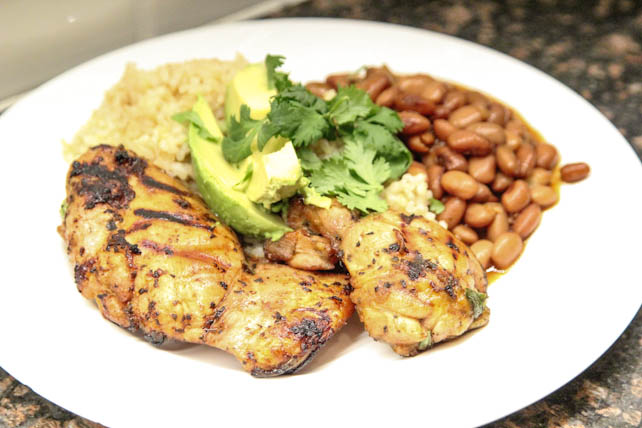 Can you forgive me?
This happens to me every year and I adjusted my camera settings as best I could…but the silly time change doesn't only mess with your infant and toddler (who am I kidding, everyone's) sleep schedule. It messes with my work flow and having good light in the late afternoons. Now, there is no light in the late afternoons…so I ended up with this shot of yellow tinged plate of chicken.
Delicious chicken mind you.
It's crazy delicious because of the marinade. And because it was grilled.
This is a marinade that I soaked in chicken thighs…and then let it marinate as it thawed…then grilled. Ka-BAM…flavor burst! I love marinating meat and freezing it…it just permeates the meat more than when you just marinate them for an hour or two in the fridge.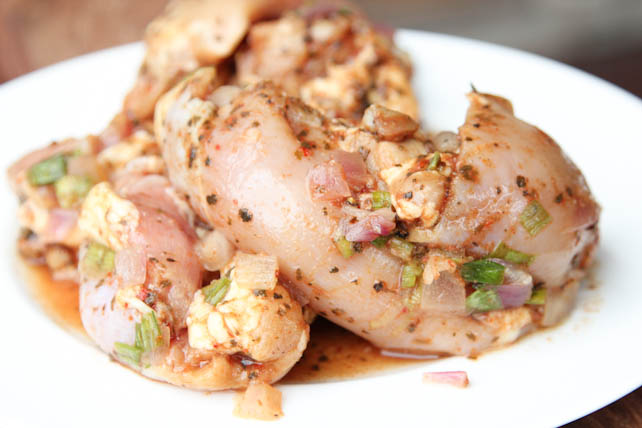 This marinade makes enough for 1 lb. of chicken thighs…you can certainly use it for other types of chicken too. And just adjust the quantity based on how much chicken you are cooking!
I served this alongside leftover rice and beans that I'd made the weekend of the dreaded time change.
Buen Provecho!!!
Ingredients
1

lb.

boneless skinless chicken thighs

Salt and pepper

3

Tbsp

olive oil

1/2

cup

orange juice

juice from 1 lime

juice from 1 lemon

1 tsp oregano

1 tsp ground cumin

1 tsp paprika

4 garlic cloves, crushed

1/4 of a red onion, finely chopped

2 green onion stalks, chopped
Instructions
Add the chicken thighs to a gallon size plastic freezer baggie and sprinkle salt and pepper over the chicken.

In a mixing bowl or resealable container, add the olive oil, orange juice, lime juice, lemon juice, oregano, ground cumin and paprika. Whisk well or seal the container and shake well. Add the crushed garlic cloves, red onion and green onion and whisk or shake well.

Pour the marinade over the chicken in the baggie. (If you aren't planning on freezing the chicken in this marinade, you can place the chicken in,smallshallow baking dish and pour the marinade on top. When ready to prepare, let thaw completely in the fridge or by quick thawing.

Grilling Instructions: Grill the thawed chicken for 15-20 minutes, or until cooked through. Cooking time will vary depending on thickness of the chicken and heat level on the grill.

Roasting Instructions: Preheat oven to 4o0. Place the chicken and marinade in small, shallow baking dish or small roasting pan. Roast for 35-40 minutes, or until golden brown on top and chicken is cooked through. Cooking time may vary depending on thickeness of the chicken.

Serve Pollo Asado with preferred side dishes like rice, beans, pico de gallo or guacamole/avocado slices.
This recipe is featured on SouthernPlate.com's Meal Plan Monday #23.