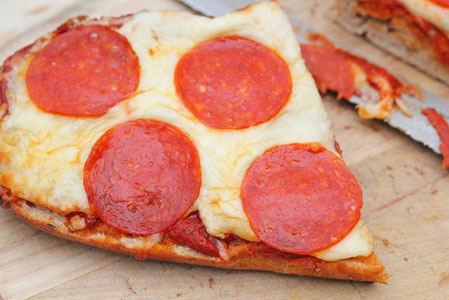 Growing up, my mom would often serve us pizza loaves from the freezer. And by often, I mean often. At least once a week. I don't remember which brand…I just remembered that I loved them.
We don't eat pizza very often these days, and when we do I prefer making the crust myself, and adding veggies on top or having fruit or salad on the side. I want to incorporate as many healthy ingredients as I can to our pizza!
(Side note: This summer, I plan to make pizza once a week…using mostly vegetables from the garden…and making it on the grill as often as I can! Will post about it every Friday…is what I'm hoping!)
So back to the pizza, as I was putting together these pizza loaves, I had an immediate flashback to 1989…when my mom would pull out the pre-made pizza loaves from the freezer. I was running behind on Friday…got sidetracked by a few things and completely forgot to start the dough/crust in the bread machine. Thankfully I had a French loaf in the freezer…and I could have these pizzas together and on the table in 25 minutes!
These hit the table for the boys' sleepover on Friday night, along with some fresh fruit…and followed by the Caramel Cashew Brownies. Nummy dinner for a special night with friends!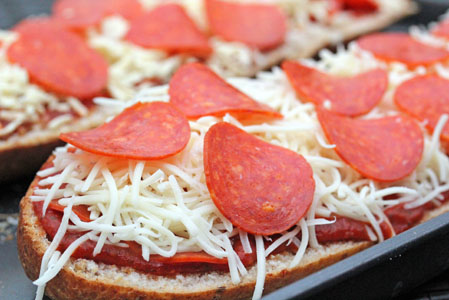 When making these pepperoni pizza loaves, I used the "double decker" method. I put pepperonis just on top of the sauce. (You can see some peeking out under the cheese.) And I put some on top of the cheese.
Double delicious!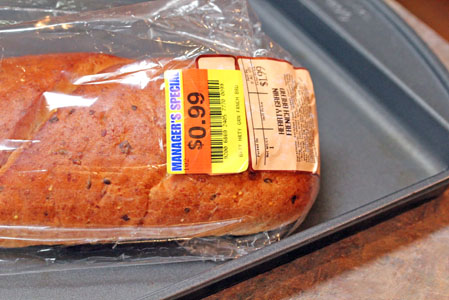 And the key to saving time and money with these pizza loaves…getting a large loaf of French bread on Manager's Special. Not going to use it right away?! Freeze it!
At this price, I'm not sure making your own bread is worth the "time cost," as the ingredients for this size of French loaf would cost $.99 themselves. Make your own bread if you prefer. Or use a manager's special loaf if short on time!
Ingredients
1

large

loaf French bread ($.99)

1/2 jar pizza sauce ($.50)

1/2

bag

pepperonis ($1.50)

About 2 cups shredded pizza blend cheese ($1.25)

Apples, oranges, bananas, carrot sticks, side salad...whatever fruit and veggie you like! ($1)
Instructions
Preheat oven to 400.

Slice the French loaf in half. Spread pizza sauce over top of the bread.

Add a layer of pepperonis. Then sprinkle the shredded cheese over top...then add more pepperonis.

Bake at 400 for 15 to 20 minutes.

Slice and serve with fresh fruit or veggies.